Welcome back for another tutorial!
This is a beginners guide for those looking to learn more about modern calligraphy.
Here is a brief sum up about what you are going to learn today-
What is modern calligraphy, and how it differs from traditional calligraphy

What tools do you need – recommendations

How to start with modern calligraphy? Basic strokes + FREE downloadable practice sheets

Popular modern calligraphy techniques – 3 different styles in order to get you started!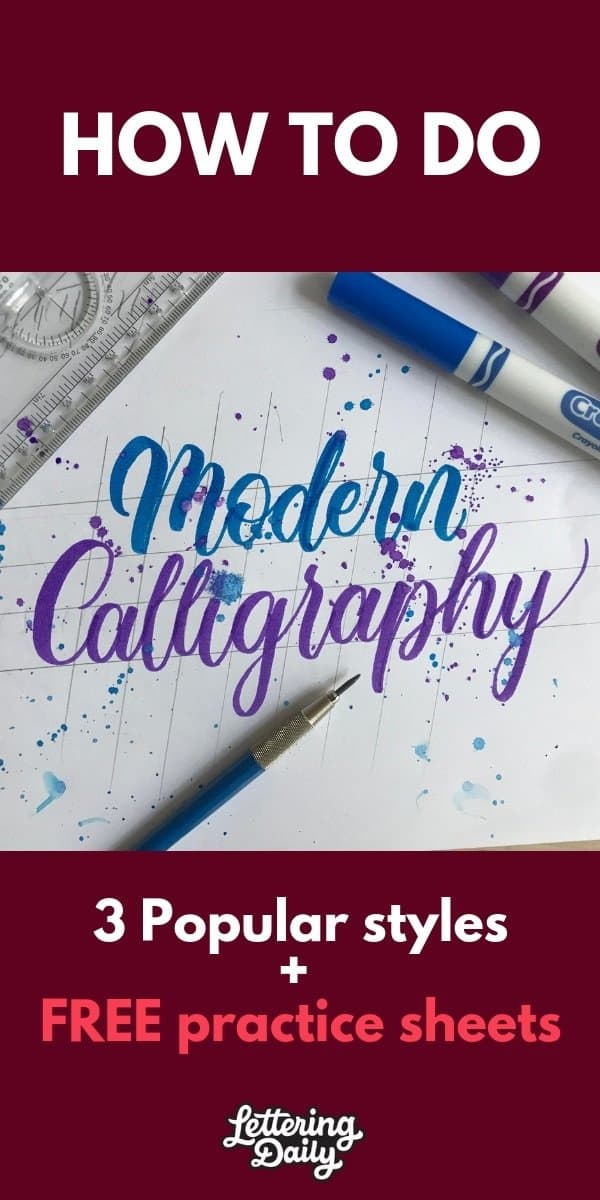 Let's begin…
So, what is modern calligraphy and how does it differ from traditional calligraphic scripts?
To be honest, it's quite hard to give you an exact definition of what modern calligraphy actually is (there are just so many different styles, techniques etc.), however, in order to make a clear distinction
modern calligraphy is considered to be any type of calligraphy that does not follow the structural rules of traditional calligraphy scripts – such as Copperplate, Spencerian, Italic, Blackletter etc.
You see,
The thing is that traditional calligraphic scripts (such as the ones mentioned above) are governed by specific, structured, individual strokes that form different letters.
This is an example of the Copperplate script-
And here is another example of the Spencerian script –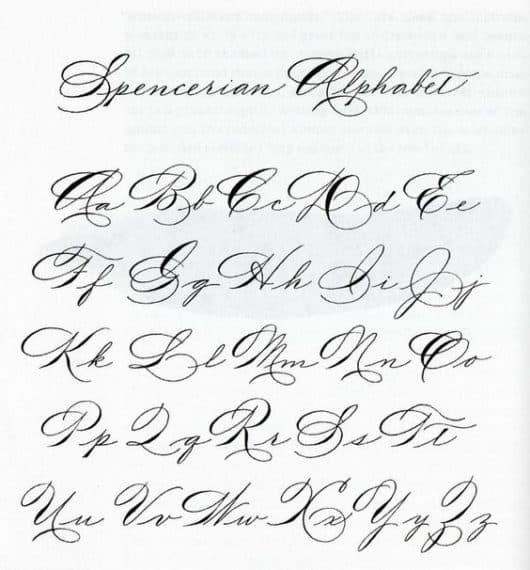 Traditional scripts are done with specific tools, and with precise measures of heights and angles. 
On the other hand modern calligraphy has more freedom in it's performance.
Don't get me wrong,
you can't just scribble whatever you want on a piece of paper and call it calligraphy.
There are some basic ground rules that should be applied in order to maintain a visual harmony.
These rules may seem complicated and overwhelming especially for beginners, however, I strongly urge you to stick to them and learn how to practice calligraphy properly from the very beginning.
Before we jump to these rules, let's have a quick overview on the tools that we need!
What tools do i need for modern calligraphy?
Now that we know the basic difference between traditional calligraphy and modern calligraphy, it's time to review some of the essential items that we will need.
Modern calligraphy can be practiced with a whole variety of different tools, such as – 
Brush pens
Classic dip pens
Pencil
Markers
Broad nib pens (Parallel Pen) 
However, if you are a total beginner i would advise you start practicing with a brush pen simply because it has a softer learning curve compared to i.e – the traditional dip pen.
Don't worry,
I am also going to recommend specific products so you don't have to waste time looking around for them.
Here is a list of some of the most popular tools for modern calligraphy
1. Brush pens!
As i just mentioned, the brush pens are the easiest tool to start off with.
The reason is that the brush pen has a flexible (felt) nib which allows you to create nice thick and thin lines with ease. 
This is essential for calligraphy, and we are going to come to that part right after the tool recommendations.
Here is a recommendation for brush pens –
If you want to find out more about the different kinds of brush pen, you can check out these two reviews posts. In these articles we are reviewing the characteristics of some of the best brush pens on the market.
2. Traditional dip pens 
Traditional dip pens consist of two parts –
The nib
The holder
The holder can either be a straight holder or an oblique holder (check the image below)
Working with dip pens takes a bit longer to learn, and here is why –
When you work with a dip pen you need to hold it on a specific angle in order for the tines of the nib to open up equally, thus creating a thicker stroke (aka shade) 
Essentially you can buy the parts separately but since i constantly see many beginners struggling with this, i would recommend you to take this calligraphy set by Manuscript
As you can see in the picture above, this set comes with an oblique holder, the nibs (with great flexibility)  and a bottle of ink. 
This is a great set for beginners that gives you everything you need to get started.
Keep in mind that with this tool you will need to constantly dip your pen in the ink, it will require more maintenance with the nibs, etc.
Taking that in consideration, i would recommend starting off with a brush pen (like the above mentioned)

Check out this quick video about the rolling ruler and all the different things it can do –
4. Various markers and ballpoint pens
Mostly used for creating Faux Calligraphy and other styles of modern calligraphy, these markers can indeed be a great addition to your lettering.
Adding effects, patterns, colors, pretty much anything that comes to your mind, is one of the benefits when working with modern calligraphy.
Since there are a ton of different pens and brands you could use, we are just going to list a few of our favorites –
HOW DO I START WITH MODERN CALLIGRAPHY?
The basic strokes 
Ok so, the most important thing is to know where to apply thin strokes and where to apply the thick strokes. (if you already know this feel free to skip to the next section) 
The general rule is that your strokes going up are thin while the ones going down are thick. 
The thick down strokes are created by applying pressure while the up strokes are done with the tip of the pen – without applying any pressure
Check this image reference –
If you are a complete beginner i would highly recommend you start practicing some basic strokes. 
This will help you to get to know the tool and you will start developing a feeling for it in your hand (building that muscle memory)
In case you haven't noticed, a lot of letters contain similar shapes, and once you learn those basic shapes it just a matter of combining them together depending on the letter that you want to write.
Easy right?
Here are the  basic shapes i would like you to practice before you jump straight into the letters.
And here is a quick example of combining different shape
The letter structure
Now that we have the basic shapes covered we can move forward towards the letters.
As i mentioned previously you probably managed to notice that some letters are similar to others, and the good news is that we can use this to our advantage!
When you practice letters which share similarities in their form, you are able to practice more efficiently – repetition is the key when it comes to calligraphy so don't get discouraged if you are having a hard time achieving smooth strokes.
Keep in mind that this only applies for minuscules (small) letters
So, we have 5 different letter groups –
Straight letters – i, l, t, f,

Branching letters – n, m, h, b, p, k, r

Reverse Branching letters – u, y, a, d, g, q

Oval letters – o, c, e

Diagonal letters – s, v, w, x, z
Here you can get some FREE practice sheets, and each of them is divided by the group of letters.
You can download 2 different types of practice sheets depending on the size of the brush pen you prefer to work with.
We have practice sheets for both smaller and bigger brush pens.
Big brush pens – Tombow Dual brush pen, Lyra, Artline Stix, Sharpie etc.
Small brush pens – Tombow Fudenosuke, Pentel Fude Touch Sign pen etc.
Drop your email below so we can send you over the free downloadable practice sheets.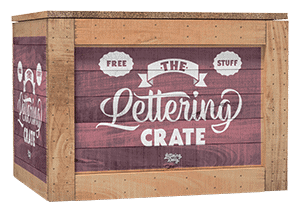 Stay updated with our tutorials and get instant access to the Lettering Crate –
A growing library of free lettering & calligraphy resources that includes – FREE downloadable calligraphy practice sheets, Procreate brushes, the 30-day lettering planner, printables, and more.
A few more important points for modern calligraphy
I know that from a beginners perspective this might already seem overwhelming, but these are simply things that need to be mentioned. (for your own good!) 
Here are 3 things i would like you to keep in mind when you practice modern calligraphy –
 1. Consistency 
Keeping our letters consistent helps to increase the overall visual harmony. (something pleasing to the eye) 
In order to keep your letters consistent you MUST use guidelines. 
I see way to often beginners discrediting guidelines and simply trying to eyeball the heights, angles etc.
When i talk about consistency in modern calligraphy i don't mean that you have to aim for perfection like with traditional calligraphy. 
As you can see in the example below, it has plenty of imperfections, however, the letters follow the same height and angle.
2. Balance
Balance is perhaps a bit difficult to notice or to understand at the very beginning but it comes naturally with time and practice. 
What you need to keep in mind here is to avoid adding too much weight either on the left or the right side. 
You don't need to seek perfection here, but just avoid going overboard. 
3. Spacing 
Good spacing between the letters helps you to keep a high level of legibility.
If the letters are too squished together  people could struggle reading your calligraphy. 
In order to maintain a good and consistent spacing you need to go slower, lift your pen between each stroke and also keeping an eye on the space of the previous letter pair.
Again, this is something that will just improve with time and practice.
POPULAR MODERN CALLIGRAPHY TECHNIQUES
Once you feel confident with basic strokes you can start experimenting with different styles. 
In this section I am going to guide you step-by-step on how you can create 3 different (popular) modern calligraphy styles. 
 1. BOUNCE LETTERING
Bounce lettering has become quite popular and it can be seen all over the internet. 
It is called bounce lettering because that's exactly how it looks like – the letters bounce up and down!
This style is a perfect example of modern calligraphy since it defies the rules of traditional calligraphy. 
What tools do you need for bounce lettering?
Brush pen
Pencil
Ruler 
Paper
Let's jump right into the step-by-step on how to do bounce lettering so get your tools ready!
Step 1 –
draw some light guidelines using a ruler and a pencil.
We are going to draw the  base line, the mean line as well as some lines for the angle of our letters (keeping up with the consistency) 
Feel free to determine the sizes by yourself – if you want the letters to be bigger or smaller, straight or slanted, that's completely up to you.
Step 2  –
With your pencil, gently write the base of the word.
This step will only be necessary at the very beginning, once you have practiced a lot and you finally developed a feeling for it, you won't need to sketch out your word every time.
Here is the key to bounce lettering –
As mentioned earlier, bounce lettering is called like that because the letters bounce up and down. 
In order to achieve this we are going to write every consecutive letter above and below the base line. 
Check out the image below 
Once you gained a bit more experience you can play around and experiment with the bouncy pattern.
Step 3 –
Now that we have our word sketched out with the proper bouncy pattern, it's time to go over it with our brush pen!
Remember – our up strokes are thin while our down strokes are thick!
That's it!
Great job, in case it didn't turn out as good as you expected –
DO NOT WORRY!
Grab your tools and repeat the process again. Calligraphy is all about repetition and building muscle memory –
The more you do it the better you become at it!
 2. DISTANT LETTERING
Not really sure if there is a different name for this technique (if there is, be sure to drop a comment below) 
I named it distant lettering since it's main characteristic is that the letters have a large space between each other.
What do you need for distant lettering?
Brush pen
Pencil 
Ruler 
Paper
The process of this technique is fairly similar to the bounce lettering that we just did.
Step 1 –
This style has more of a "flowy" feel to it, therefore instead of drawing a straight grid im just going to keep a hand-drawn underline and with the ruler i'll make some straight angle lines (keeping the slant consistent)
Step 2 –
Using your pencil start writing a rough sketch of your letters, only this time extend the ending strokes of the letters. 
Like this –
Step 3 –
Try to keep a consistent amount of spacing between each letter – it doesn't need to be perfect, just don't make it too obvious!
Once you are done writing with your pencil it's time to grab your brush pen and go over the pencil sketch.
Once again, if you are not satisfied with the result, simply start over and then do it again, and again, and again…. you get the point 😀
 3. FAUX CALLIGRAPHY
Faux or fake calligraphy is awesome because it can be done with any kind of writing tool!
On top of that it's very easy to learn. 
Due to it's popularity we decided to create a separate tutorial for faux calligraphy where we dive into this topic more in depth.
We also included some free practice sheets and if you want to learn more about faux calligraphy i highly recommend you checking out this tutorial.
(BONUS) 4. CREATING YOUR OWN UNIQUE STYLE
One of the best parts about modern calligraphy is that you can deviate and create something unique. 
Try to create something that you like, simply by following your own intuition.
Just keep in mind the rules that we talked about (consistency, balance and spacing) and keep exploring your creativity.
A golden tip! – 
First you need to relax! if you are angry, frustrated or even hungry you will struggle with your creative flow.
The second thing that will really spark your creativity is to listen to some good music! (the one that you like obviously) – I know that this may sound weird, but it really helps with the creativity!
You can also find inspiration from other artists and create your own variations of a certain style.
Who knows maybe YOU will create a new style that will become a new trend in the online calligraphy community 🙂
Final thoughts on modern calligraphy
Now that you know what modern calligraphy is, what tools you need  and how to actually do it, there is one more thing left to do –
PRACTICE!
I know that you are probably tired of hearing the same tip over and over, but the truth is that practice is the only thing that will help you improve. 
There isn't a secret tip, or a fancy tool that will improve your strokes overnight. 
My best advice is that you implement a 10-15 minute (minimum) practice routine in your everyday life. Smaller but consistent practice sessions are waaay better than longer and less frequent ones – twice  a week for 2 hours. 
Finally, i would like to invite you to join our official Facebook group where you can share your work, ask questions, network with other lettering artists and much more!
Until the next time,
Stay AWESOME!