Welcome back for another tutorial!
This is a beginners guide for those looking to learn more about modern calligraphy.
Here is a brief sum up about what you are going to learn today-
What is modern calligraphy, and how it differs from traditional scripts such as copperplate, or spencerian

What tools you will be needing – recommendations

Some structural ground rules – they are all very simple to understand and they apply across all of the techniques we are going talk about

Popular modern calligraphy techniques – 3 different styles in order to get you started!

Free downloadable practice sheets 🙂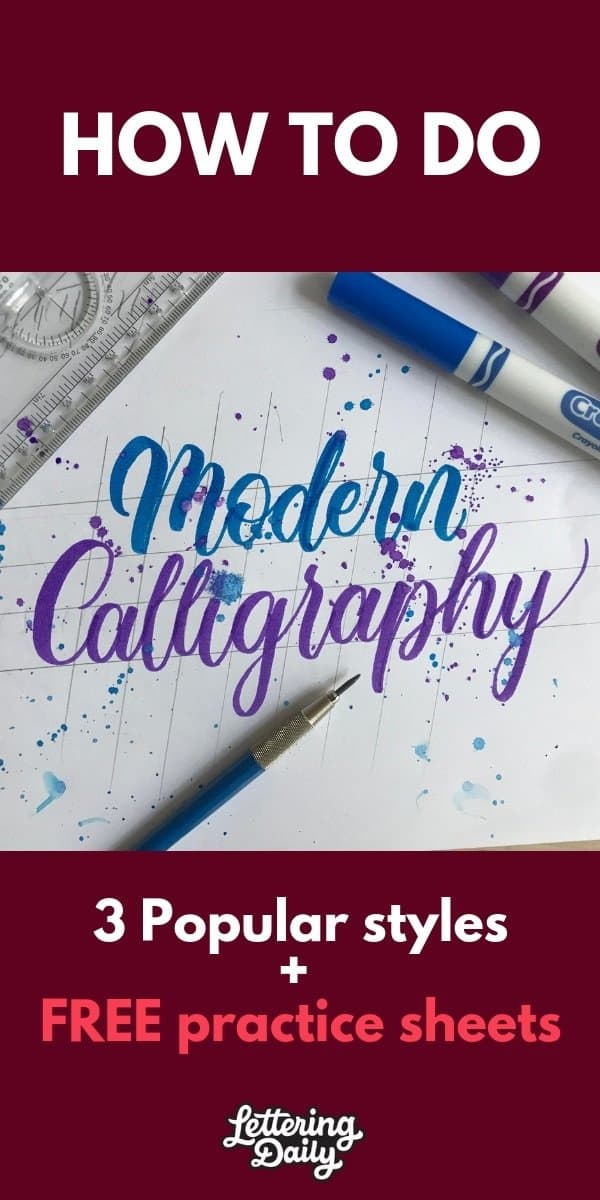 Let's begin…
So, what is modern calligraphy and how does it differ from traditional calligraphic scripts?
To be honest, it's quite hard to give you an exact definition of what modern calligraphy actually is (there are just so many different styles, techniques etc.), however, in order to make a clear distinction
modern calligraphy is considered to be any type of calligraphy that does not follow the structural rules of calligraphy – such as Copperplate or the Spencerian script.
You see,
The thing is that traditional calligraphic scripts (such as the one mentioned above) are governed by specific, structured, individual strokes that form different letters.
This is an example of the Copperplate script-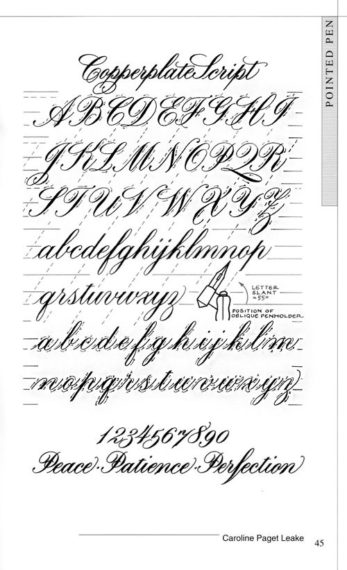 And here is another example of the Spencerian script –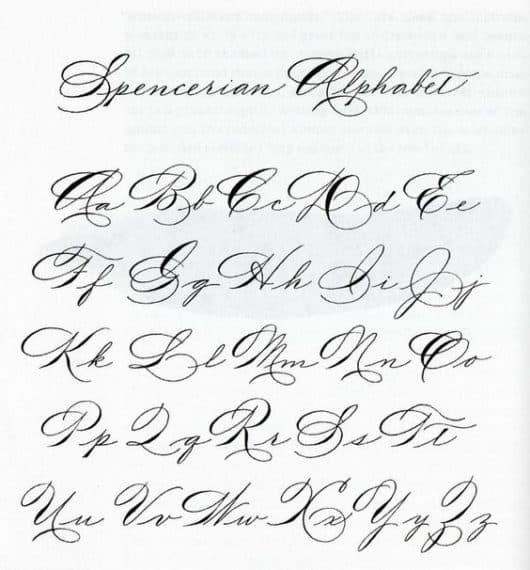 To make this whole story much more comprehensive, modern calligraphy is basically a style that  has no such rules and gives you the absolute freedom of following, let's call it your own calligraphic intuition 😀
When i say ''the absolute freedom'' i don't really mean that you can just start scribbling random shapes and call it modern calligraphy 😀
There are some basic ground rules that should be applied in order to maintain a visual harmony.
Don't worry we will cover them in just a few moments and you will definitely be able to understand them all as well as implement them in your work!
Note – these ground rules may seem a bit complicated (especially if you are a complete beginner) but just be patient and stick to them. With practice and time it will become a part of your routine to the point that you wont even be thinking about them!
Before we break down these rules, we would like to have a quick look at the tools that we are going to be needing.
What tools do i need for modern calligraphy?
Great question!
Now that we established that modern calligraphy gives you the possibility of breaking away from the structural rules, we can mention a few great tools for modern calligraphy.
The freedom of following your ideas is another benefit since it allows you to use a much bigger variety of lettering tools!
When you work with a traditional calligraphic script such as the Copperplate script, you are tied to use a dip pen (oblique holder).
Perhaps you can manage to use longer brush pen or a custom made brush pen for the iPad pro, but you are indeed very limited with the choice of your tool.
Modern calligraphy on the other hand gives you the opportunity to use absolutely any lettering tool that you can imagine –
in fact, you can even create modern calligraphy with a rock that leaves a mark on the floor 😀
Here is a list of some of the most popular tools for modern calligraphy –
1. Dip pens – straight holders and oblique holders.
The traditional calligraphy tools are indeed a great way to start with modern calligraphy.
It does have a bit of a learning curve in terms of getting used to holding it correctly, but the very positive aspect is that the calligraphy nibs are designed in a way that, whenever you apply pressure to the nib the two points will separate giving you a thicker stroke, while when creating the upstrokes you will always get that perfect thin line a.k.a – hairline.
We talked about the thick and thins in one of our previous tutorials – Brush lettering for beginners, a step-by-step guide.

Here are a few other things you need to know about dip pens –
You need to prepare your nibs – new nibs come with a thin layer of coating that prevents rusting  and that needs to be taken away with – water, alcohol, tooth paste, saliva etc. There are really a few different methods you can achieve that, even by sticking them into a potato! 😀
The way you hold your pen – you want both tips to touch the paper so the ink can run smoothly, this is exactly why you want to tilt a bit the paper in order to get that correct angle.
How you sit – yup! this has a great impact on your calligraphy overall.  Not often mentioned, but if you are hunched while writing it will definitely have a negative impact on your lettering. We actually covered this area in our article of  5 tips for brush lettering – have a look!
Getting the right combination – it's quite common for beginners to face ink flow issues, and in most cases it's due to the wrong combination of tools.
Don't worry,
we will mention a few so you can easily get started! 
Dip pen calligraphy is actually a topic that we are planning to cover soon, and as you know it, we want to pack it with valuable info.  where all of these things we mentioned above, will be explained in-depth 🙂
2.Brush pens!
Probably one of the most famous lettering tool, the brush pen is indeed a great artistic medium (not just for lettering)
Positive aspects of a brush pen are –
User friendliness – remember we mentioned earlier that there is a learning curve with the dip pens? Well, brush pens don't have that at all!
The flexible nibs are easily controlled with pressure and they are also very affordable.
Other positive aspects are a huge variety of colors which you can easily blend.
If you are looking to try some new brush pens definitely have a look on our previous reviews on the best brush pens for lettering.
3.Water brush pen – Aquash
This bad boy is an amazing tool!
The reservoir filled with water (or color) allows you to practice with watercolors completely care free!
You can find out more about the aquash and other brush pens in one of our reviews here.
The fine and long synthetic hairs can create a variety of stroke sizes which will grant you additional freedom when creating your own lettering pieces.
4.The pencil!!
Hah!
This tool is such an essential part of ANY lettering toolbox.
The pencil has so many different uses, from sketching, creating guidelines all the to creating smooth calligraphy! – When creating some calligraphy or some lettering, there are 3 ways you can use your pencil for it –
Faux (fake) Calligraphy – we will talk about it very soon

Calligraphy based on stroke pressure – yes, the pencil can create the thick and thin strokes, however, you won't be able to do it on a large scale (unless you have a really big pencil)

Hand lettering – illustrating each shape separately
5. Various markers and ballpoint pens
Mostly used for creating Faux Calligraphy and other styles of modern calligraphy,
These markers can indeed be a great addition to your lettering. Adding effects, patterns, colors, pretty much anything that comes to your mind, is one of the benefits when working with modern calligraphy.
Since there are a ton of different pens and brands you could use, we are just going to list a few of our favorites –
The Crayola marker! – Considering that this is not technically a brush pen, it can still create the awesome thick and thin effect!
best of all,
it is soooooo cheap!!! 😀 
This is a VERY high recommendation for anyone who wants to give modern calligraphy a try!
STRUCTURAL GROUND RULE
Ok,
We promised that this is going to be easy 😀
There are two different things i would like you to keep an eye on. I would recommend you to start implementing them ASAP, perhaps the adjustment will feel weird at first but soon enough you will get used to it.
Of course, there are other elements as well that matter, but i believe that these two things are somewhat the fundamentals and that with practice and time you will start noticing and learning other essential elements in calligraphy and lettering.
So, here they are –
Consistency – This doesn't only refer to the angle of the letters but also for stroke thickness, balance, flourishing etc.
Being that we are talking about modern calligraphy there are styles that tweak these fundamental rules as well, but it's important not to go overboard with it and to know what you are doing
So, how to be consistent?
The most common advice you hear about lettering and calligraphy is to practice, A LOT!
Well, this is definitely one of the reason.
By practicing you develop muscle memory which then manifests in your lettering and your general progress.
There are a few tips when you are just starting out –
Go slow and take your time, this will give you the ability to focus on your downstrokes and to keep them consistent

Divide your strokes – remember, calligraphy is not like writing in cursive with a normal pen. Here you can take your time and focus on gaining consistency through your piece

Notice on the image above how the guidelines helped me with the angle of the letters (almost :D) I can't really stress enough how helpful guidelines are!
Letter spacing –
This is something that also takes a bit of time to get used to it, but being aware of it, it's going to be very helpful for you!
Readability is probably one of the most important aspects when it comes to lettering, and letter spacing has a direct impact on it.
How to improve your spacing?
Pretty much like with consistency, take your time and don't rush it. Observe each and previous stroke and the distance from the previous one.
Dont go crazy with it tho 😀
A good drill for this would be to do a bunch of down strokes (faster) in one line (photo) and trying to keep a consistent spacing between each stroke.
Letter structure!
Ok,
Now let's make things even easier!
Probably in your lifetime you managed to notice that some letters are similar to others, well we can use this to our advantage!
When you practice letters which share similarities in their form, you are able to practice that consistency we were talking about earlier.
Keep in mind that this only applies for minuscules (small) letters
So, we have 5 different letter groups –
Straight letters – i, l, t, f,

Branching letters – n, m, h, b, p, k, r

Reverse Branching letters – u, y, a, d, g, q

Oval letters – o, c, e

Diagonal letters – s, v, w, x, z
Here you can get some FREE practice sheets, and each of them is divided by the group of letters.
POPULAR MODERN CALLIGRAPHY TECHNIQUES
Now that we covered the difference between traditional calligraphy, the needed tools and some basic ground rules, we can finally move on to learning some popular modern calligraphy techniques!
Today we are going to cover three different modern calligraphy techniques that we can quite often notice across social media platforms.
Bounce lettering
You've probably saw it or heard about it, and bounce lettering is a perfect example of modern calligraphy – there is an obvious (visual) difference from traditional calligraphy scripts.
Once you have understood the ground rules (that we talked about earlier), and how to handle the pressure of a brush pen or a dip pen, bounce lettering is quite simple and fun to do!
It is called bounce lettering, because the letters do exactly that, they bounce!
So, how to do bounce lettering?
Once again, being that this is modern calligraphy there isn't a strict rule for this style, but nonetheless here are a few steps to get you started.
Step 1 –
draw some light guidelines with a pencil, you can easily do this freehand.
Step 2 –
Use your pencil to create a rough and light version (don't press too hard, it will be easier to remove it afterwards) of the lettering.
Traditional calligraphy follows the path of the baseline, meaning that all of the letters are sitting on the baseline and reach the x height with the upper part.

With bounce lettering you basically alter that, and you place some letters above and below the x-height and the baseline
Step 3 –
Time to go over it with a brush pen, dip pen, water brush etc. For starters i recommend you trying to do basic patterns in order to get the feeling of it.
What i mean by that is to do the following – every second letter goes a bit under the baseline. Then try to add some letter going above the x height and so on.
Tip – try to avoid keep 3 letters in a row going below the baseline and then keeping the rest normal.
Once you feel confident with simple patterns, try to create them on your own 🙂
Step 4 –
erase your previously made pencil guidelines.
Practicing is all about trial and error, don't get discouraged if you aren't feeling your initial style. We have all been there…
It will take you a few days of consistent practice in order to build up at least that initial muscle memory.
Faux Calligraphy
Also known as fake calligraphy, this is a great way to spice up your practice routine, your final pieces or just in case you don't have any brush pens around.
It's quite simple to perform, check it out –
Step 1 –
 We always recommend creating some guidelines. This is exactly when you will start to notice the awesome benefit of the rolling ruler 😀
Step 2 –
Pick your word, i decided to go with the word "Calligraphy" (clever huh?)
Write it in a single stroke in a cursive style like so –
Step 3 –
Identify where are the downstrokes!
This might seem a bit challenging for some beginners, but you will in fact notice after a few days or weeks of practicing, that you will pretty much memorize where the downstrokes come in every single letter.
Tip – a common issue with faux calligraphy is spacing.
The issue appears if you are not adding weight consistently meaning that some letters will at the end appear closer than others.
As you remember we mentioned that spacing among the letters are a one of the ground rules.
Just keep practicing, experiment with thinner and thicker markers. Head over to Pinterest and Instagram and try to find some inspiration – don't steal other people's artwork but try to recreate them in your own way.
Step 4 – 
Get your marker, pen, pencil and start tracing the pencil sketch you've made –
Step 5 – 
Add something extra? 
Perhaps you can add some shadows, or some patterns. Maybe a second word? 
The possibilities are really endless. Gather some inspiration and start testing different styles and techniques!
Just remember to erase the pencil guidelines.
Distant Lettering
Not really sure if there is a different name for this technique (if there is, be sure to drop a comment below) but i decided to name it like this because it's the closest word to describe the style.
Distant lettering is quite popular and it's something we've been seeing online quite a lot.
So here is a quick tutorial on how to create this type of lettering (type of lettering – get it? huehue)
Step 1 –
get your buddy mister pencil out and start drawing those guidelines – gently!
Notice that in this one the guidelines are made free hand? This is just to show you that you don't necessary need a ruler all the time. Guidelines aren't here so you have to strictly follow them (especially in modern calligraphy)
They are here for your assistance, so definitely take advantage of that!
Step 2 – draw your letter but instead of ending the connection closely like you usually do try to increase it a bit more
Step 3 – keep an eye on the length of your connection strokes and try to keep them consistent across your lettering.
Step 4 – erase your pencil marks.
Final thoughts about modern calligraphy
You should definitely try and mix these techniques!
For example you can try to do some bouncy lettering with a ballpoint pen by creating some faux calligraphy.
On the other hand you can do the fuax calligraphy on the distant lettering, perhaps doing some bouncy distant lettering 😀
Remember, modern calligraphy is about bending the traditional rules and giving yourself the freedom of testing new style and techniques!
Just keep an eye on that consistency and the letter spacing and you will improve much faster.
Keep practicing, and be sure to share you work on our website forum and get featured on our Instagram page! (READ the guidelines :D)
Stay AWESOME!
Stay updated with Lettering Daily, enable notifications and never miss a new post!