This post and the photos within it may contain affiliate links. If you purchase something through the link, I may receive a commission at no extra charge to you.
Hey there! Welcome back for another tutorial.
Today you are going to learn how to do faux (fake) calligraphy step by step!
This technique is super easy, it can be done with literally any kind of pen (and any surface like chalkboards etc.) and its a great way for you to practice your strokes 🙂
Like always we want to keep things simple and well structured, so let's have a quick overview of today's agenda –
What is Faux calligraphy
What do i need for faux calligraphy
How do i do it? – step-by-step instructions
FREE downloadable practice sheets!
Let's get started!
SO, WHAT IS FAUX (FAKE) CALLIGRAPHY?
In short –
Faux calligraphy is a technique of using any kind of pen to imitate the look of calligraphy, hence the name.
Let me give you a bit of context so you have a better understanding of the topic.
As we already said several times in our previous articles, calligraphy is the art of beautiful writing and it is performed with specific tools for it.
Faux calligraphy is simply  a fun and easy way of imitating the look of these specific tools.
On top of that faux calligraphy is an AWESOME way for learning the very basic letter structures.
Calligraphy is about combining thick and thin strokes and faux calligraphy helps you A LOT with understanding how they should look like and where they should go
– don't worry later on you will be able to practice along with the step-by-step instructions.
WHAT DO I NEED FOR FAUX CALLIGRAPHY
One of the benefits of this technique is that you can do it with literally any writing tool!
This also means that you can do it a variety of different surfaces such as –
Chalkboards

Walls

Paper

Clothing

Glass

Etc.
However, i will give you a quick list of materials in order for you to be able to follow this tutorial and practice along with it.
Here is what im going to use –
The reason we have also the pencil on the list is simply for the guidelines that we are going to create. Guidelines are a great way to keep your work straight and on a consistent angle, it takes you very little time to make a few guidelines, yet they will help you a lot!
HOW DO FAUX CALLIGRAPHY – STEP BY STEP!
Ok, so now we know what faux calligraphy is, how it differs from calligraphy itself and we also know what we need in order to create it.
Now it's time to get our tools out and start practicing!
Before the step by step process let me give you a quick example of how faux calligraphy work along with a few quick notes.
So, here im simply writing the letter a in a cursive style and im adding the weights on my downstrokes ( follow the small arrows to find the downstrokes)
Keep your letters consistent, size, angle etc.
This is not the same cursive style you use in your everyday life, so take your time and lift your pen after each stroke (divide the letters in smaller parts) like so –
Try to keep the weight on the downstrokes somewhat consistent. You don't need to go crazy with precision but keep an eye on that – check the image below.
Some letters (like the branching ones) will require to add a bit of space between the connecting strokes , check out the image below –
Ok now we got this out of the way we can proceed with the full step by step process!
Step 1 – Drawing your guidelines
We are going to start by creating some guidelines with our pencil and our ruler, like so –
Quick note – i always recommend getting the rolling ruler, it's a really helpful tool when it comes to drawing your guidelines quickly.
Step 2 – With your fineliner (or any other kind of writing tool that you have) write your word in cursive, i will write the word simple –
Take your time don't rush it!
Remember what we said about lifting your strokes and dividing the letter in smaller strokes.
Step 3 – Now that we have our foundation laid out on the paper lets identify our downstrokes!
Check it out –
Step 4 – Now we can start adding the weight to our downstrokes!
I always add the weights on the inside of my strokes. For example you can see that the downstroke on the l was added from the left side while the downstroke on the  m is added on the right side. 
I just find this way to be much better then trying to add the downstroke on every side of every letter. 
Step 5 – fill the downstrokes!
This shouldn't be too hard, just don't rush it!
Once the ink is dry (let's avoid those smudges) feel free to delete the pencil guidelines that you made.
That's about it folks, a very simple and quick calligraphy technique 🙂
After a bit of practice you should start quickly understand where to add the thick downstrokes without even thinking!  
Now that you know how to imitate the calligraphy look with the faux technique, it will be much easier to start practicing your brush calligraphy (in case you never did before)
FREE DOWNLOADABLE PRACTICE SHEET
With the free downloadable practice sheets you will be able to practice ALL the letters from the alphabet.
At the end of the practice sheets you will have a lettering grid laid out for you to try and practice your first word. 
Once you've tried to do it on your own be sure to take a photo and post it in our official Facebook group so we can give you some feedback and help you improve further down the line. 
Drop your email below so we can send you the practice sheets.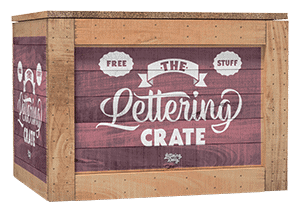 Stay updated with our tutorials and get instant access to the Lettering Crate –
A growing library of free lettering & calligraphy resources that includes – FREE downloadable calligraphy practice sheets, Procreate brushes, the 30-day lettering planner, printables, and more.
Don't worry we just send emails when we publish a new tutorial or if we have some major updates – we hate spammers as well!
FINAL WORDS
If you are a beginner keep it simple! 
Focus on understanding the fundamentals and try to expand from that.
This will give you a much more organized workflow and you will achieve better results in less time!
Practice is key, and if you are not willing to devote your time to it, then it's pretty much pointless to have any big expectations. 
Be sure to join our Facebook group where you can get constructive feedback on your work, share experience and network with other lettering and calligraphy artists!
As always, if you have any questions or comments you are always more than welcome to contact us. 
Until the next time,
Stay AWESOME!