This post and the photos within it may contain affiliate links. If you purchase something through the link, I may receive a commission at no extra charge to you.
The Tombow Dual brush pen is one of the most popular and most recommended brush pen on the market (especially for lettering beginners)
In this post, I'll be reviewing the Tombow Dual brush pen (pros and cons) and then we will move on to how you can blend them in 3 different ways!
– so in case you already have the pens, feel free to skip the review part and head straight for the blending tutorial.
That been said, let's have a quick overview of what are we going to talk today –
What is the Tombow Dual brush pen
Pros & Cons
Blending techniques
FAQ – about the Tombows
Without any further delays, let's begin!
The Tombow dual brush pen is a brush marker that features 2 nibs in each single pen.
The main nib is a felt (nylon) tip which is a bit bigger compared to other brush pens on the market.
The felt (brush) tip is flexible and has a strong level of elasticity – this basically means that every time you press the brush pen on paper and you bend the tip, it will come back to it's normal shape once it's lifted.
This makes the Tombow Dual brush pen a great tool for beginners – since it much easier to control compared to long hair brushes with lower elasticity.
The second tip is a small firm felt tip and it's the same color as the brush tip on the other side.
The small tip is great for fixing up details – we will talk about that later on!
Remember –
Different brush pens have different levels of elasticity in their nibs which manifests when you are creating your brush strokes.
PROS & CONS OF THE TOMBOW DUAL BRUSH PEN
Every product has its own good and bad sides and although i love this pen and i really recommend it to everybody (especially beginners) i want to keep this review as objective as possible.
Let's begin with the pros of the Tombow Dual brush pens
THE PROS OF THE TOMBOW DUAL BRUSH PEN
Beginner friendly
The first thing i would like to mention here is the user friendliness of the pen. As mentioned previously the Tombow Dual brush pen features a larger, flexible and more elastic felt tip which really creates a pleasurable and fun experience especially for brush lettering beginners!
The dual tip
The second small firm tip is a great feature and comes in very handy when you wish to fix those pesky transitions or other smaller details. Later in the article im going to show you step by step on how to use it!
Color wonderland!
The Tombow Dual brush pen comes in a huuuge variety of different high quality, water based colors.
If you enjoy working with colors and creating a variety of designs with it, then you will love what Tombow has to offer!
Later we will talk about blending colors and we will also talk about color theory and how to actually use them properly.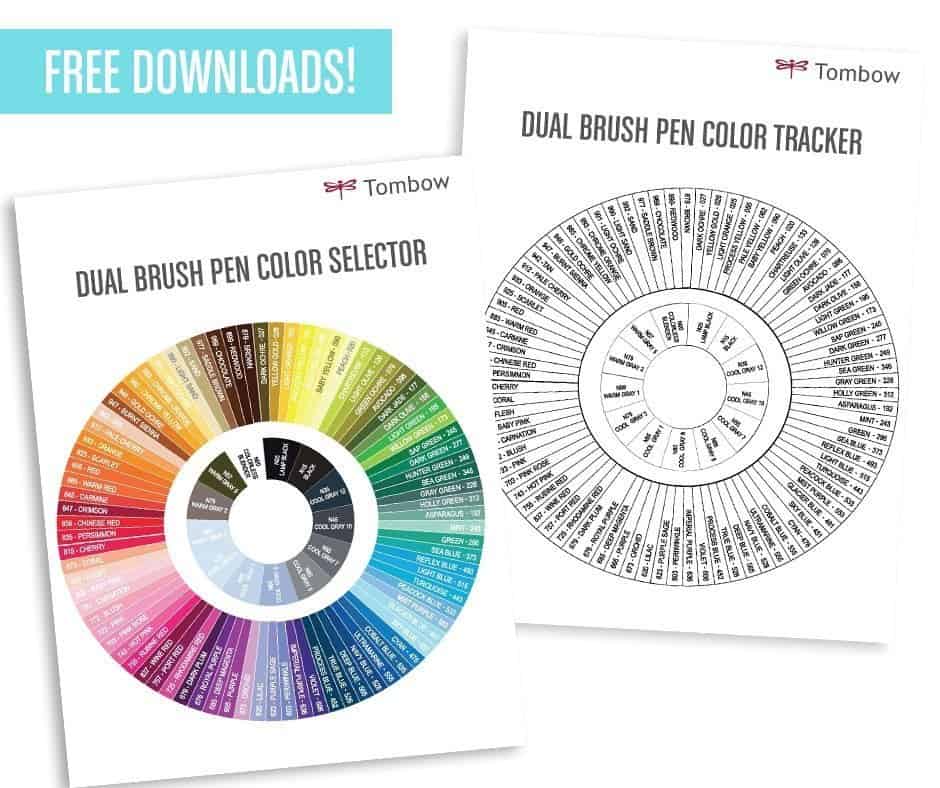 On the official Tombow website you can download these free PDF files to help you choose and track all the colors that they offer.
How cool is that!?
Water-based ink – blendability
The Tombow Dual brush pens feature water-based ink which makes them super easy to blend with different colors.
It's also important to mention that the ink inside is odorless and non-toxic which makes it safe for kids to use them.
THE CONS OF THE TOMBOW DUAL BRUSH PEN
Non-refillable
Unfortunately, once you've used up all the ink that's it, you need to get a new one. Essentially you could still use the brush tip by dipping the pen in ink, however, it won't give you the same feeling as the new Tombow brush pen.
As we talked before, if you use the correct paper (bleedproof paper) you can actually prolong the lifespan of the Tombow significantly.
Easy to fray
Again, paper matters!! This is not the case just for the Tombows, also other brush pens are prone to fraying when used on rougher surfaces. Once the pen is frayed there is not much you can do other than use it as it is – but we all know that nobody likes to work with frayed brush tips!
The price
I can't really say that these pens are expensive but I've also been a broke student where 15$ would have been perceived differently in my budget.
Don't worry,
In case that the Tombow Dual brush pen exceeds your budget, there are other cheaper options such as the crayola marker.
If you are interested to find out more about the Crayola marker and how to practice calligraphy with it, you should definitely check out the Crayligraphy website which is all about Crayola lettering.
BLENDING TECHNIQUES WITH THE TOMBOW DUAL BRUSH PENS
One of the big advantages of the Tombow Dual brush pen is that its ink is water based which makes it extremely easy to blend different colors.
There are several techniques of blending colors with the Tombows and each one of them is unique in its own way.
Before we start listing and describe them i would like to bring your attention toward color theory.
Colors are such a huge element in art and design and they can either make or break your work.
Eye-catching and eye-pleasing color harmonies can take your artwork to the next level and at the same time, a masterpiece with poor colors can leave a completely wrong impression.
Instead of relying solely on your own intuition and just following a random choice (sometimes it can work :D) i would like to invite you to check out this guide, where you can find out what are the color fundamentals and how you can use them in your lettering – in a very simple and comprehensive manner.
Once you have a basic understanding of which colors work together and which don't, we can move on to the blending tutorial.
3 DIFFERENT WAYS TO BLEND TOMBOW DUAL BRUSH PENS
1. With a "palette"
This method is super easy and super awesome to do!
Step 1 –
pick 2 different colors (i would recommend a lighter and a darker one)
find a piece of plastic or any other smooth non-porous material ( I used the plastic packaging of the pens)
Step 2 – first spread the darker color on the palette like so –
Step 3 – with the brighter color pick up the spread color from the palette and start brushing!
This blending technique is very fun to do, it gives you very intriguing and uncontrolled blends.
2. Directly on the strokes
Step 1 – take one color and write a word
Step 2 – with the second color start carefully adding on top of the written strokes
Step 3 – Take the blending brush and start gently blending the two colors like so –
With this blending technique you have a much higher control over the blends. Unlike with the first technique, you can actually decide where the blends will take place.
3. Without a mixing palette (gradient)
This one is similar to the first technique, but it gives you a slightly different effect – and it's also handy in case you don't have either a mixing palette or a piece of plastic laying around your place.
Step 1 – take 2 brush pens and turn them vertically once against each other
Step 2 – hold it for about 5-10 seconds
Step 3 – You are ready to go! Start writing.
To create a proper gradient effect it will probably take you several attempts – depending on the length of the word as well as how long you hold the 2 pens together.
FAQ (Frequently asked questions) about the Tombows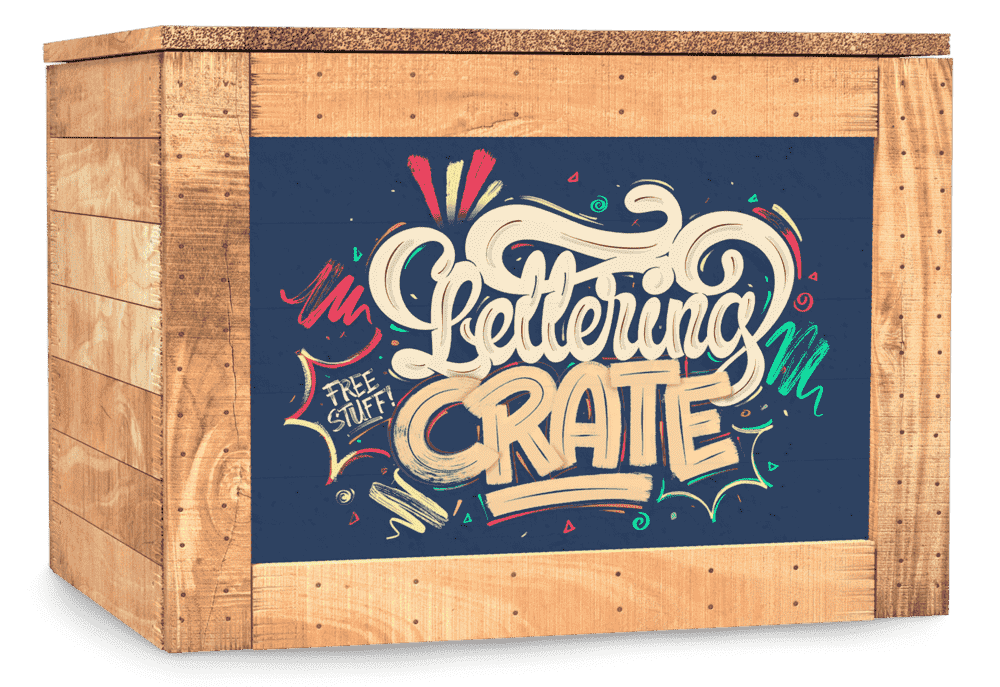 Stay updated with my tutorials and get instant access to the Lettering Crate –
A growing library of free lettering & calligraphy resources that includes –
Pin me!
About the author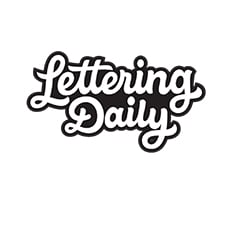 Lettering Daily is an online community that provides educational and inspirational content for hand lettering and calligraphy beginners. ​Our mission is to help artists and enthusiasts from all around the world to learn and improve their hand lettering and calligraphy skills.