This post and the photos within it may contain affiliate links. If you purchase something through the link, I may receive a commission at no extra charge to you.
Are you confused by the difference between hand lettering and calligraphy?
Don't worry,
You are not the only one.
The terms hand lettering and calligraphy are being used interchangeably, and this is probably the main reason that creates the confusion.
The problem is that when you are just starting out (or you simply don't know the difference yet) you only see letters – probably the easiest thing is to group everything as the same thing.
Wrong, there is a fine line between them.
You don't consider how they were created – which method was used.

Well, as it turns out that plays a major role in understanding the difference between hand lettering and calligraphy 😀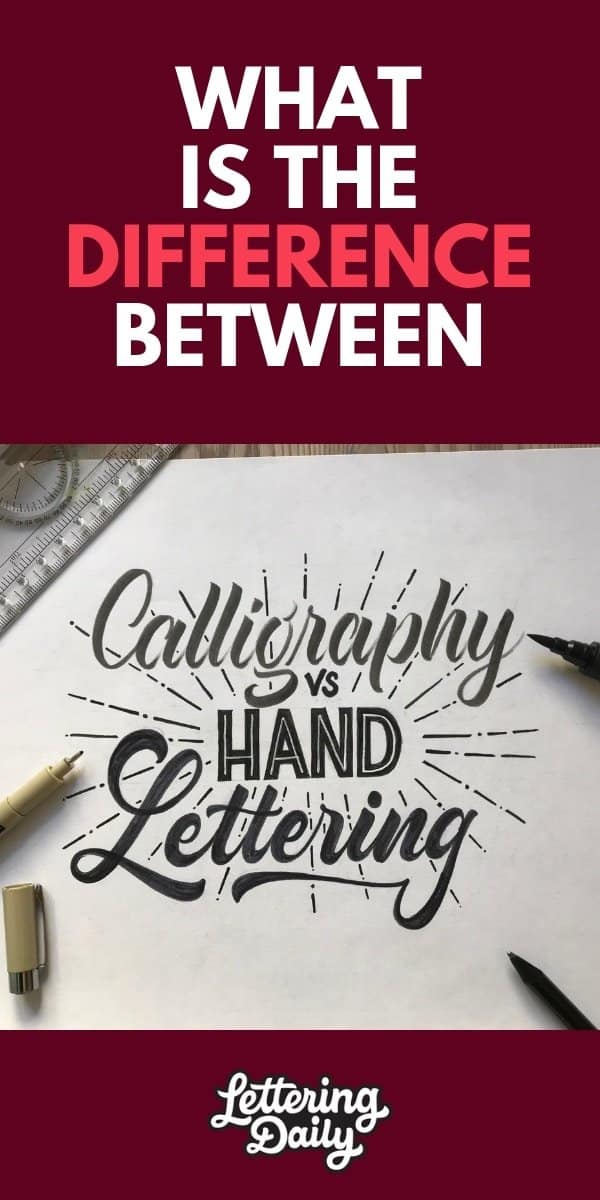 In this post we want to clarify the situation once and for all!
So once you learn and understand the difference between the two, it will be easier for you to orient yourself as an artist.
Here is a quick overview of the article –
The quick answer
What is calligraphy?
What hand lettering?
What is typography?
Why does all of this matter?  
Although the untrained eye may struggle to notice the difference between hand lettering and calligraphy, you need to remember that the main difference is how it's created.
Calligraphy is the art of beautiful WRITING while Hand Lettering is the art of ILLUSTRATING the letters – pretty much as you would illustrate fruit or people. The other big difference are the tools and techniques used in order to create hand lettering or calligraphy.
This is the most basic explanation of what the difference is between the two.
However,
let's dig into it so you can have a full and clear overview between hand lettering and calligraphy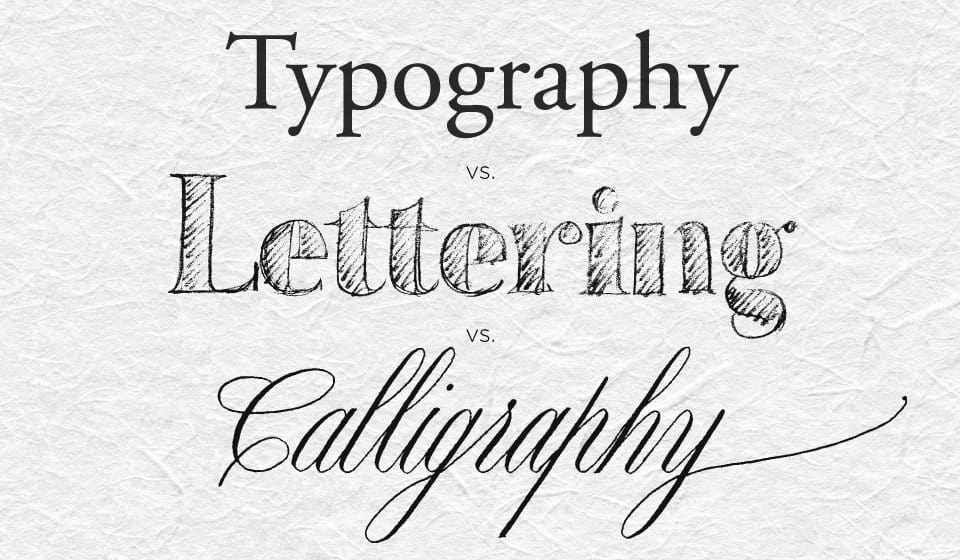 WHAT IS CALLIGRAPHY?
As mentioned above, calligraphy is known as the art of beautiful writing, but let's take a deeper look at this topic in order to understand it better.
So,
Calligraphy is an ancient form of art and it's spread globally across different cultures around the world. 
This is probably one of the main differences.
Cultures around the world communicate in different ways using different alphabets and so we can divide calligraphy into –
Arabic calligraphy

Western calligraphy

Chinese calligraphy

Indian calligraphy

And many more
 – A quick example of Arabic calligraphy.
We currently fit under the western calligraphy considering that we are using the Latin alphabet which firstly appeared around 600 BC in Rome.
Over the years the Latin alphabet was preserved and many different calligraphy scripts were developed such as –
Roman capitals

Uncials

Italics

Gothic

Etc.
It's great to see how throughout history humans learned how to tweak different shapes to create totally new calligraphic scripts but still maintaining the readability factor.
Following this timeline of how calligraphy developed through history really makes you wonder how it will look like in 200 years from today 😀
Today calligraphy is more popular than ever, especially with the modern calligraphy on the rise.
A major role into this plays also the internet, and a great example for this is this moment right now!
You, who are reading this educational article about the difference between hand lettering and calligraphy, you are currently expanding your knowledge and understanding of this beautiful art form all thanks to the internet!
We also mentioned that one big difference between hand lettering and calligraphy are the tools that are being used to perform.
So,
Depending on which script you wish to practice you can choose a variety of tools.
 – Dip pens are the traditional calligraphy tool, and they are used for scripts such as copperplate, Spencerian and even modern calligraphy.
 – Brush pens are also used for calligraphy and they are usually cheaper and a more approachable tool for beginners – also known as brush lettering.
We wrote an awesome review on the 5 best brush pens – check it out here
 – Flat nib pens are used for calligraphy scripts such as Gothic calligraphy, italics, Uncials, Roman capitals and many more.
A great way to start practicing flat nib calligraphy is with the Pilot Parallel pen which is a fountain pen that contains an ink cartridge so you don't have to constantly dip it in ink – like with the dip pens.
 – Fountain pens can also be a way to go, however, they are more suited for penmanship as (most of them) they dont have a flexible nib by default which is necessary for creating thick and thin lines – like with the dip pens
So let's make a quick brief of what we just talked about –
Calligraphy is the art of beautiful writing and it differs from –
The tool used

The culture

The history – different scripts
WHAT IS HAND LETTERING?
Exactly as we said at the very beginning of this post, hand lettering is the art of illustrating letters – just like you would illustrate a bowl of fruit, a portrait or a mosquito drinking a six pack.
Unlike calligraphy with sets of rules for each particular script, hand lettering gives you the total freedom of creating whatever shape or form you see fit.  
Although it doesn't have strict rules, hand lettering still follows some fundamentals such as readability (otherwise what's the point) balance, composition, letter structure etc.
We've probably mentioned this a few times already across some of our other articles, however know that with more time spent practicing and looking at other people's work you begin to train your eye to spot mistakes and potential improvements –
this is exactly the reason you want to keep some of your work, and then come back to it after a few months of practice.
You will be quite surprised to see the differences. Learn more about how to actually get started with hand lettering with this awesome step by step tutorial written by Chandan.
As for the historic part of hand lettering, it also dates back hundreds of years ago and probably the most influential periods were from a few hundred years ago when sign painting used to be the only way to put text on buildings, billboards, etc.  – before the digital era
Today, thanks to the internet hand lettering is popular more than ever and we can see it everywhere!
More and more businesses are recognizing the value of hand lettered signs, logos and other custom made designs.
Such an exciting time to be alive 🙂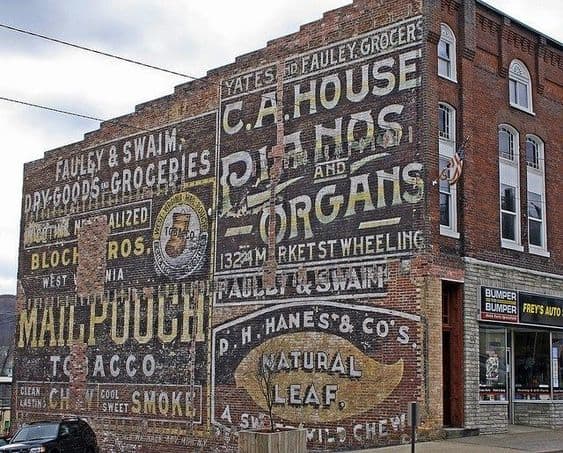 Let's take a look on what kind of tools are mostly being used for hand lettering.
The pencil is your absolute must when it comes down to illustrating/drawing your sketches.
There is absolutely no discussion that the pencil is your absolute best friend.
You will be working with a pencil probably more than you think, and for a good reason!
When you work with the pencil it can always always be erased while once you ink it you are done, there's no going back.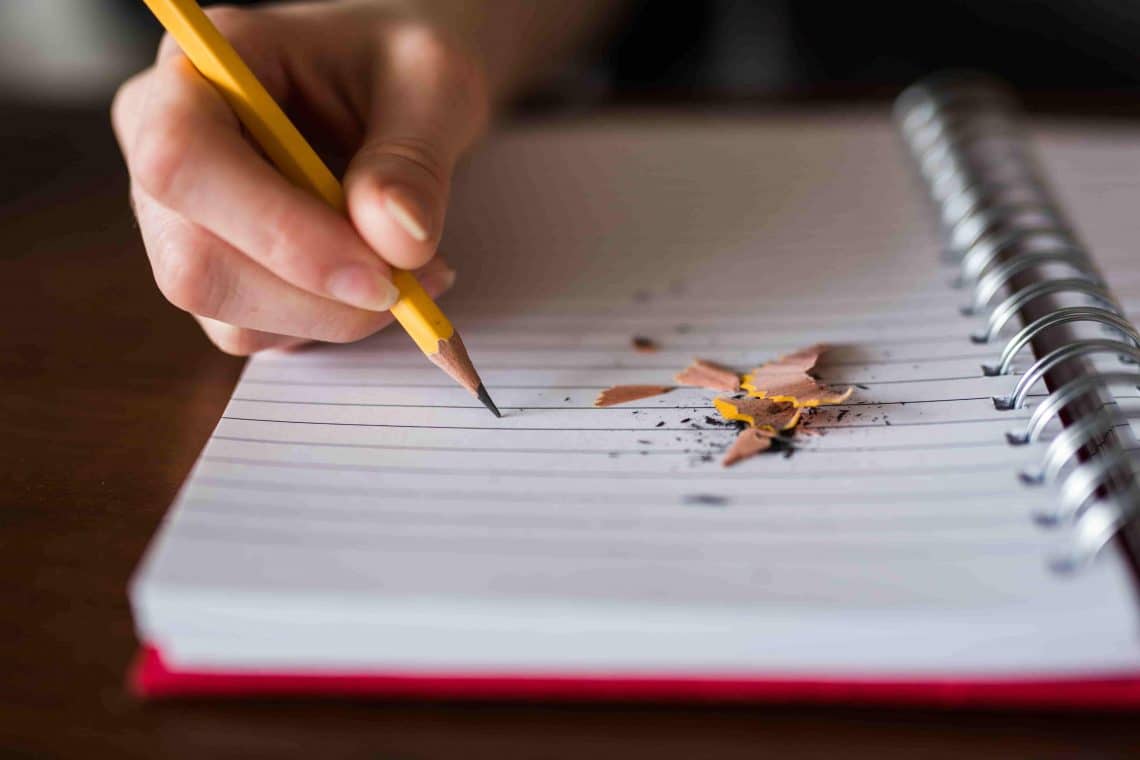 A ruler is also an essential tool as well as an eraser.
I couldn't recommend more the rolling ruler. It has a wheel in it and it allows you to quickly draw parallel lines – it is such a time saver when it comes to drawing grids for your lettering!
The ruler will not only help you draw straight lines but it plays a vital role when it comes down to creating a grid/base for your piece.
Markers are the final essential tool that you need for hand lettering. Used for outlining and filling your shapes, it's definitely a must have item for any kind of hand lettering artwork.

However, dont get me wrong you can use absolutely anything for hand lettering.
Tools like various markers, watercolors, acrylics, and pretty much anything that leaves a mark on a surface.
WHAT IS TYPOGRAPHY?
Before we bring it to an end we just wanted to point out towards another different term that from time to time we see being misused. 
Typography is neither hand lettering nor calligraphy.
Instead typography is the art of arranging type in a legible and appealing manner. The use of typography is all around you – like right now as you are reading this text. 
Keep in mind – that type design is the craft of creating type faces (fonts) that are being used. 
A typographer might not necessarily be a type designer and vice versa. 
WHY DOES THE DIFFERENCE MATTER?
So first of all this matters because im assuming that you don't want to live in ignorance.
You want to know what is what and know the difference when you see it.
Another reason for why this matters is so you can understand in which directions you want to focus more.
We often see hand lettering artist whom's  work is being misinterpreted for calligraphy and also calligraphers being understood as hand letterers.
They both have to do with letters however the difference of execution is very clear.
There are artists who enjoy practicing both form of arts and there are others who are enjoying more with only one of them.
Calligraphy is more about hand control and muscle memory, while hand lettering is more about understanding how each letter works, how to combine them, creating eye catching layouts etc.
Now it's up to you to figure out what suits you better, and of course you can do both of them . 
Hopefully this post has cleared the often confusion that happens with hand lettering and calligraphy.
Being well informed about the craft and expanding your knowledge is always a good thing.
Keep learning and be curious!
Until the next time,
Stay AWESOME!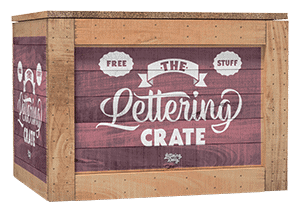 Stay updated with our tutorials and get instant access to the Lettering Crate –
A growing library of free lettering & calligraphy resources that includes – FREE downloadable calligraphy practice sheets, Procreate brushes, the 30-day lettering planner, printables, and more.