Cover photo by – @annlettering
Today we are going to talk about different types and styles of hand lettering.
It is safe to say that there are countless of different hand lettering styles you can create, and that basically means that your own creativity is the only limit.
The purpose of this post is to give you a sense of direction. If you are just starting out, finding your own style can be challenging, and exploring different styles is a great way to boost your creativity.
Stick around until the end of this post, we have prepared a fun challenge for all of you that will help you explore and to step out of your lettering comfort zone.
So, what are the different styles of hand lettering, and how can you use them in your future projects?
Sans serif
Serif
Cursive / Script
Vintage
Gothic – Blackletter calligraphy
Graffiti
Creative lettering
Other sub-lettering styles
These are just some of the major groups, now we are going to go 1 by 1 and review their characteristics, how to make them and their common usage.
In case you are interested in a particular style, simply click above and it will take you directly on the spot 🙂
Let's begin!
Sans serif lettering is probably one of the simplest styles to learn.
The term comes from the French language where ''sans'' means without – which exactly describes this style of lettering.
Sans serif or without serif, is the letterform that doesn't have any serifs at the end of the strokes.
Although today they are mostly used as text and display for computer screens (due to the easy readability) sans serif fonts are a great addition for your lettering pieces – especially in a combination with a script style.
Insane work by @stefankunz
When creating sans serif lettering you need to pay close attention to the letterforms. (like with any other style) It is highly important to maintain a level of consistency throughout the thickness, heights, spacing etc.
Here is a quick example of how to create sans serif lettering. We are going to work with the letter A as a quick demonstration.
A great tip when it comes to hand lettering is to dissect the letters.
With the letter A we can see that it's formed of 3 different parts, and im going to draw them 1 by 1 – imagine placing wooden boards on top of each other in order to create the letters.
Once it is inked it will look like a solid shape 🙂
Serif lettering is the opposite of what we just talked about. It is characterized by the small decorative lines at the end of the strokes of each letter form.
Probably the most common usage of serif fonts is for body text – it is considered that the it is easier to read them than sans serif fonts when it comes to print.
Drawing letters with serifs can be a bit more challenging than sans serif, however with practice you will definitely overcome those difficulties.
So, how to draw a serif letter?
The process is fairly similar to the creation of sans serif fonts, however it does have some differences.
First of all,
You need to know where to add the serifs – i would highly recommend you to have an alphabet in front of yourself so you can observe and study the letterforms (remember what we mentioned earlier)
This way you will know for sure where to add them and how, instead of just guessing.
The second thing is that serif fonts don't have the same weight on each stroke.
Don't worry,
There is a great tip to deal with that! Simply follow the upstrokes and downstrokes-
similar to calligraphy – up thin and down thick 🙂
Check the image below for the step-by-step process
There are different subcategories of serif style such as –
Old style

Transitional

Slab

Didone

Clarendon

And others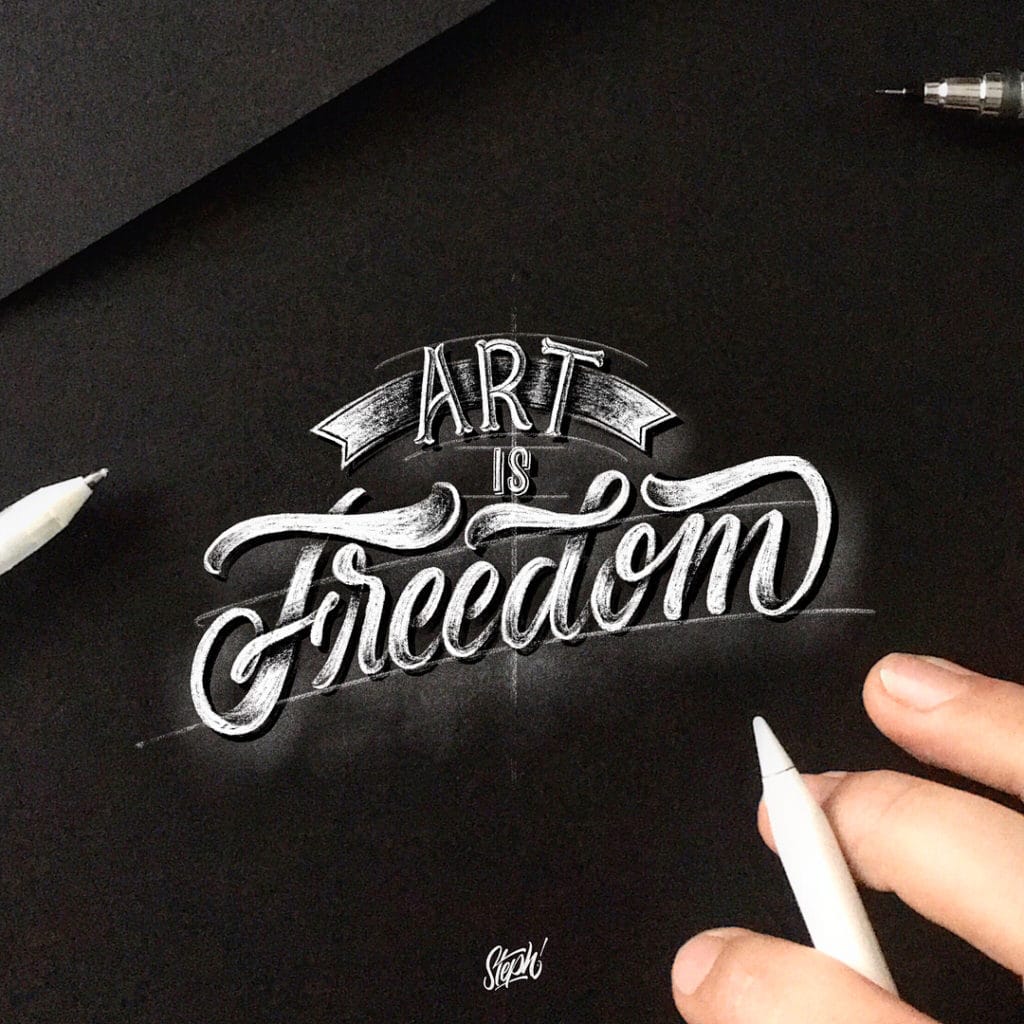 Artwork by @stephanelopes
Also known as script, cursive is originally a penmanship style where the characters are written together in a flowing manner.
However, when we talk about hand lettering, cursive is created in different way.
Hand lettering is essentially the art form where you draw each shape separately, whereas calligraphy is the art of beautiful writing.
Cursive in hand lettering is created by following some of the rules of calligraphy, most commonly by following the up thin and down thick rule.
Script hand lettering can be used as logotypes, t-shirt designs, posters, signs, you name it. It works well in combination with both sans serif and serif fonts – depending on what you are looking to create.
The beauty of cursive hand lettering is that you are not limited by the capabilities of your pen!
What i mean by that is that with a calligraphy tool like for example a dip pen – you will be able to create only a certain stroke thickness.  
With hand lettering you can create whatever shapes or forms you wish – as long as you follow the fundamentals such as consistency, balance, spacing etc
Here is a quick tutorial on how to create cursive hand lettering –
Artwork by @jimbobernaus
Vintage lettering can be characterized as a style that used to be contemporary in the 19-20th century.
It is very recognizable on a few different aspects –
Decorative

Serifs

Texture

Colors
Thanks to the internet you can find thousands of examples of vintage lettering – we highly recommend to use Pinterest as a source of inspiration.
It is just so awesome and inspiring to look at how the letterforms used to be before, and how they develop throughout a longer time period –
who knows how it will look like 50 or a 100 years from today 😀
Vintage lettering is a great way to represent something old and traditional (or if you are a hipster).
It is also getting quite trendy in the design industry as a lot of people see the beauty behind the vintage style.
How to create a vintage style?
Step 1 –
The first thing you need to do is research!
Head over to Pinterest and do a search for "vintage lettering"
Step 2 –
Find at least 2-3 images that you like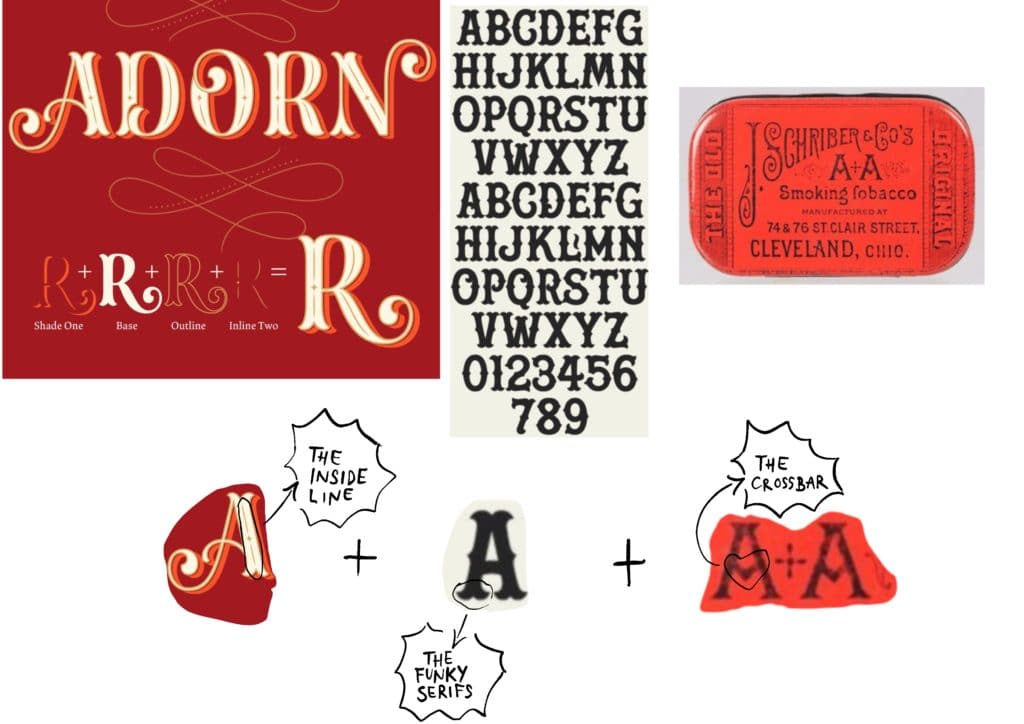 Step 3 –
Identify the elements. When looking for inspirations it is important to find elements that you would like to use – you are not stealing by doing this.
You are just observing and recreating it your own way.
Step 4 –
Start from a sans serif, its a basic letterform which will serve as your base.
Once you have that covered, start adding those vintage details to it.
Adding different (pale) colors and textures is kinda difficult with pen and paper. Don't hesitate to transfer your work to Photoshop or Illustrator and add some final touches.
5. GOTHIC / BLACKLETTER CALLIGRAPHY
Originally a calligraphy script, blackletter can also be hand lettered.
If you want to learn more about the blackletter calligraphy script check out this insane step-by-step guide written by our friend Edgar Villa (a.k.a @made.by.edgar)
Did you know – blackletter calligraphy originates from Western Europe since the 12th century – it's almost 1000 years old!
Now, the gothic script has well defined rules on how to create it, however, artists from all over the world have learned how to bend those rules creating stunning masterpieces while still retaining that main solid letter structure.
Artwork by @madebyedgar
Once you learn the basic structure of the blackletter script (it's not that hard), it is actually quite simple to create hand lettering with it.
Artwork by @boogiesml
Hand lettering and graffiti are always looked as two totally different things, and (in my opinion) it's due to the whole subculture that exists around graffiti.
But hear me out,
In it's own essence graffiti and hand lettering are practically the same thing – if we talk about working on paper.
Graffiti is an art form that it's mainly performed on vertical surfaces with spray paint cans.
However, when you are drawing a graffiti sketch on paper you still use a pencil, eraser, various markers etc.
– same as with hand lettering
(that's what i meant for them being the same thing)
Graffiti can be characterised as a more ''free'' artform, meaning that there aren't really any firm rules on how to create it – like for example blackletter or copperplate calligraphy does.
Thick, thin, round, sharp – graffiti gives you total freedom of doing whatever you want, but just keep in mind that it still needs to be well balanced, have good contrast between colors etc.
Graffiti is great when you are going for that street and urban feel in your piece.
Here is a quick brief on how to create a graffiti style for your lettering –
Artwork by @rylsee
This is probably one of my favorite styles!
Probably the best way to describe creative lettering it the type of lettering that has some sort of illustrations incorporated within.
So instead of just drawing letters in nice shapes and forms, you add illustrations, motives,  and other elements to give it some context and bring it to life.
Perhaps the easiest way is to just show you what i mean exactly.
Artwork by @lexwilsontype
This may be a more complex style to pull off as it requires some illustrational experience aside from the lettering one.
Nonetheless, like with the vintage lettering style, head over to pinterest or instagram gater some inspiration and try your own work.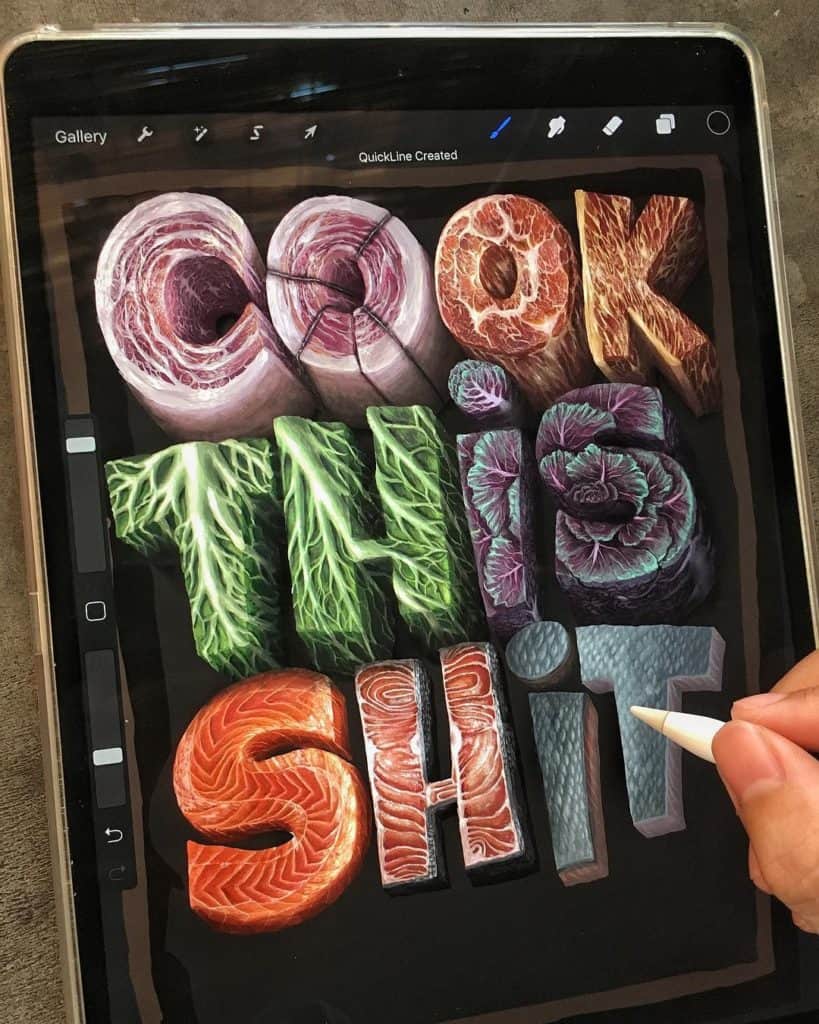 Artwork by @biksence
TO KEEP IN MIND – if you are just starting out, or if you are simply trying a technique for the first time, don't get discouraged if you don't like what you've created at first. Repeat the same artwork 5 times and compare the first and the last one –
I GUARANTEE you will notice a difference!
8. OTHER SUB-LETTERING STYLES
I guess these would be the underdogs 😀 Other lettering styles that perhaps are not yet that popular to have their own larger category (such as the above mentioned)
Lettering could be any style that your creativity can produce, i guess the only requirement is that it remains legible – otherwise, what's the point right?
You can create a wide range of different style by –
The best way is to experiment and be curious, trial and error. This is exactly why we would like to start the following challenge.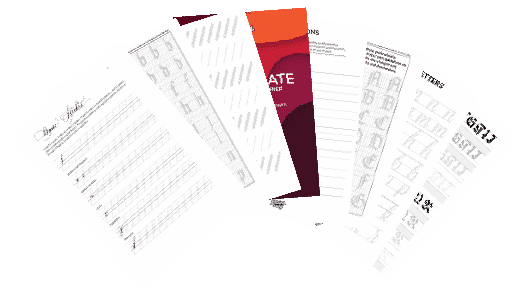 Stay updated with our tutorials and get access to our Lettering Vault –
an exclusive content area with downloadable practice sheets, the 30 day lettering planner, printables and other freebies!
THE LETTERING STYLE CHALLENGE !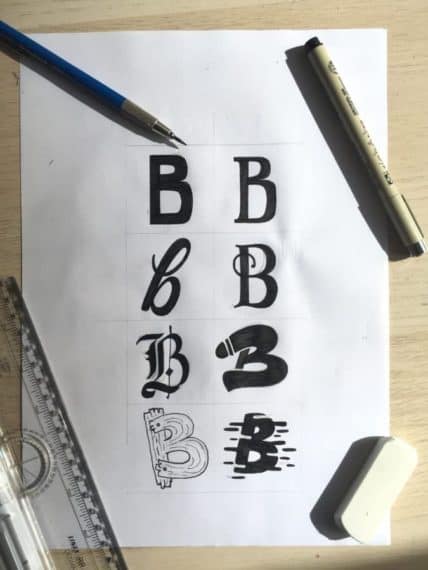 As promised at the beginning, we want to give you a fun challenge to practice different lettering styles.
We've just mentioned 8 different styles that you can start using in your hand lettering and here is what we want you to do –
Pick 1 letter from the alphabet

Hand letter it in 8 different styles
Simple as that!
To make things a bit more interesting for you, we will share our favorites on our Instagram feed (and other social platforms)
Once you have completed the challenge be sure to upload your work on our website forum and add your Instagram handle so we can easily find you 🙂
So? What are you waiting for?
Get your tools out and start the challenge!
Until the next time,

Stay AWESOME!