This post and the photos within it may contain affiliate links. If you purchase something through the link, I may receive a commission at no extra charge to you.
Are you looking for a calligraphy and lettering gift ideas?
Whether it's for a close friend, family member, or perhaps even yourself, I'll be sharing plenty of ideas in this post!
I divided this list into 4 categories.
Calligraphy beginners sets
Hand lettering beginners sets
Various lettering & calligraphy gift ideas (under 10$, under 20$, under 50$, and above 50$)
Gift ideas for digital lettering & calligraphy (iPad lettering etc.)
Books and online courses for lettering & calligraphy
If you're unsure about the difference between hand lettering & calligraphy, I suggest you check out this article.
Without any further delays, let's get started with the list!
Calligraphy gift sets ideas.
I am starting off this guide with calligraphy sets for beginners.
There are many different calligraphy styles out there, and some of them require different tools.
To keep it simple while simultaneously giving you various choices, I compiled 6 different beginner kits – depending on the style.
These sets include the essential tools that I personally recommend beginners to start calligraphy with.
1. Modern brush Calligraphy set 1 – Large brush pen
The first set is for brush calligraphy using a larger-sized brush pen.
This set includes the following items (links to Amazon) –
Alternatives to the Tombow Dual brush pens – Crayola, Lyra, Sakura Koi, Sharpie, Zig Brushables
2. Modern brush Calligraphy set 2 – small brush pen
This set is pretty much the same as the first one but with one difference, and that's the size of the brush pen.
Here are the items from this set (links to Amazon) –
Alternatives to the Tombow Fudenosuke – Pentel Arts Sign pen, Zebra Fude brush, Faber-Castell Pit
3. Modern Calligraphy/Copperplate set 3 – Oblique holder + pointed nibs
If you prefer a more traditional approach to calligraphy, a dip pen is a great choice.
Keep in mind that working with a dip pen and nibs means that you will have to prepare the nibs (wash off the protective coating) and also care for them.
This is not something difficult to do, it's just something you need to remember to do.
Otherwise, you risk ruining the nibs.
This set contains (links to Amazon) –
4. Broad edged calligraphy set 1 – for beginner – parallel pen
With a broad-edged pen, you can do a wide variety of calligraphy styles like – Gothic (blackletter), Italic, Uncial, Foundational, Roman Capitals, Carolingian, and many more.
This set contains (links to Amazon) –
Pilot Parallel pen – this is a fantastic pen, especially for beginners. The Parallel pen is a fountain pen, which means that it contains ink cartridges so you won't have to dip it in ink every few strokes. This is great for beginners because it's a tool that is ready straight out of the box and requires little to no maintenance. The Pilot Parallel pen comes in 6 different sizes, and if you want just one of them, I would recommend the blue one. (the 6.0 mm size).
5. Broad edged calligraphy set 2 – for more advanced – dip pen + nib
Again, if you prefer a more traditional feel, you can always pick a dip pen + ink combo.
Again, keep in mind that dipping pens need to be prepped and maintained after each use (you need to wash them and dry them).
For this kit, I recommend the following items (links to Amazon) –
Hand lettering sets gifts
Now it's time for hand lettering!
Compared with calligraphy where the focus is on writing the letters when it comes to hand lettering we draw/illustrate the letterforms.
For the hand lettering sets, I've created two different options, so let's get crackin'.
1. Hand lettering set 1 – Fineliners
This is the most basic set that includes the essential tools.
Check it out (links to Amazon) –
2. Hand lettering set 2 (colorful) – Molotow/Posca
This second set is pretty similar to the first one, however here I included some high-quality acrylic colors! (links to Amazon) –
An alternative to the Molotow one4all is the Uni Posca markers.
They are a cheaper alternative.
However, they are not refillable like the Molotow markers.
Various lettering & calligraphy gift ideas (under 10$, under 20$, under 50$, and above 50$)
Perhaps the gift you want to get is not for a beginner, or you just want to get a stand-alone item.
Here I compiled a list of different calligraphy tools and kits.
I ordered from the cheapest to the more expensive ones.
You can find gifts for under 10$, under 20$, under 50$, or from 50$ and above.
Let's begin.
Lettering & calligraphy gifts under 10$ –
1. Tombow Beginner Lettering Set
The Tombow Beginner Lettering Set is a fantastic starting point for anyone interested in brush calligraphy.
Each set includes two Dual Brush Pens, Fudenosuke Calligraphy Pen, MONO Twin Permanent Marker, MONO Drawing Pencil, and MONO Eraser.
Included there is also a small pamphlet with helpful tips for beginners.
2. Pilot Parallel Pen
If I was trapped on a deserted island and could only have one calligraphy pen with me, it would be the Parallel Pen.
It's truly an exceptional tool and a perfect gift for any beginner calligrapher. HIGHLY recommended!
3. Helix Ruler
With the Helix ruler, you can create some excellent-looking circular calligraphy (calligrams).
It's also the tool that Tamer recommends in his calligram tutorial that you can check out here.
4. Canson watercolor paper
Canson is known for its high-quality paper products.
This is an acid-free cold-pressed textured paper with a 300 gsm (140 lbs) weight.
Perfect for watercolors as well as final and special calligraphy/lettering projects.
5. The Rolling Ruler
This is one of the most-used tools in my toolbox. Whether I'm doing hand lettering or calligraphy, the rolling ruler is always here with me.
I believe this is a must-have tool for any lettering and calligraphy artist. I also made a tutorial on calligraphy guidelines and how I use them.
6. Tracing paper
Tracing paper is the ideal gift for a hand lettering artist. Refining sketches is a crucial step of the hand lettering process.
7. Pentel Fude brush pen
A bristle brush pen made out of long synthetic hairs.
Personally, I find it more challenging to work with this brush than a felt tip brush, but it creates a wide variety of different strokes and textures.
8. Tombow Fudenosuke set
It's one of the best brush pens for brush calligraphy beginners.
A great addition to any lettering toolbox.
9. Kuretake Fudebiyori metallic brush pens
A set of 6 brush pens with different metallic colors.
10. Nib set Manuscript
If you are looking for a gift for someone who is into pointed nib calligraphy, such as Copperplate – this is a great set.
The set includes 3 different nibs.
11. Speedball Elegant Writer – 4 marker set
A great and affordable set of broad-edged markers.
A perfect gift for those interested in starting to learning broad-edged calligraphy styles. These pens are super easy to use and require no maintenance.
The set includes – 2 x 2.0mm, 2.5mm, and a 3.0mm size.
12. Hagoromo Fulltouch color chalk
Would you believe me if I told you that this is the best chalk you can get?
Well, it is!
At least the best one I've tried so far 😀
I'm putting Hagoromo on the list because I had the honor to test this awesome chalk. I collaborated with the Hagoromo team and even made a YouTube video review about it.
13. Gold leaf for arts
This a great gift for those looking to get started with illuminated letters, gilding, and other creative projects.
It includes 100 sheets sized at – 5.5 by 5.5 inches (14 by 14 cm).
14. Flat brushes
I love doing calligraphy with flat brushes.
It allows you to create a wide range of different strokes – something you cannot do as easily with, for example, the Parallel pen.
On top of that, with brushes, you can create some amazing dry ink textures that can complement your strokes in a very unique way.
This set includes 9 brushes.
Lettering & calligraphy gifts under 20$ –
15. Walnut ink
One of the favorite types of inks among calligraphers.
This walnut ink will give you a nice dark and rustic feel to your calligraphy. It's really enjoyable to work with.
16. Crayoligraphy beginners set
This is a fun-looking set that is surprisingly affordable.
You won't get the traditional cone-shaped Crayola markers. These are Crayola brush pens with flexible tips.
Crayola Crayoligraphy Hand Lettering Art Set features -15 pages of Instructions, 12 Dual-Tip Markers, 2 Gel Pens, 3 Frameable Art Pages, 1 Photo Frame, 4 Place Cards, and 8 Gift Tags.
17. Water brush pen
This is perfect for both watercolor painting and calligraphy.
The set contains 6 brushes in different sizes.
18. Montana wide
This marker is so much fun.
The super broad tip is 50 mm wide, allowing you to create ultra-bold strokes.
I really like practicing blackletter (gothic) capitals with it.
The best part of this marker is that it's refillable!
19. Reusable Chinese Magic Paper
Ok so, I haven't had the chance to try these myself, but I've seen a couple of calligraphers online using it, and I have to say it's pretty damn cool!
You don't need any ink, just a brush and water. After a couple of minutes, the water dries up, and you're ready to go again. How cool is that?
It includes two large sheets of 18 by 14 inches (45 cm by 35cm).
20. Glass dip pen
These glass dip pens have become super popular in recent years among calligraphers.
This set includes a glass dip pen, a small pen holder, and a small ink bottle.
21. Copic Wide marker
I haven't had the chance to test this marker personally, but I've seen many calligraphers using it online.
It creates these amazing dry textures and looks like a fun tool to work with.
22. Pen Holder with Ink Bottle Container
A great gift for any dip pen calligraphy lover. I always had to improvise with random items I found in my kitchen, like a small plate or jar.
But this one looks so much better, and it would be a great prop for presentation images of your calligraphy.
23. Moblique pen holder
This is one of my favorite pen holders!
It's affordable, handmade, and multi-functional.
It can serve as an oblique pen holder, but you can easily slip off the flange and use it as a straight holder.
You can also untwist the shaft of the holder to find the ''secret'' compartment to store your favorite nibs.
Also, it sits well in hand and provides excellent control.
24. Wooden desk pen organizer
How can you properly practice calligraphy and hand lettering if you have pens and tools all over your desk?
Well, you can't! 😀
I think you can only benefit from a clean and tidy environment, which is why I included this pen organizer in the list.
25. Chalk markers
Do you know someone who is into chalk lettering?
This is then the perfect set of markers!
A total of 16 chalk markers – 10 bright colors and 6 metallic colors for various colorful masterpieces.
26. Kuretake ZIG Calligraphy Pens – 12-color set
These are my favorite broad-edged markers.
If you don't feel like dipping your pens into ink or changing cartridges, this is the tool for you.
No preparations and no maintenance. Just pop the lid, and you're ready to roll.
Each pen features a dual tip – 3.5 mm and 2.0 mm sizes.
27. Manuscript Italic & Poster Set
With this set, you'll be able to start creating a wide variety of broad-edged calligraphy scripts such as – blackletter (gothic), italic, roman capitals/minuscules, and more.
It includes a straight wooden nib holder and 11 nibs. The large poster nibs are super fun to play with!
28. Composition Ruler
The Composition Ruler is probably one of my favorites on this list.
It's a tool created by lettering artist Nico Ng, allowing you to develop intricate lettering layouts and compositions on paper.
I also had Nico as a guest author, where he wrote an excellent tutorial showing how to use his invention.
29. Speedball calligraphy ink set
Speedball offers a wide variety of quality products for calligraphers.
This set contains 10 different colored inks for calligraphy.
30. Light tablet
The light tablet is a useful tool for hand lettering and calligraphy artists.
It allows you to trace your sketches and is great for precision work.
31. Prismacolor Premier Advanced Hand Lettering Set
One of the very first brush pens I've ever worked with was a Prismacolor brush.
The Prismacolor Premier set includes – 2 pencils, 7 illustration markers, 2 dual-ended art markers, an eraser, and a tips/tricks pamphlet
32. Koi watercolor set
The Koi Field Sketch set is one of my favorite watercolor sets.
It's small (portable), affordable, and includes a water brush and built-in mixing palettes.
33. Manuscript Pen Manuscript Oblique Modern Calligraphy Set
This mini calligraphy set is ideal for beginners who would like to get started with dip pen calligraphy.
It contains an oblique holder, 3 different nibs, and a small ink bottle.
34. Moleskine Classic Notebook – Hard Cover A5 size.
I think that a notebook is a super essential tool for every creative out there. Whether it's for taking notes, planning, journaling, or sketching, I always have a small notebook with me.
Moleskine is one of my favorite brands, and it's super high-quality. I always get the dotted grid on the pages.
35. Loew-Cornell Fine Line Painting Pen (fluid writer)
Probably one of the most unusual writing tools I've seen in a while.
The fine-line painting pen is actually an old-school fineliner. It's kinda hard to see it from this picture, so I recommend you check out this Instagram video by Marita for a better example of the tool in action.
36. Wood-burning kit (pyrography)
A perfect beginner's kit for anyone getting started with woodburning (aka pyrography).
This is the same kit the professional woodburning duo Pyrocrafters recommend in their article.
Lettering & calligraphy gifts under 50$ –
37. Arteza Dual Brush Pens – Set of 48 Colors
This Arteza set includes 48 dual-tip markers.
A larger flexible tip is suitable for brush calligraphy and a smaller-sized tip is great for adjusting finer details.
On top of that, the ink is water-based, meaning that these pens are great for color blending.
38. Finetec metallic pigment watercolor set
This watercolor set offers a variety of beautiful metallic colors.
You can use it for lettering, painting, and even calligraphy.
39. Faber-Castell Modern Calligraphy Kit
If you know someone who enjoys watercolors and modern calligraphy, this will be a great gift for them.
The Faber Castell set includes – 3 Faber-Castell Pitt Artist Pens, 4 tubes of watercolor paint (10 ml each), graphite pencil, envelope and curves template, ruler, practice paper pad, mini refillable watercolor brush, and instruction booklet.
40. J. Herbin 1670 Anniversary Inks – Gold Sheen 50 ml Bottled – Emerald of Chivor (Emerald Green-Blue Ink)
Hands down one of the coolest inks I've seen out there.
Im not going to say much about it. I would rather show it to you.
41. Speedball Complete Calligraphy Kit
It includes nearly everything you need to start with broad-edged and pointed pen calligraphy styles.
In this set, you'll get – Calligraphy practice paper, a straight and oblique holder, a broad-edged and pointed nib, a bottle of ink, a bottle of pen cleaner, and a Speedball Elegant Writer (broad-edged marker).
On top of that, you get the 25th edition of the Speedball Textbook, one of my favorite calligraphy books.
I highly recommend this set!
42. Karin Brushmarker PRO – 12 basic color set
These are hands down some of THE BEST brush pens you can get.
Yes, they are a bit more expensive than other brush pens, but it's totally worth it.
The Karin brush markers come in a huge variety of vibrant liquid watercolors, the ultimate tool for color blending.
43. Chinese calligraphy set for beginners
I've never tried doing Chinese calligraphy, but if I was about to start, this set seems to be including all the essentials.
It comes with 4 pcs Chinese calligraphy brushes, a black ink stick, an ink pad, and a ming porcelain mixing ink mixing bowl.
44. Video shooting set-up
This is a great alternative to expensive overhead tripods when shooting videos or taking photos of your work.
It's the exact setup I use for my photos and videos.
Using a basic microphone stand and a small screw adapter allows you to catch various angles without interfering with your work.
You will need these 3 items (links to Amazon) –
Check out this video for more info.
45. Embossing starter kit
A starting kit for embossing.
The kit includes a heat tool, two embossing pens, and two different embossing powders (gold and silver).
46. Khadi hand-made paper
Khadi hand-made paper is so freakin' good.
It's the perfect choice for special calligraphy projects.
47. Custom wax seal stamp
Get your very own custom-made wax seal stamp!
You simply need to upload an image with your logo or initials.
I think this could be a really cool way for you to brand your artwork.
Check it out on Stamptitude.com
48. Custom Paper Embosser
You know what's even cooler than a custom-made wax seal stamp?
Yup! A custom-made paper embosser!
I originally saw it from my friend @snooze.one, and it looks so cool. I would definitely love to get one of these.
Once you place your order, you just need to send them a file containing your logo or custom design so they can create your embosser.
49. Ecoline watercolor set
I love the Ecoline brush pens, and I also love their watercolor ink.
It's created for drawing, painting, and especially calligraphy. You can combine the different pigments to create intriguing gradients and beautiful color palettes.
50. Speedball calligraphy set
I wish someone had given me this kit when I started.
This kit from Speedball really takes the cake.
It contains absolutely everything you need to get started with calligraphy. It includes –
Straight holder
Oblique holder
Pointed and broad-edged nibs
Ink (4 bottles)
Speedball textbook
Lettering & calligraphy gifts for 50$ and above –
51. Ruling Rolf pens
Well, now, this is already on the next level.
These handmade ruling pens by Rolfpens look absolutely amazing.
I would consider this to be a very special gift if someone got it for me 😀
52. Praktik Pen
Another beautiful set of handmade pens.
It includes 8 different sizes, and they all have unique inline cuts that create some fantastic textures.
53. Drafting table
I can't stress enough how important it is to have a proper calligraphy practice setup.
I like the idea of having a dedicated workstation with an adjustable angle of the surface.
54. Print on demand – create some artwork
Another gift idea could be your artwork!
Print on demand are businesses that allow you to place anything that you create on t-shirt, hats, backpacks, phone cases, the list goes on and on.
I really like Printful, you simply create an account, pick your product, upload your designs, select your address and they'll do the rest.
The whole process is very smooth, and prices seem very affordable.
This could also be an idea for you to monetize your creative skills in the future.
Gift ideas for digital lettering & calligraphy (iPad lettering etc.)
In this section, I wanted to share a couple of gift ideas for those who prefer practicing their hand lettering & calligraphy with digital tools.
In most cases, that would be with the iPad Pro and Procreate.
With that in mind, here are some gift ideas for digital lettering & calligraphy aficionados.
1. Procreate brushes for lettering & calligraphy
An excellent gift for someone with an iPad Pro and creating artwork using Procreate is Procreate brushes!
When it comes to Procreate brushes, I got you covered!
First, we have the Procreate brush bundle for lettering and calligraphy artists that comes with a significant discount.
This bundle contains 5 brush packs with a total of 314 brushes at a whopping 50% discount!
You can also check out the Procreate review article, where I test and review 21 different brush packs.
2. Pen Tips for the Apple Pen
These Pen Tips are not just a protective layer for your Apple Pen. They increase control and precision in your strokes.
The Pen Tips can do that by increasing the friction between the plastic tip of the Apple Pen and the glass surface of the iPad screen.
3. Paperlike Screen Protector for the iPad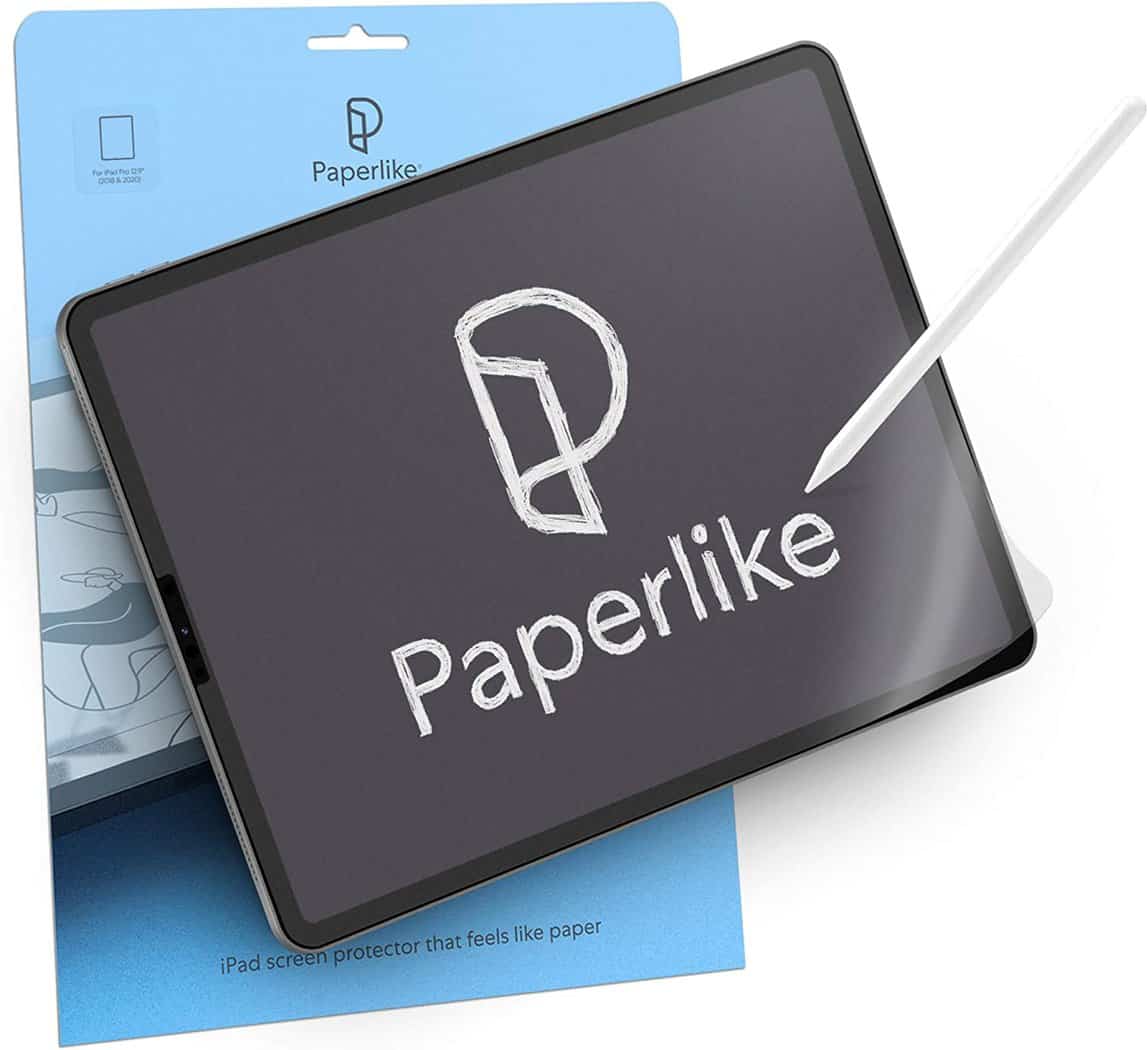 As I previously mentioned, an issue with the iPad and the Apple Pen is the lack of friction. The smoothness makes it quite difficult to control your strokes.
Well, Paperlike is solving that exact problem. Aside from protecting your screen, it will help you increase your precision.
I also like the fact that it has a matte finish meaning that there is no glare or reflection – super useful when recording a video.
Books and online courses for lettering & calligraphy
Next up, we have books & online courses.
Let's start with books.
I love books, and I think they are a great gift for someone getting started with lettering and/or calligraphy.
Hand lettering books –
If you are looking for a hand lettering book, I recommend you to check out my article, where I review 9 of my favorite hand lettering books.
Calligraphy books –
I wrote a separate in-depth article on my 10 favorite calligraphy books. These are suited for both beginners and seasoned artists.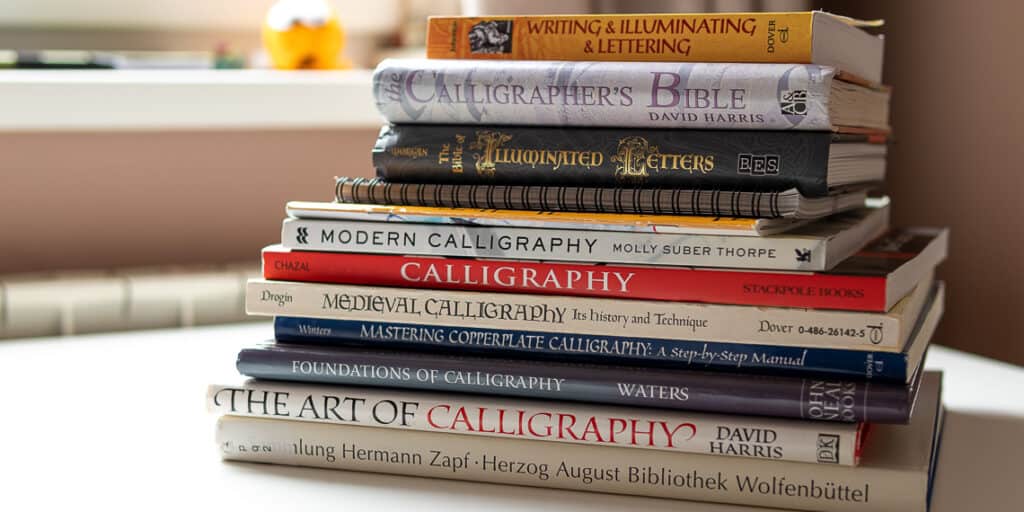 Online courses for lettering & calligraphy artists –
My final idea for this post is online courses!
Regarding online courses, my two top choices are Skillshare and Domestika.
Let me start with Skillshare.
Skillshare is an online learning platform with more than 30,000 courses on a wide variety of topics.
Including hand lettering & calligraphy courses created by some of the top names in the industry.
The cool part about it is that the subscription allows you to watch every single course on the platform with 0 limitations.
I also wrote this article where I talk about my favorite courses on Skillshare. Check it out –
I've spent hours in the past years watching various courses on Skillshare.
Not just for lettering/calligraphy but also for design, photography, online marketing, and the list goes on.
I've learned skills that had a huge positive impact on my life, and I would recommend Skillshare to anyone looking to learn a new skill.
Next up is Domestika.
Domestika is known for creating high-quality online courses with some of the best names in various creative fields.
Including calligraphy, hand-lettering, and typography.
Another cool thing about Domestika is that they are constantly creating new courses and running huge discounts and various promo bundles.
Super happy with what they have been putting out in the past years, and I highly recommend you check them out.
I've created a custom list with some of my favorite courses. You can check it out by clicking on the button below –
Final words
That's about it, folks; I hope this guide will help you find the right gift for the letterer/calligrapher in your life.
Did I forget to mention something? Do you have a suggestion to make this list even better?
Be sure to drop a comment below and let me know.
Until the next time,
Stay AWESOME!
Pin me!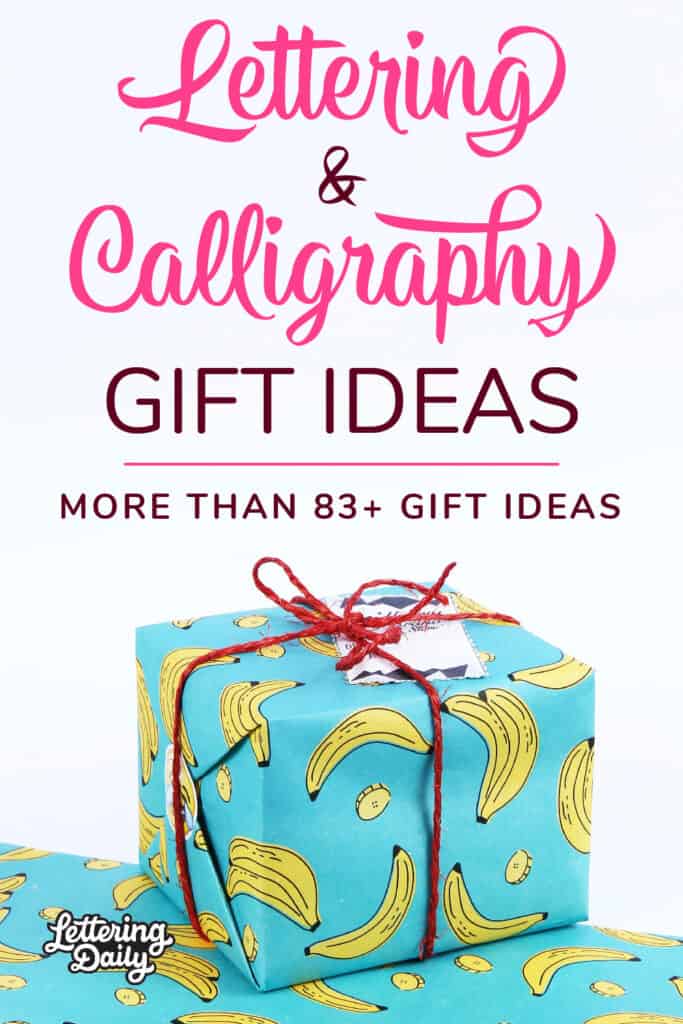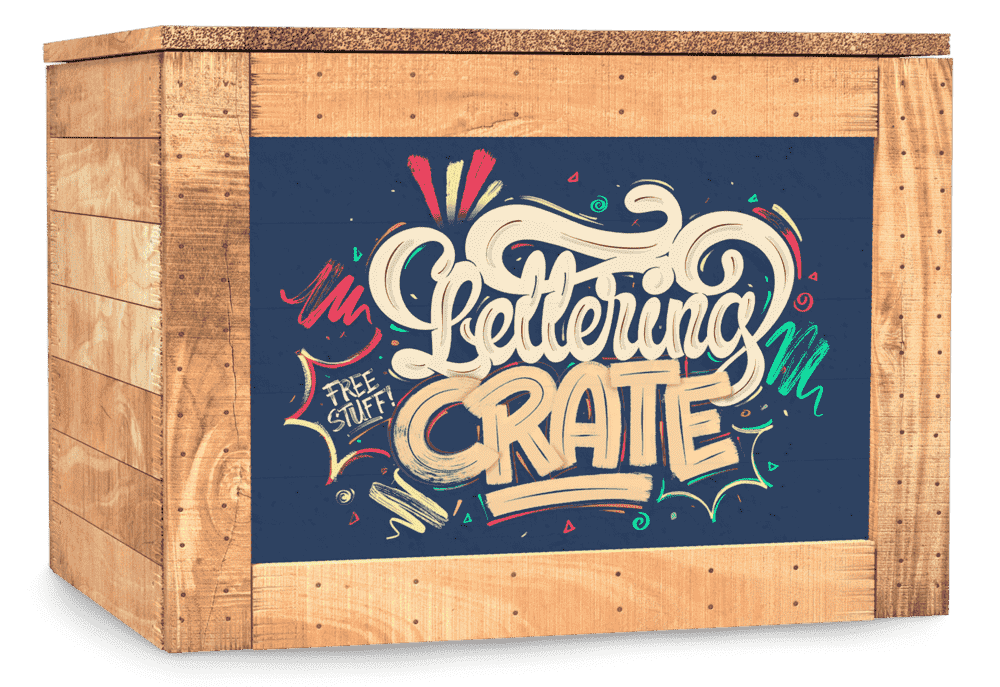 Stay updated with my tutorials and get instant access to the Lettering Crate –
A growing library of free lettering & calligraphy resources that includes –
About the author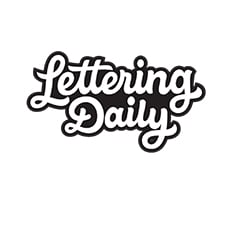 Lettering Daily is an online community that provides educational and inspirational content for hand lettering and calligraphy beginners. ​Our mission is to help artists and enthusiasts from all around the world to learn and improve their hand lettering and calligraphy skills.