This post and the photos within it may contain affiliate links. If you purchase something through the link, I may receive a commission at no extra charge to you.
In this article, I am reviewing 9 hand lettering books for beginners.
These books will help you learn fundamental lettering concepts but more importantly you will learn how to properly practice.
As I always say – practice matters but the way you practice makes all the difference.
Keep in mind that these are books for hand lettering and not for calligraphy – in case you still don't know the difference, you should definitely check out this post here!
Without any further delays, let's get down to our list!
About the author –
Mye De Leon is a lettering artist and illustrator based in Singapore.
Mye is among one of my favorite lettering artists that I've met so far, and not only because of her artwork.
Mye is a hard worker that always manages to surprise me by the amount of effort she invests and the quality of her work that she presents to the world.
Whether it's a hand lettered piece that took hours to complete or writing a killer book with amazing feedback from all over the world, you can definitely see that Mye never holds back.
Aside from the book and working with clients worldwide, Mye also runs her own blog where she shares some great content on hand lettering that is packed with value.
I highly recommend you checking it out!
What will you learn from this book?
Perhaps the question is, what won't you learn from this book?
Mye was so kind to actually send me a copy of her book, and just by reading the table of contents i realized how much value was packed inside of it.
Even if you are a complete beginner with 0 experience, Mastering Hand Lettering will guide you through the fundamentals of hand lettering such as the terminology, type anatomy and essential tools needed.  
Mye is guiding you through every single letter of the alphabet both uppercase and lowercase letters – while giving helpful insights on every step of the way.
If that wasn't enough,
you will also learn about composition and hierarchy, colors, the whole lettering process, a dozen of different lettering styles, perspective, shadows – you name it!
The end of the book is reserved for premade grids where you can practice and apply the freshly learned knowledge.
The book is printed on high quality paper so you really don't need to worry about ink bleeds – Mye really thought of everything!
Personally i think this is one of the best books for hand lettering beginners and even if you scraped all the best content from the internet, it still wouldn't match up to this book.
About the author –
Ivan Castro is a designer specializing in lettering, calligraphy and typography designer based in Barcelona, Spain.
Ivan has been working in the industry for the past 15 years, working with clients all over the world on a wide variety of different projects as well as traveling and organizing creative workshops.
Not so long ago, we also had the pleasure to interview Ivan, so if you would like to find out more about this awesome dude with a funky mustache, you can do it here 😀
What will you learn from this book?
The ABC of Custom Lettering is an practical workbook (easy to follow) that will guide you step by step on how to draw a variety of different letter forms.
Although I mentioned in the beginning that this list would be solely focused on hand lettering, this book is an exception, as it actually covers ground in both hand lettering and calligraphy.
Guiding your through historical and traditional scripts such as Roman capitals, italics, gothic letters all the way to modern and more contemporary styles.
Ivan made sure to create a all-around experience for his readers.
About the author –
Jessica Hische is an illustrator and lettering artist based in San Francisco, California.
Working with giant brands such as – Nike, Honda, Etsy, Facebook, New York Magazine, Hallmark , The Gap, Apple (the list goes on and on)
Years of practice, and hard work truly placed Jessica as one of the top lettering artists in the world.
What will you learn from this book?
Jessica guides you through her lettering creating process by giving you insights through every step of the way, such as – research and brainstorming, creating thumbnails, sketching process as well as how to vectorize your work (the digital aspect)
The best part of this book is,
that Jessica also guides you through different steps when it comes to working on different projects such as – logos, advertisement, books etc.
In case you are more interested in the business aspect of lettering, you won't be disappointed with this book!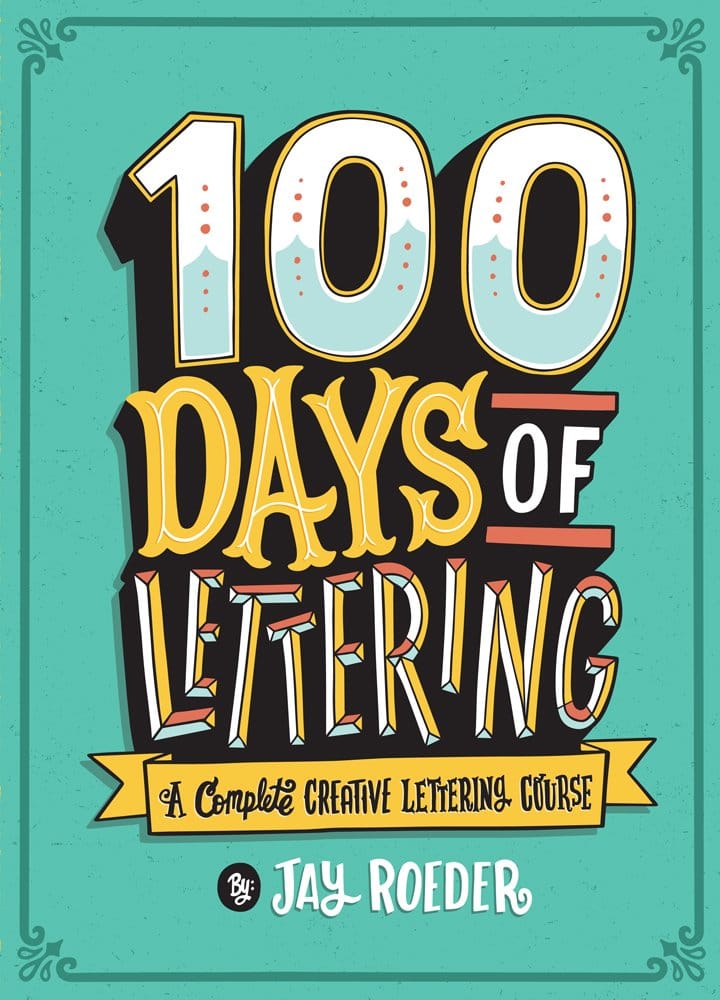 About the author –
Jay Roeder is a freelance illustrator and designer with a high focus on hand lettering.
Jay is based in Connecticut and has had the opportunity to work with some major brands such as – Nike, Ray-Ban, GAP and others.
As you can see on the book cover, Jay has a very unique and captivating style that has been heavily focused by the pop-culture of the 90's
What will you learn from this book?
Do you have issues with consistent practice?
It's hard to stay motivated and inspired constantly which judging by the content of this book, it's exactly what Jay had in mind when creating it!
Aside from being a great manual for beginners, covering the fundamentals, tools, terminology etc. Jay decided to create an interactive book that will keep you busy for the next 100 days!
Throughout our content we constantly preach that practice is the thing that will help you improve the most, and i guarantee if you consistently practice for a 100 days along with this book – YOU WILL IMPROVE!
About the author –
Martina Flor is a designer specializing in lettering and typography based in Berlin, Germany.
Martina is a true scholar with a masters degree in Type Design from the esteemed Royal Academy of Art in The Hague, The Netherlands.
Aside from that she has also worked with brand giants such as – The Washington Post, Vanity Fair, HarperCollins, Monotype, Etsy, Adobe, Mercedes Benz, Lufthansa, and Cosmopolitan, among many others.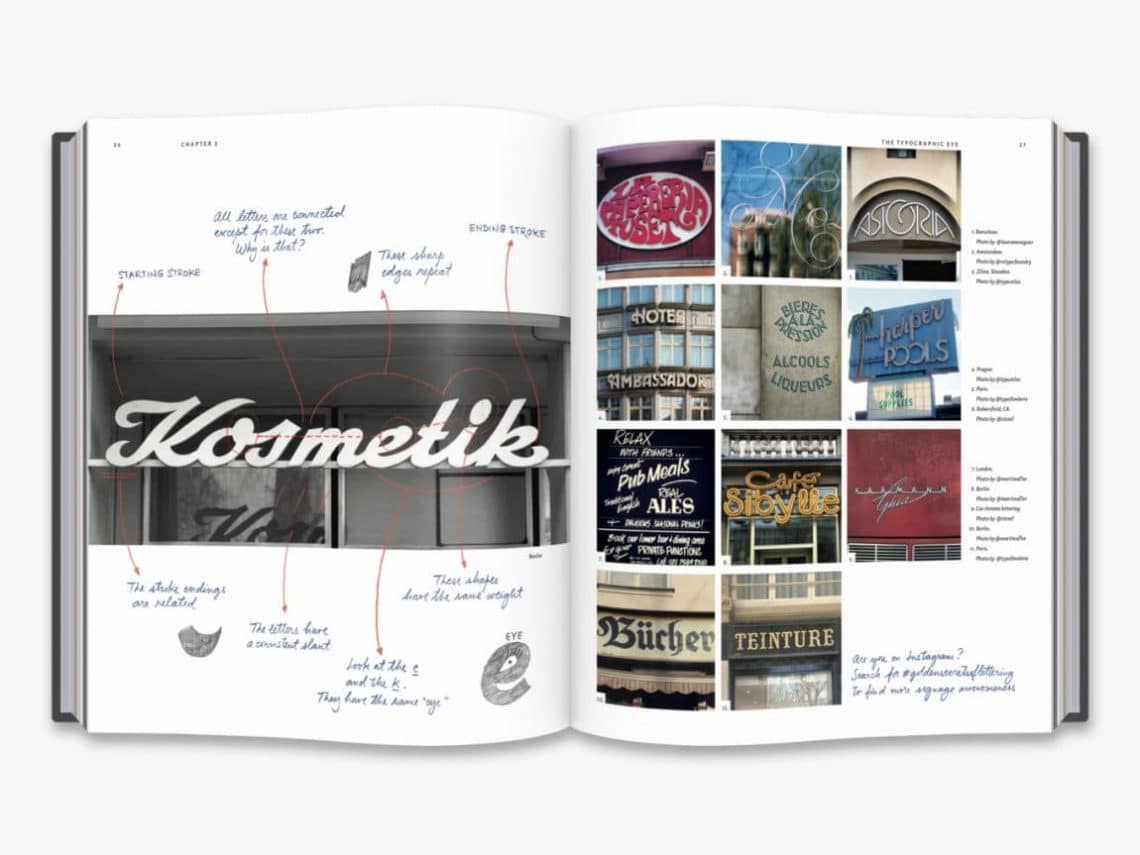 What will you learn from this book?
Looking at Martina's work you can really notice the typographic influence in her hand lettering artwork.
It is well governed by rules such balance, contrast, precision and all this plays a vital role when it comes to hand lettering.
You need to know the rules in order to bend them!
In The Golden Secrets Of Lettering you will learn things such as –
basic definitions and differences in styles, how to train your typographic eye, tools, the complete process from start to finish and much more.
There are more advanced segments for more experienced artists such as composition and embellishments as well as some tips on how to become a professional designer.
Martina really packed this book with a ton of value making it an interesting read for both beginners and more experienced artists.
On top of this amazing book, Martina also created a full online (video) course that will guide you through her creating process.
Best of all,
You can take the course totally free! Check it out here.
About the authors –
Steven Heller is an designer, journalist, author and editor based in New York city.
Aside from being the art director for the New York Times for 33 years, he also published more than 40 books on topics ranging from art, design, typography and more.
Steven's spouse, Louise Fili is a well recognized designer specializing in typography and lettering.
Aside from being awarded with numerous and prestigious awards, she is also the co-author on a number of books along with Steven Heller.
What will you learn from this book?
I'll let you know right off the bat that this is not a "how-to" book but rather a beautiful collection of hand drawn pieces from the last century (early 1900's – 1950's).
Shadow type focuses more on bringing you a wide variety of examples, so this book will be a perfect source of inspiration for those who are seeking to add another dimension to their lettering artwork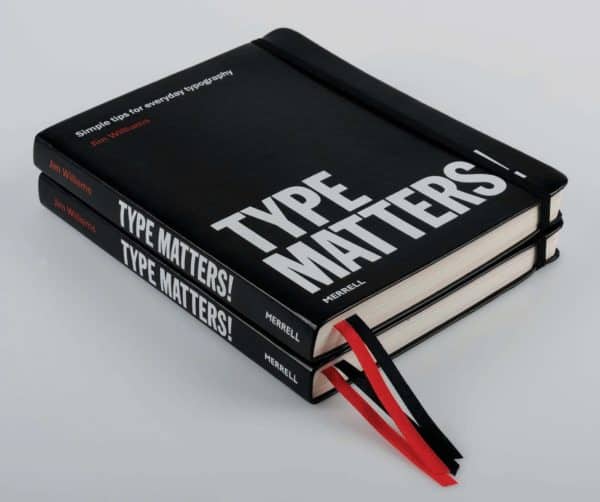 About the author –
Jim Williams is an award winning graphic designer based in the U.K. Jim is currently working as a senior lecturer at the Staffordshire University.
What will you learn from this book?
This book amazed me from the first moment I touched it!
Although this book differentiates itself from the other ones in this list you should not be confused.
Type Matters! is a book about typography rather than a hand lettering book. You are probably wondering why is this book included in this list?
Simply putted this book will guide you through the fundamentals of typography which then can serve as a foundation for your hand lettering.
Understanding terms such as letter spacing, kerning, ligatures, balance, contrast etc. or learning about letter anatomy, layouts, are just some of the essential things that type lovers should learn.
This is probably a book which will most likely be used by those who consider hand lettering and typography in general more than just a hobby.
About the author –
Alex Fowkes is an award winning British designer, predominantly known for his unique typographic work, installations and murals.
Working with a range of international clients on various projects including interior graphics, advertising campaigns, product and retail design.
Recently Alex became a published author with his book 'Drawing Type', and regularly gives lectures and workshops at Universities.
What will you learn from this book?
The thing that makes "Drawing Type" special is that it's part a workbook and part inspiration – giving you a good overview of the fundamentals as well as a dose of the true potential behind hand lettering.
The main part of the book is focused on the inspiration – featuring worldwide recognized artists and intriguing interviews.
The second section is oriented towards the educational content where it's complemented with some creative exercises for the readers.
About the author –
Dina Rodriguez is a freelance graphic designer specializing in hand lettering, currently based in Portland, Oregon.
Aside from working with clients from all over the world, Dina constantly works on providing inspirational and educational content for her audience.
I highly suggest that you check out her blog in case you are looking for more content on hand lettering – especially the business aspect of it!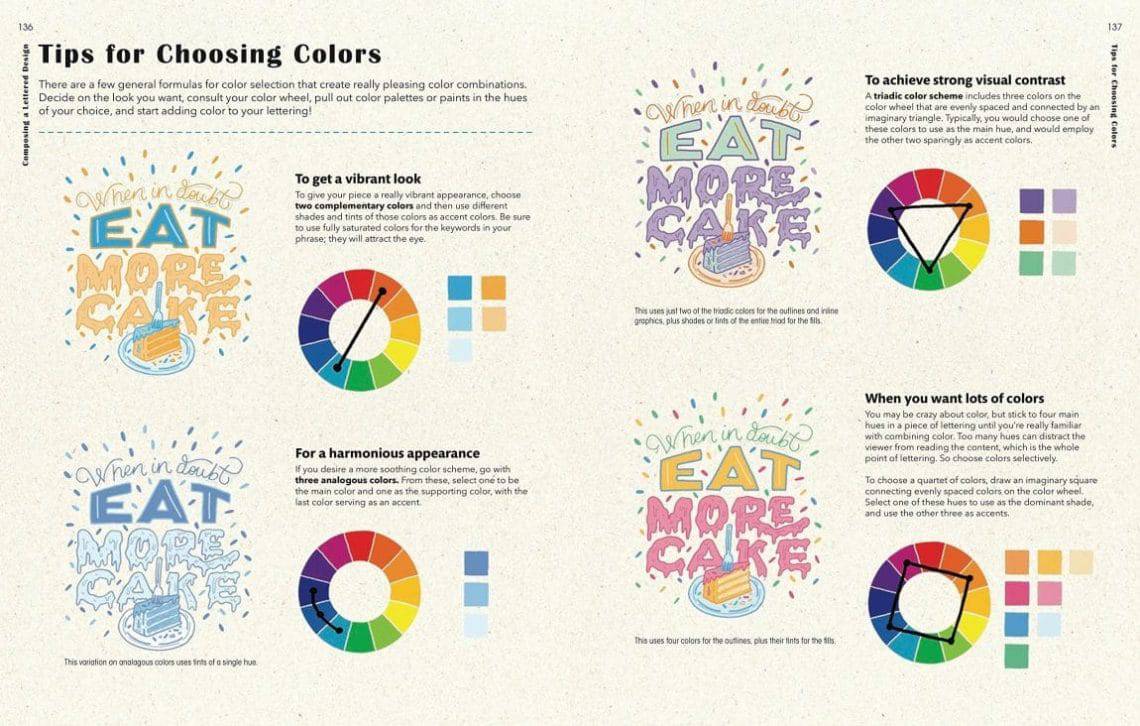 What will you learn from this book?
Holy smokes!
This book is jam packed with valuable info for beginners!
It really looks like Dina didn't spared herself on this book and really created a fantastic piece of content.
As the tittle says, you won't be learning just about hand lettering on paper, but also how to create chalk lettering!
In this book you will have the opportunity to learn things such as –
Fundamentals
Terminology
Anatomy
Tools
How to practice
How to transfer your work from paper to a chalk board
Ligatures
Banners
Composition
Banners
A huge variety of different styles
Hand lettering with clients on different projects
I mean the list goes on and on 😀
This book will keep you busy and entertained for a good amount of time!
FINAL WORDS
As i said at the very beginning, today you are able to find a huge amount of information online.
However, books can provide you a totally different, and more profound learning experience compared to a YouTube tutorial.
Being able to sit down at a table, completely disconnect from the internet and just read and learn from experts with years of experience will definitely have a positive impact on your artwork.
Do you have a book recommendation?
Let us know by joining our Facebook group, where you can share your work, ask questions, get feedback, network with other lettering artists and much more!
​Stay AWESOME!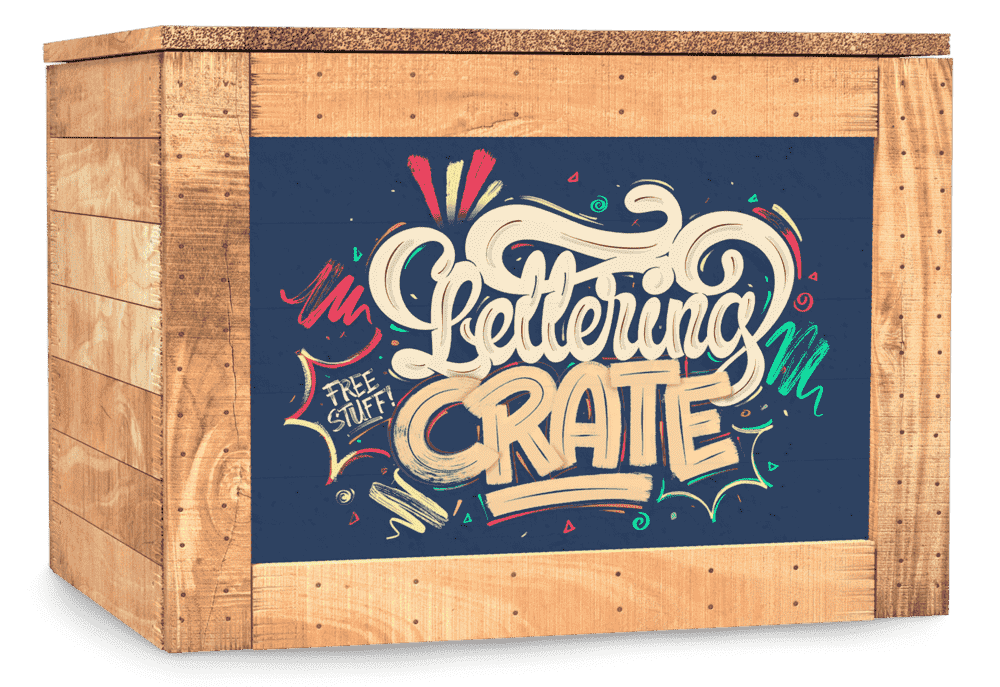 Stay updated with my tutorials and get instant access to the Lettering Crate –
A growing library of free lettering & calligraphy resources that includes –
Pin me!
About the author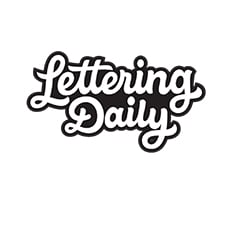 Lettering Daily is an online community that provides educational and inspirational content for hand lettering and calligraphy beginners. ​Our mission is to help artists and enthusiasts from all around the world to learn and improve their hand lettering and calligraphy skills.