This post and the photos within it may contain affiliate links. If you purchase something through the link, I may receive a commission at no extra charge to you.
Are you struggling with finding the right brush pen to practice your calligraphy with?
Perhaps you are just looking to explore the different choices out there.
Today you can find a huuuge choice of different brush pens on the market, and if you are new to the brush calligraphy game it might feel overwhelming when it comes to finding the right one.
In this article, I am going to review what I think are the best brush pens for brush calligraphy beginners.
Don't worry,
By the end of this post, you will have a much better understanding of the different characteristics that brush pens have to offer, and you will also be able to find the right brush pen depending on which style you want to practice.
Let's have a quick overview of what we have prepared for you –
Understanding the different characteristics of brush pens
Our top picks for the best brush pens for beginners
FAQ – the most common questions about brush pens
Final words
Without any further delays, let's jump right into this list and find your new favorite brush pen.
The different characteristics of brush pens
All brush pens share the same basic idea – a flexible nib that creates a thicker line when additional pressure is applied to a stroke.
However, different brush pens have diverse characteristics, and although there are a lot of these characteristics, I decided to review these brush pens on 4 different points –
Size – larger or smaller pens
Nib elasticity – how firm or soft a nib is
Color – do they come in different colors
Ink flow – is the ink flow more dry or wet
The main reason we are going to look into these 4 characteristics, is because these are the main points of difference between individual brush pens.
For example, I like a smaller size brush pen with a more elastic felt tip that also has a lower ink flow. Based on these preferences I would purchase a Tombow Fudenosuke (soft tip) – links to Amazon.
There is another core difference between brush pens, and that is the type of nib.
Considering that we are reviewing the best brush pens for beginners we are only going to talk about felt tip brush pens since synthetic (or real hair) brush pens are harder to control and they have a bigger learning curve.
Before you manage to find your favorite brush pen you will most likely have to try a bunch of them – but don't worry exploring different tools (and techniques) is an essential part of your calligraphy journey.
Let's begin with our list!
Here are the best brush pens for calligraphy beginners –
The Tombow Dual brush pen is probably one of the most popular brush pens out there – and for a good reason!
SIZE –
This brush pen falls into the category of a large size brush pen
NIB ELASTICITY –
The nib elasticity of the Tombow Dual brush pen I quite flexible and it's also mid-firm.
This means that you will be able to create semi bold and very bold down strokes with it.
COLOR –
A great advantage is that the Tombow Dual brush pen comes in a huge variety of different colors and on top of that the ink is water-based which makes it 100% blendable with different colors.
I like this pen so much that I decided to create a dedicated post for it.
Along with a step by step tutorial on 3 different ways you can blend the colors together.
Check it out here –
INK FLOW –
It has a solid wet ink flow which means that if you are looking for a brush pen that can create some nice dry texture, this is not the brush pen for it.
If you use proper paper (check the FAQ later) you will be able to use this brush pen for months on end.
The Tombow Dual brush pen features a double tip (hence the name) – a flexible felt tip brush nib as well as a smaller (firm) fine point tip on the other side.
The second smaller tip is a great assistant when it comes to minor corrections of your artwork.
Let's review it!
Pros –
Beginner friendly – flexible tip allowing a variety of stroke thickness
Water-based ink – blendable
Second firm tip for corrections
Huge variety of colors
Non-toxic (safe for children)
Cons –
The tips fray easily if the proper paper is not used
NIB ELASTICITY –
The nib of the Ecoline brush pen is very flexible and soft, meaning that you can create very bold strokes with ease.
COLOR –
Not as wide of a choice like with Tombow Dual brush pen, but you can still find more than 50 different colors.
The colors are blendable and best of all, the pens are rechargeable!
You can also get the separate inks from Ecoline, create awesome blends and fill your pens over and over again.
INK FLOW –
The Ecoline has a very wet ink flow which creates this awesome ombre effect as you adjust the pressure of your strokes.
I find this effect to be quite intriguing, but you need to be careful and wait for the ink to completely dry in order to avoid any smudges on the paper.
With this brush pen, you will have to adjust your arm movement when you practice as it has a much more flowy feel to it.
I recommend a less stiff hold of the pen and more arm movement to achieve the full potential of the brush nib.
If you are just shifting from a different brush pen to the Ecoline brush, it will take a bit of practice in order to get familiar with its workflow – so don't get discouraged or disappointed from the very beginning if it's different from what you are used to.
Let's review it! –
Pros –
Very bright colors – wide choice
Blendable with other colors
The wet ink flow creates the ''ombre'' effect on your downstrokes
Cons –
Tips can easily fray if you use the wrong paper
The price is slightly higher
Secret hack with the Ecoline brush pen
One of the biggest downsides of nylon fiber (felt tip) brush nibs is that they tend to start fraying after extensive use or poor maintenance.
There is a really cool hack with the Ecoline brush pen in case your nib starts to fray!
Check out the video below for how to do it!
SIZE –
The Pentel Arts Sign pen is smaller size brush pen (compared with the Tombow and Ecoline brush pens)
NIB ELASTICITY –
This brush pen features a small but flexible nib ideal for smaller sized calligraphy.
The nib is quite responsive meaning that it has a sleek transition between your thick and thin strokes – although they are not very contrasting.
COLOR-
Unfortunately, this brush pen comes only in 12 different colors, however, the colors are very opaque and if they are diluted with water you can achieve an even bigger range of different colors.
On top of that, the ink is blendable with other the other Pentel Arts Sign pens.
INK FLOW –
The ink flow of the Pentel Arts Sign pen is consistent leaning towards a medium/dry flow.
In other words, if you write your letters on a slower pace you will have a very reason is, consistent color.
If you try to do some faster strokes you will get a very nice dry texture on your downstrokes.
This pen is a great choice for beginners since it's quite simple to maintain a consistent downstroke thickness.
The main difference between smaller brush pens and larger ones is in the hand movement.
Most of your movements come from the wrist which resembles the regular handwriting.
I've heard from many beginners that they had a much easier experience starting their calligraphy working with smaller sized brush pens such as this one.
Let's review the pros and cons!
Pros –
Very easy to handle for beginners
Blendable ink
A more robust nib that won't fray easily 
The ability to create nice dry textures
Cons –
Only small sized calligraphy
A bit more expensive than the others
NOTE – be careful to not confuse the Pentel Arts Sign pen with the Pentel Felt Tip Sign pen – they look very similar and the Pentel Felt Tip Sign pen has a much lower price making it more appealing for purchase.
However, they don't have a brush tip like the Pentel Arts Sign Pen.
SIZE –
The size of the Crayola markers is large, however, depending on the way you hold your pen you can create smaller sized calligraphy as well.
NIB ELASTICITY –
The Crayola marker is kind of a unique pen in this list.
The reason is, it doesn't really have a flexible brush nib like the other pens on this list.
Instead, the Crayola marker features a broad nib.
The nib is basically firm, but with more pressure, you can achieve a thicker stroke.
However, the key of doing calligraphy with the Crayola marker lays in the way you hold your pen, by just slightly adjusting your angle you can create very thick strokes with 0 pressure.
I'm not going to lie, at first it may seem difficult and definitely different from regular brush pens, but I assure you that once you get a hang of it, Crayola markers are AMAZING!
COLOR –
You can get the Crayola markers in more than 40 different non-toxic colors making it safe for children to use.
The great thing about the Crayola's is that they are also suitable for fabrics and they have washable ink.
INK FLOW –
Very consistent ink flow leaning towards a more wet flow.
Once again, if you use proper paper the Crayola's will last you for an extended time.
All in all, I would say that the Crayola marker is a great tool for calligraphy beginners.
Not only you will be able to create a wide variety of strokes with the broad nib but you will also be able to get them EXTREMELY cheap!
Let's review it –
Pros –
Extremely cheap!
Durable (long lasting)
Non-toxic ink (washable)
A variety of stroke thickness
Cons –
A bit of a learning curve (different than the regular brush pens)
SIZE –
The Fudenosuke falls into the smaller sized brush pen category (slightly bigger than the Pentel Arts Sign pen)
NIB ELASTICITY –
The Tombow Fudenosuke comes in two different versions, and their main point of difference is exactly the nib elasticity.
The hard tip – the nib is less elastic meaning that it snaps back to its original form much quicker compared with the soft tip.
The positive aspect of this is that you can get cleaner thin lines (upstrokes) while the downside is that the transitions between the thick and thin are not as smooth.
The soft tip – is kinda the opposite of the hard tip, you get smoother transitions between the thick and thins while the upstrokes are a bit messy.
The good thing is that these two pens are often sold together, so once you have them you can just play around with them and figure out which one suits you better.
COLOR –
Up until recently, you could have only bought the Tombow Fudenosuke in a black or gray version.
Not so long ago they released a color set version that offers 10 different water-based colors.
The downside is that they only come with the hard tip version, so if you prefer the soft tip over the hard one you will have to be a bit more patient.
INK FLOW –
Similar to the Pentel Arts Sign pen, the Tombow Fudenosuke has a nice and consistent ink flow.
However, with faster strokes, you are able to achieve a very pleasing dry texture on your down strokes.
Due to the smaller size of the nib, a lot of calligraphy beginners favor the Tombow Fudenosuke.
This is indeed a great pen for both beginners and more experienced calligraphers that gives you a consistent stroke thickness.
Great for practicing a wide variety of different calligraphy styles, both in modern calligraphy and traditional scripts such as Copperplate.
Let's review it –
Pros –
Great for calligraphy beginners
Perfect for different calligraphy styles (both traditional and modern calligraphy)
Affordable price
Water-based colors
Cons –
The color version comes only with the hard tip
The color version is a bit pricey
Suitable only for smaller sized calligraphy
FAQ – THE MOST COMMON QUESTIONS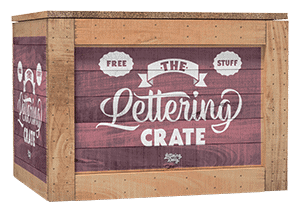 Stay updated with our tutorials and get instant access to the Lettering Crate –
A growing library of free lettering & calligraphy resources that includes – FREE downloadable calligraphy practice sheets, Procreate brushes, the 30-day lettering planner, printables, and more.
FINAL WORDS
There you have it gang, hopefully now you are a step closer towards finding your favorite brush pen for calligraphy.
JUST REMEMBER THIS –
Although there are brush pens that are better than others, there is not a particular brush pen that will magically improve your skills overnight.
Calligraphy is a complex form of art that requires years of practice in order to master it. 
Don't overwhelm yourself by thinking too much about the future or comparing yourself with other, more experienced calligraphers. 
Embrace who you are and where you are at this very moment with your skills. 
Enjoy the process and practice on a daily basis – i GUARANTEE that you will notice progress. 
We also have two great tutorials that will you get started.
They also both include downloadable worksheets. 
Check it out here – 
I would like to invite you to join our official Facebook group, where you can share your artwork, ask questions, network with fellow lettering artists and much more!
Until the next time,
Stay AWESOME!