This post and the photos within it may contain affiliate links. If you purchase something through the link, I may receive a commission at no extra charge to you.
Picking the right brush pen for your lettering and calligraphy can sometimes be a true hustle. On the other hand, experimenting with new tools is a GREAT way for you to step out of your comfort zone, learn different lettering techniques and expand your creativity overall.
There are a TON of different brush pens on the market and we did ALL the research so you dont have to 🙂
A while ago we have already reviewed  5 different brush pens for hand lettering, so be sure to check out that list as well.
Brush pens are an amazing tool, especially for hand lettering beginners. The awesomeness of a brush pen lays in the flexible nib that  allows you to create thick and thin strokes, which is one of the essential principals of calligraphy – Check out our brush lettering for beginners (a step-by-step guide)
REMEMBER! – although some brush pens are more suitable for certain lettering techniques, nothing will help you as much as DAILY PRACTICE!!
We can't seem to stress this enough, it all comes down to the amount of practice you invest. It's simply not possible to expect great improvement without any practice.
You know what they say :
''Every master was once a beginner''
As with the initial list, keep in mind that this brush pen review is purely subjective, and different letterers like different lettering tools.
This review is based on personal experiences with the brush pens, and before we jump in, we want to lay down for you a few different attributes of the brush pens such as:
Ink flow
The elasticity of a brush pen
Thick and thin contrast
Types of tips
Beginner friendliness
These attributes will help us determine things as, style of lettering, type of paper required etc.
Without further ado, let's jump right into this review 🙂
---
Starting our list with an awesome brush pen well known among the lettering community.
LYRA is a German company, and  if you are looking for something of great quality, Lyra brush pens are definitely the tool for you.
You can find the Lyra pens on Amazon.com and they come in packs of 12 pieces and 24 – if you are planning to stock up for the winter.
The ink in the lyra brush pens is water based and it makes it easier for blending with other colors, which is great for those who wish to give that extra touch to their lettering pieces. If you plan to blend colors i would definitely recommend you to get a blending pen/brush – makes things hella easier 😀
The Lyra brush pens in a dual tip model, which means (like with the Tombow's) that you have a small firm tip on the other side – which is just amazing for correcting those small mistakes!
The Lyra brush pens have a full inkflow which means that you won't have any sort of dry texture, at least until you don't use them to the point of consuming the ink.
In case you really, REALLY want to achieve some sort of texture with the Lyra's, you could essentially use watercolor paper with a bigger dent + faster strokes. I don't recommend you to do that at all, since the felt tip will get worn out quickly, which will destroy the elasticity of the brush pen and it will consume your ink much faster as well.
If you are a texture lover, keep reading, we've got you covered 🙂
The Lyra brush pens are very beginner friendly and you could closely compare them with the Tombow Dual brush pens. The major difference we noticed between the Lyra brush pens and the Tombow Dual brush pens is the contrast between the thick and thin strokes that the nib is able to create.
You see,
Certain brushes have more elasticity (remember the beginning) to their nibs, and that translates to a thicker stroke. One of the vital elements of calligraphy is a nice and consistent contrast between the thick and thin.
I found that the Tombow  brushes give me a bigger thicker strokes than the Lyras, however, that's not a big deal since Lyra is still a great brush pen with responsive nib flexibility.
PROS
Water based color – great for blending

Awesome quality for the price

Very beginner friendly

Dual tip – correct those pesky glitches
CONS
Non rechargeable – you can always dip them in ink, if the nib is well curated 🙂

Suitable only for bleedproof paper

Lower contrast between thick and thin
There are so many good qualities about these brush pens.
The artline stix brush pen is a very versatile lettering tool, meaning that you can create a variety of strokes with the flexible nylon 2.0mm fiber brush tip. Another great feature about the Artline stix brush pens is the body of the pen!
The lego look-a-like body of the pen not only allows you to stick the pens together to each other (hence the name Artline stix) but it also provides you an additional grip when using the brush pen.
Probably the single best feature about this brush pen is the ink flow!
The Artline Stix has a higher ink flow (compared i.e the Lyra brush pen) and, used on proper paper (bleedproof) it will create a stunning gradient effect!
Check out this video to understand it better 🙂
This effect can definitely spice up your lettering!
Artline Stix brush pens are a great tool for lettering beginners and probably the only downside of this awesome brush pens is the elasticity of the nib. I noticed after extensive usage of the brush pen, that the nib stays folded in a certain angle (kinda like with the Crayolas)
This of course depends on the amount of pressure that you are putting in, but believe me when im saying, it won't affect your lettering by that much.
A tip here would be: once the nib starts to get bended on one side, avoid bending it on the other side, but rather keep using it as it is. By bending it on different sides it will shorten the life span of the nibs.
As mentioned earlier, these brush pens are very versatile. You will be able to create thin and thick strokes without any hustle, and by increasing your pressure, you can extend the contrast between thick and thin even more.
Can the Artline Stix brush pens be even more awesome?
Well, considering the price for a pack of 20 colors these brushes are a great deal for a tight pocket.
PROS
Beginner friendly

Lego look-a like body – you can stick multiple brushes together + provides extra grip

Amazing ink flow – creates a ''gradient'' effect in the strokes (most noticeable with bleedproof paper)

Great price for the value

Awesome contrast between the thick and thin – very versatile
CONS
Non re-chargeable

Low nib elasticity – tends to bend after extensive usage
This brush pen is an all around tool for lettering and calligraphy. It is originally used for asian calligraphy but it's also suitable for western/modern scripts.
Let's start out with the negative aspects of this brush pen.
The first thing that comes to my mind thinking about this brush pen is that it's not beginner friendly at all.
The nib of the brush pens is made out of synthetic hairs and it's rather quite long which makes it hard to control. Although it is hard at first, it's not impossible to learn it.
It will take you some time to get used to it, but after a few days of practicing you will start to feel much more in control with your strokes.
A great tip for increasing your control – use a paper with texture on it, the texture will create friction with your strokes and it will be much easier to control. I would also recommend to try it on toilet paper or a paper towel, that kind of paper will give you great control over the brush pen 🙂
The Pentel Fude brush pen is a re-chargable pen  meaning that with a single purchase and proper care, this tool could last you for a life time.
Another great feature of this brush pen is that you are in control of the inkflow, meaning that if you are looking to get a nice full ink stroke you just need to squeeze the container for the ink to come out.
On the other hand if you are looking to get a nice dry texture, you simply don't squeeze the reservoir that much 😀
Although the long hairs makes it hard to keep up a consistent stroke (especially beginners) they do have an awesome advantage that honestly i rarely see people using or talking about it.
Brush twists (not sure if it's the right term, so feel free to correct me) is a lettering technique that is quite fun to do!
Basically what you want to do in order to achieve a brush twists is to hold the brush pen on a more vertical angle and applying pressure to desired direction.
By doing these brush twists (works best on oval letters such as c, e, a, o etc.) you are letting the brush doing all the work and you are also achieving very very very smooth curvatures.
Check out this video below to understand what im talking about 
Keep in mind that these brush twists are not easy and they do require a bit of practice before you start getting  results.
PROS
Re-chargeable

Very high contrast between thick and thin

The long nib hairs allow you to create the so called ''Brush Twists''

Adjustable ink flow – creates awesome dry textures

Great price
CONS
Not very beginner friendly- hard to control
Not so long ago Sharpie finally released a dedicated pen for lettering, and it is freakin' AMAZING!!
They come in pack of 8 and 12 pieces along with a free case. Yes, you read that right, a FREE case which definitely ads to the whole value for money idea – i just love when they go the extra mile for you.
The absolute best feature of this brush pen is its snappy tip. Thanks to the high elasticity of the tips, it makes it very easy to maintain a thin and thick stroke consistency.
In other words you could say that the brush is very intuitive and the tips helps you a lot with those hard transitions.
The NEW Sharpie brush pens have a very decent ink flow and they also claim that the sharpie brush pen have a quick-drying ink that can resist smears and fading, however we cannot fully agree with that. 
First of all you need to wait several minutes for the ink to completely dry and even at that point, if you add water, you will be able to notice a slight smear.
However, i really don't see that to be a huge issue since i cannot really imagine adding water on my lettering artwork (at least not that often 😀 )
On the other hand, they are performing great with color blends – both pre-blend on a plastic surface, and mixing them on paper (preferably while they are still fresh)
One thing is for sure, you cannot go wrong with the NEW Sharpie brush pens!
PROS
Probably the best nib on this list – insanely beginner friendly

A completely FREE case for both the 8 and 12 packs – very stylish 😀

Awesome color blending capabilities
CONS
These pens are not re-chargeable

The ink is not completely anti-smearing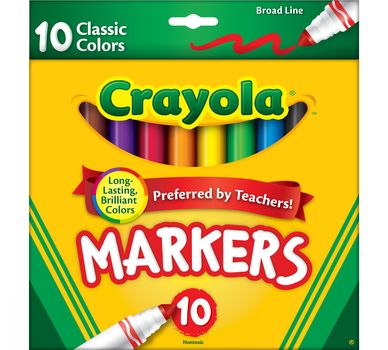 This is one of the todays MOST popular tools for lettering, most likely since its very beginner friendly!
It's actually not a brush pen per se (it does not have a brush tip) and it's magic rather lays in the broad pointed nib. Another difference about the crayola markers is that lettering with them does not only rely on pressure like with other brush pens, but also the angle (how you hold it)
Holding the Crayola's like a regular brush pen will require much more pressure compared to the regular brushes because the nib is not flexible and has low elasticity – kinda like the Artline stix brush pens.
My take on the Crayola markers is that you should be combining both pressure and a lower angle in order to take the most out of it. This will give you a really nice contrast between the thick and thins in your lettering.
The ink is water based and the ink flow that the Crayola produces is very good, consistent and i found them to last quite long time.
Best of all,
You can dip them ink and use them like that – 1) it will give you an awesome ''wild'' effect 2) the broad nib can soak up quite a lot of ink actually, which means that you won't have to dip them every 2 strokes 😀
If that wasn't enough, the Crayola markers are probably the CHEAPEST lettering tool available.
I guess the only thing im wondering is – who the heck was the genius who came up with the idea of using Crayolas for lettering 😀
PROS
Beginner friendly

Insanely cheap

Great ink flow

Awesome thick and thin contrast
CONS
The learning curve is a bit different than the classic brush pen (the pressure + angle combo)

Non re-chargeable
A FEW EXTRA TIPS!
---
Remember to get proper paper!
I'll keep it super simple – for brush pens in 95% of the cases your best option is to get BLEEDPROOF paper, period.
Bleedproof paper will keep your nibs safe and you will get the most out of the ink of a brush pen (it will last longer)
If you are using a water brush, the Pentel Fude brush pen or any other brush with long bristles (synthetic hair) going with water color paper is a better solution + the paper texture will create friction in your strokes which will help you with the control.
The break stroking technique
This is a great way to practice your brush lettering, and i would say that it's essentially an entirely different technique. Break stroking is simply dividing each of your strokes, which allows you to focus one step at the time while you are lettering.
Check out the video below to understand it better.
Hope you found this review useful, and hopefully it will help you in order to get more insight for your next lettering tool 😀
If you happen to create some artwork i would recommend the following:
Submit your work on our website forum,leave your instagram handle and get featured on our Instagram feed
Feedback, suggestions, constructive criticism are always welcome!
Feel free to drop a comment or two 🙂
Until the next time,

Stay AWESOME!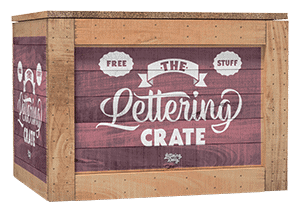 Stay updated with our tutorials and get instant access to the Lettering Crate –
A growing library of free lettering & calligraphy resources that includes – FREE downloadable calligraphy practice sheets, Procreate brushes, the 30-day lettering planner, printables, and more.