This post and the photos within it may contain affiliate links. If you purchase something through the link, I may receive a commission at no extra charge to you.
Yup, believe it or not, you finally have to opportunity to learn the fundamentals of calligraphy from one of the greatest calligraphers in the world!!
For those who live on the Moon or never used the internet before in their lives, you are probably wondering who the heck is Seb Lester??
Well, Seb is a graphic designer based in London, U.K who managed to impress and inspire people on a global scale with his beautiful calligraphy artwork.
He worked along the side with some of the MOST popular companies and brands all over the world such as: Nike, NASA, Apple, Intel, The New York Times, H&M, Barclays, and the list keep going…
With a staggering online following of several million people across multiple social media platforms, Seb keeps his audience well inspired on a daily basis.
We are so excited that this course is finally out,
and best of all
You can watch it and learn from Seb Lester completely FREE!!
Yup, you read that right, completely free! 🙂
In collaboration with Skillshare we are able to offer you 2 months of free premium membership on skillshare.
This means that not only you will be able to watch this course for free, but you will get unlimited access to 17, 000 + online courses across various industries such as design, business, art and much more.
Lucky for us, lettering is quite popular on Skillshare with more than 300 online courses!
What will you be learning in this online course?

Seb Lester's  1 and a half our long online course will teach you everything you need to know about italic calligraphy using the popular Parallel pen. A calligraphy script with a rich history to it is a great way to start exploring the world of flat calligraphy nibs.
Worksheets and downloadables
Like with his calligraphy, Seb made sure to make his course perfect as well. In the download section you will be able to find all the downloadable materials such as practice sheet, ductus, grids etc
This way you are able to work and practice along with the course it self.
Here is a breakdown of the course
1)Getting started –
Seb talks about the necessary tools for this course and talks about different styles you can achieve with different tools. On top of that he gives some great tools recommendations such as the Rhodia n18 pad and the Parallel pen – which will be the main tool for this course.
2) Understanding proportions-
Before jumping right into the writing aspect, Sebs breaks down the basic grid system which is based on the nib widths of the calligraphy tool you are working with.
This section is essential, because it gives you insights on how technical italic calligraphy can actually be. Seb is doing an amazing job in order to explain this in a very comprehensive manner, that even someone who never did any calligraphy would be able to understand.
3) How to hold the Parallel  pen –
although it could be seen as something very trivial (if you are a complete beginner)  this plays a vital role. Seb gives different examples of holding the pen which instantly makes you understand why this is so important.

4) Warm up drills –
Various stroke movements that helps  with the whole muscle memory – which is the key of not only calligraphy but also various other skills e.i – juggling. The warm up drills is something that also Alejandro mentions in his brush lettering for beginners tutorial.
5) Lower case letterforms –
the magic begins! Seb explains that a handful of different strokes in various combinations create the actual letter.
Therefore, he divides the lower case letterforms in 4 different groups based on their similarities – which is btw. INSANELY helpful and easy to understand 🙂
At first, you may feel a bit overwhelmed by all the strokes and their combos, but following the worksheets provided by Seb will minimize the hustle as much as possible.
6) Upper case letterforms –
Following a similar process, Seb explains the upper case letterforms one by one. He talks about the flourished version since it's much more intriguing than the standard one ( 100% agreed)
7) FLOURISHING TECHNIQUES –
i wrote the subtitle all in caps for a reason!
This part is pure gold!
I watched tons of online courses for calligraphy and lettering and this is the first time i see someone actually breaking down the rules of flourishing along side with some practical (visual) examples.
Based on what i've just said i would definitely say that this course is not only for very beginners, and even more experienced calligraphers could learn a lot from Seb.
Flourishes are such a big part of calligraphy, and now you have an awesome opportunity to learn the governing rules about it 🙂
8) Final assignment – It's time to show what you learned!
The final assignment is to implement all the learned skills and write your own name.
Once you are satisfied with the outcome (hopefully you will invest some effort into it 😀 ) you should post your work in the project gallery in order to receive some feedback by Seb himself – which is another phenomenal feature of this course.
Click below to watch the full course for FREE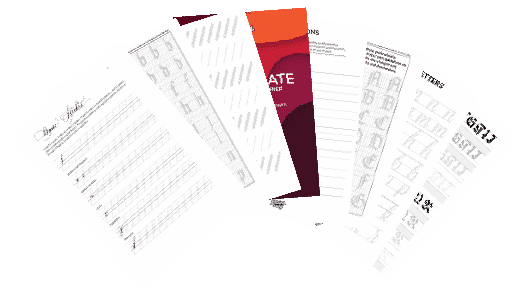 Stay updated with our tutorials and get access to our Lettering Vault –
an exclusive content area with downloadable practice sheets, the 30 day lettering planner, printables and other freebies!