This post and the photos within it may contain affiliate links. If you purchase something through the link, I may receive a commission at no extra charge to you.
In this tutorial, Chandan will guide you through an extend step-by-step lettering process on how to create an amazing hand lettering piece from scratch. 
Here are some of the things you will learn in this tutorial:
Lettering styles
The tools you need
Coming up with a quote/phrase
Sketching and tracing
Inking and finalizing your work
Photographing your hand lettering
Bonus tips!
Let's get started!
THE HAND LETTERING PROCESS
---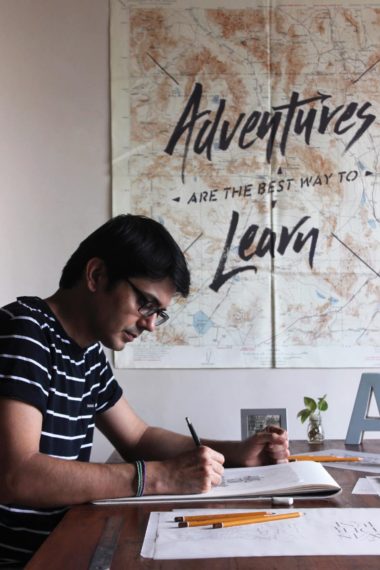 Hello Guys!
You are always in awe of some great lettering work that you see on Instagram & Pinterest, it is years of practice and process that the artists have followed to create those stunning hand lettering artworks.
Following a process and enjoying it is an important aspect of lettering, it helps you to improve your skills with regular practice.
Just a simple paper, pencil & eraser are enough.
I have fine-tuned my hand lettering process over the years as a professional graphic designer & lettering artist.
What you will see in this tutorial are simple steps that will help you to hone your current lettering skills.
But before starting the tutorial I would like you to check out a few lettering styles that will help you to start thinking about which style you would like to practice on.
Lettering Styles
There are so many styles to create, and it can get really confusing to select any one particular genre.
To make it simple for you I have broken down them broadly into these basic styles – Linear, Bold, Serif, Sans-Serif, Script, and the perfect ingredient to add to any of these styles – Ligatures.
Linear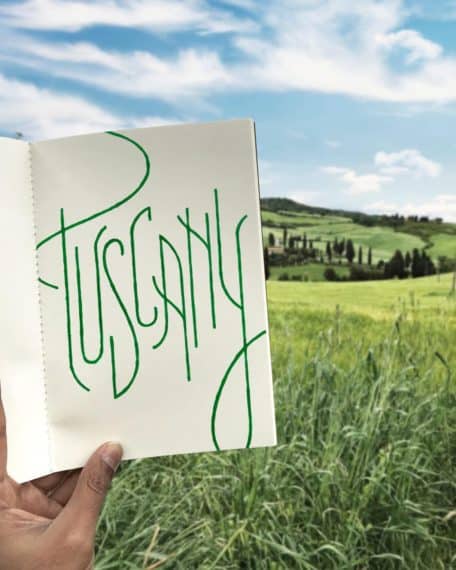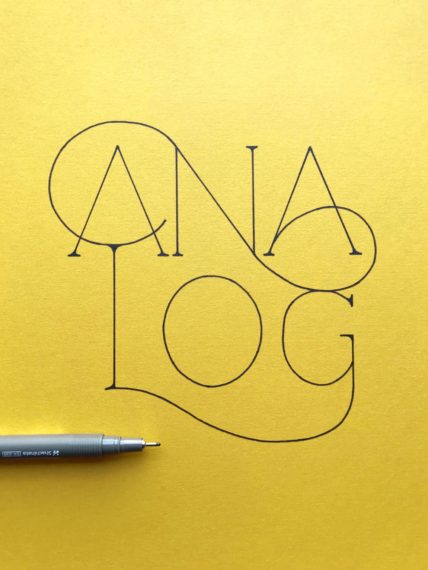 Bold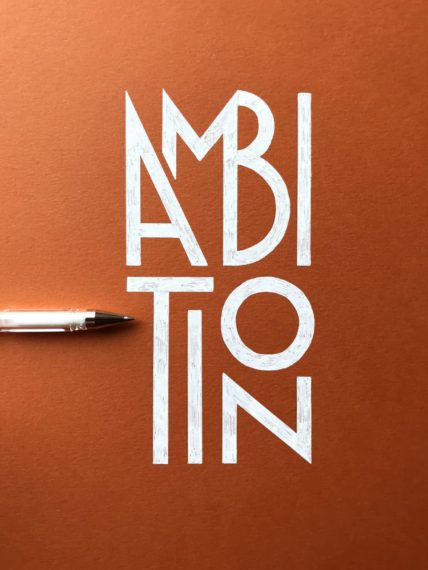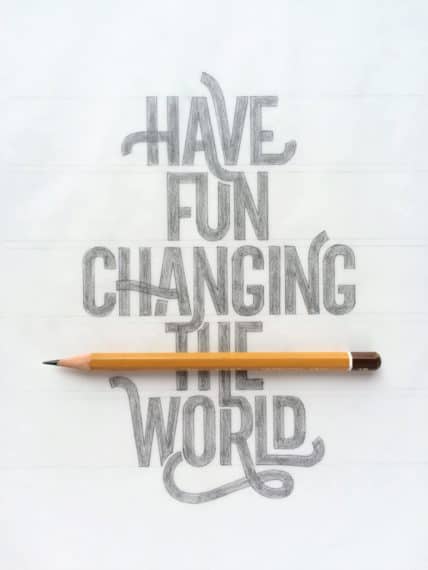 Serif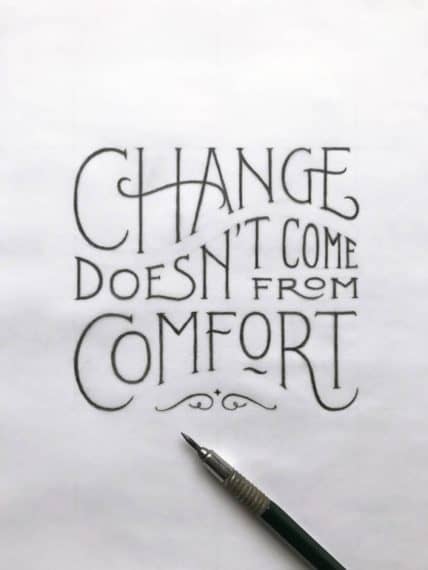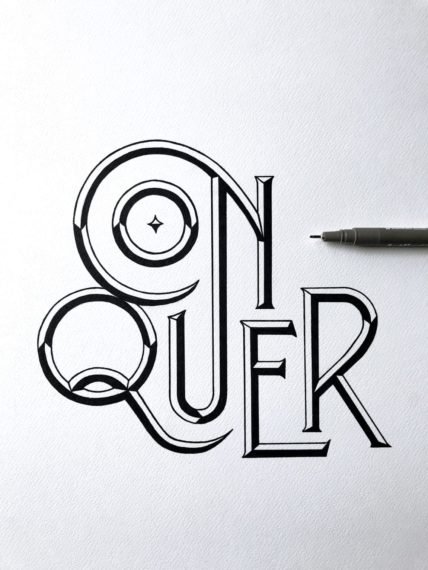 Sans-Serif
Script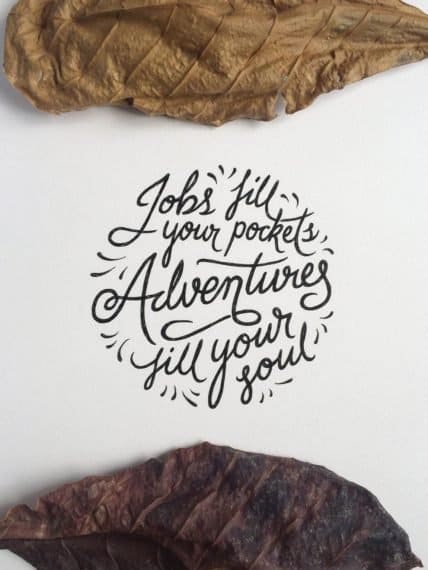 Ligatures
Ligatures are an integral part of any lettering style if you wish to experiment. They only work if the end result looks effortless.
Ligatures are beautiful connections in your letterforms and they make your compositions tighter.
The simplest of lettering compositions start to look extraordinary as a result of well-balanced ligatures.
Hand lettering materials
Important tip:
Never be in a hurry while doing lettering!
Step 1 – WORDS
Choose an interesting word, phrase, motivational quotation or simply lyrics of your favourite song. It definitely should inspire you.
Step 2 – SCRIBBLE
Scribble using a HB pencil. A light hand is better while scribbling. Put words in a shape or structure, use a combination of lettering styles like –
bold & thin,
normal & tall,
serif & san serif,
small & big,
script & bold
UPPER CASE & lower case
(check out the few pairing examples).
If it is more than 2 words then break the words into more lines to create a compact structure.
Use guidelines and boxes to help you with the overall structure.

Pairing examples: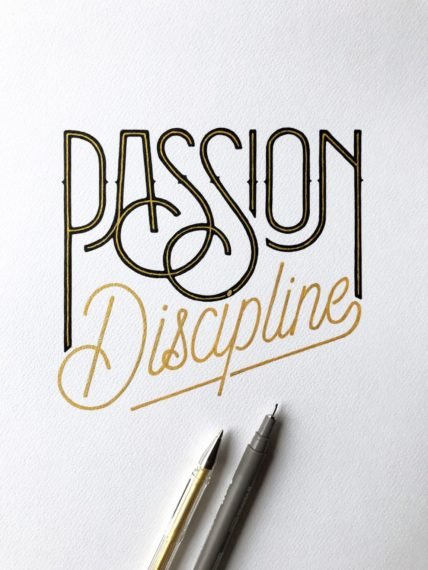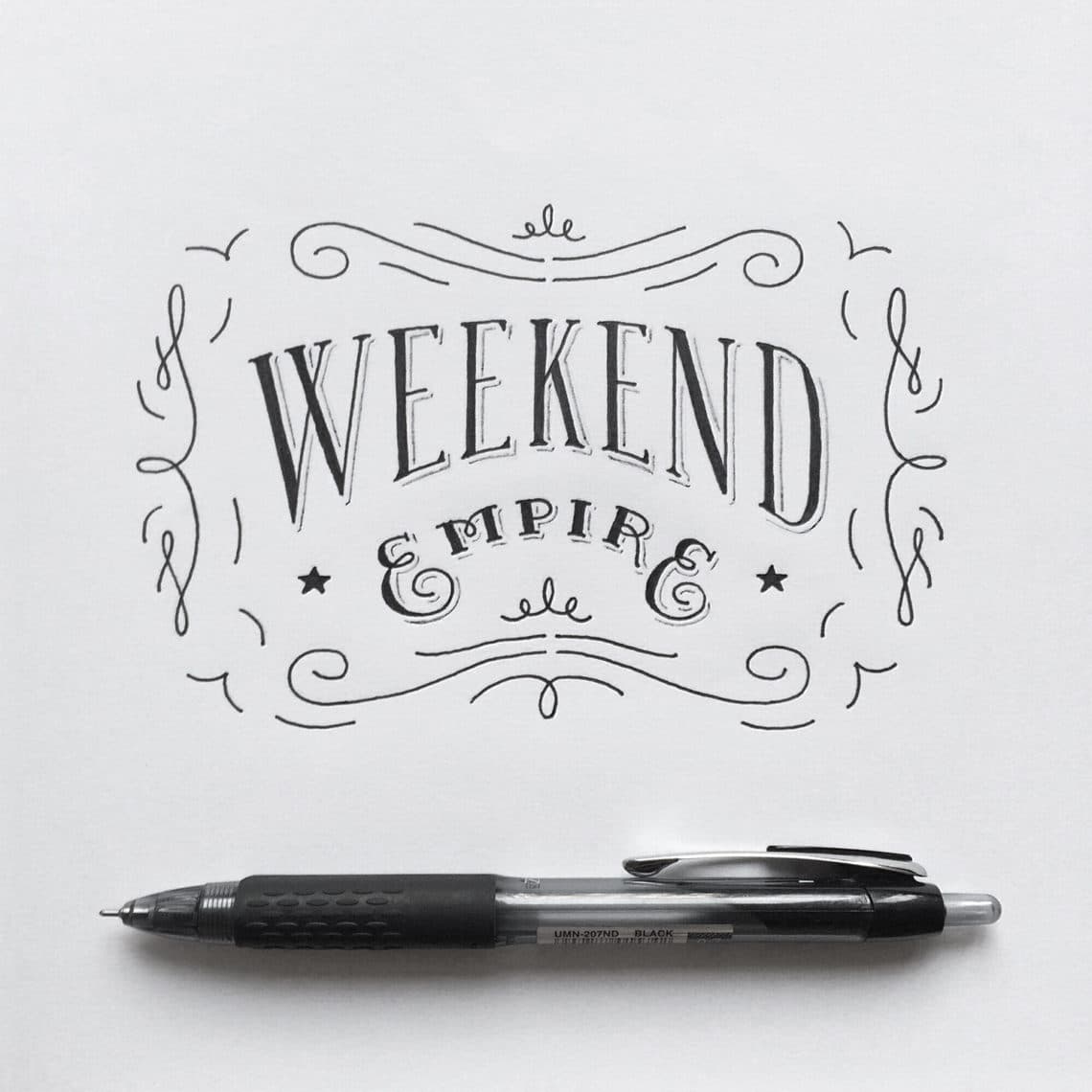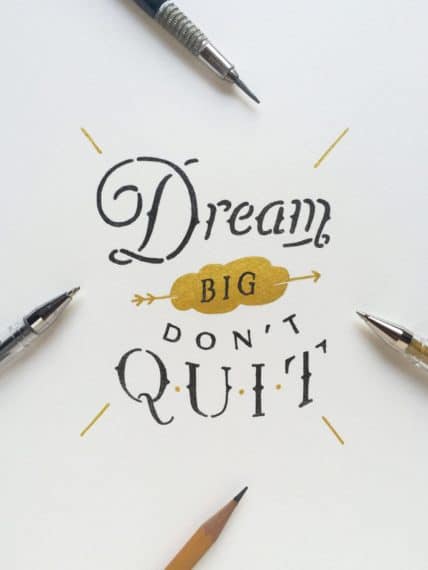 Step 3 – SKETCH
Select a scribble which you like the most.
Now work in a bigger size like 8-10 cm width, it will give you a better idea of the balance and legibility.
There are times when I choose to do the sketch in 15-20 cm in width or even bigger to create more details & shadows (it all depends on your style & complexity of the piece).
Draw guidelines using a scale to help maintain letter height and overall structure.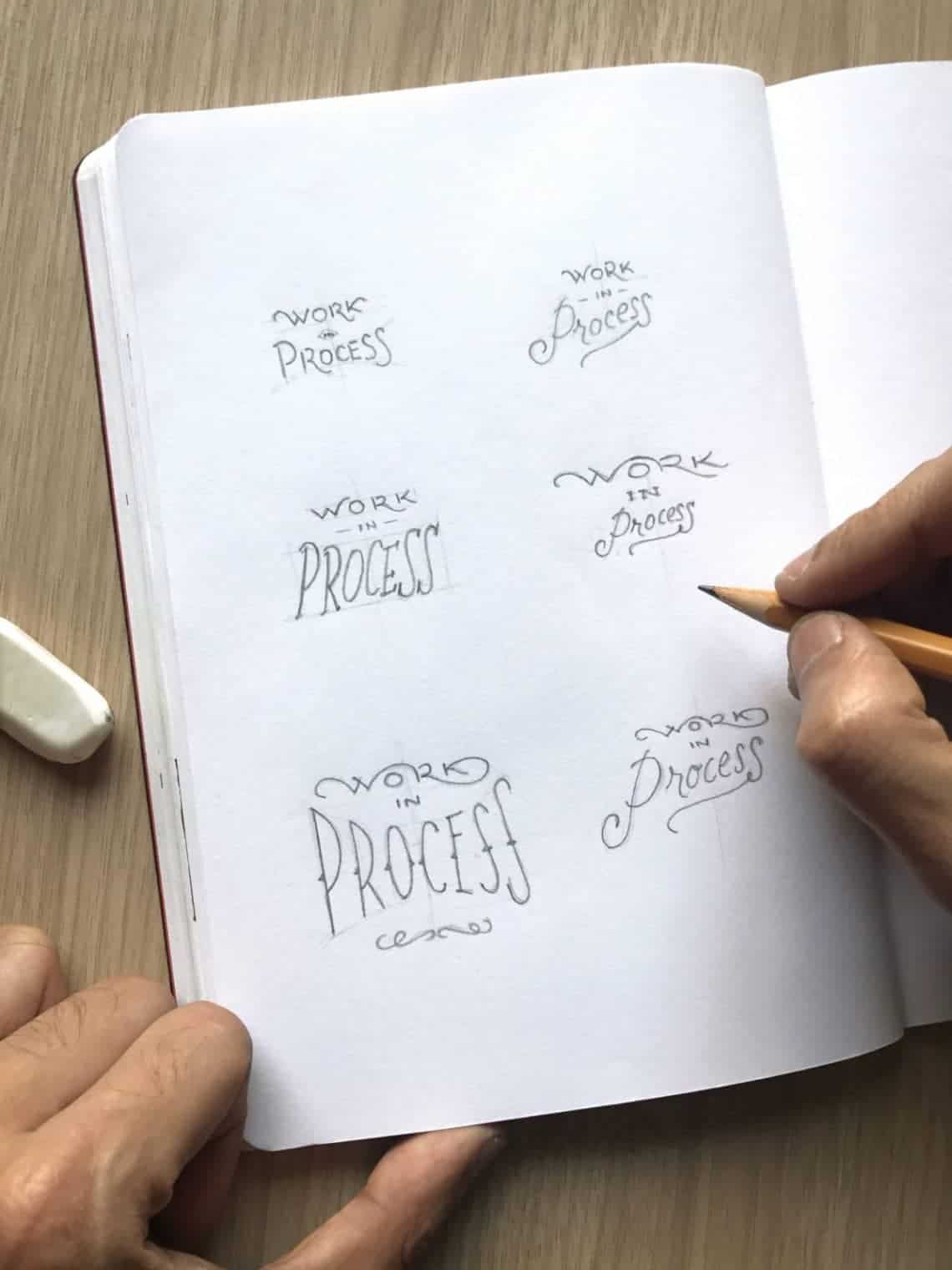 Add flourishes if you feel like.
Don't hesitate to draw ligatures where they fit naturally, they will help connect 2 letters and create a unique rhythm in your design.
Using the eraser certainly helps to remove unwanted strokes.
You are still experimenting so feel free to add unique decorative touches to your sketch.
Step 4 – FIRST TRACING
Many of you directly draw on a paper & ink it, this way you'll never be able to refine your lettering.
Tracing paper is the backbone of a good lettering piece, it will help you fine-tune and correct every detail of your hand lettering.
For symmetrical compositions draw full length vertical & horizontal lines using a scale from the centre of the paper.
Put the tracing paper on your sketch and start refining your letters using HB lead pencil.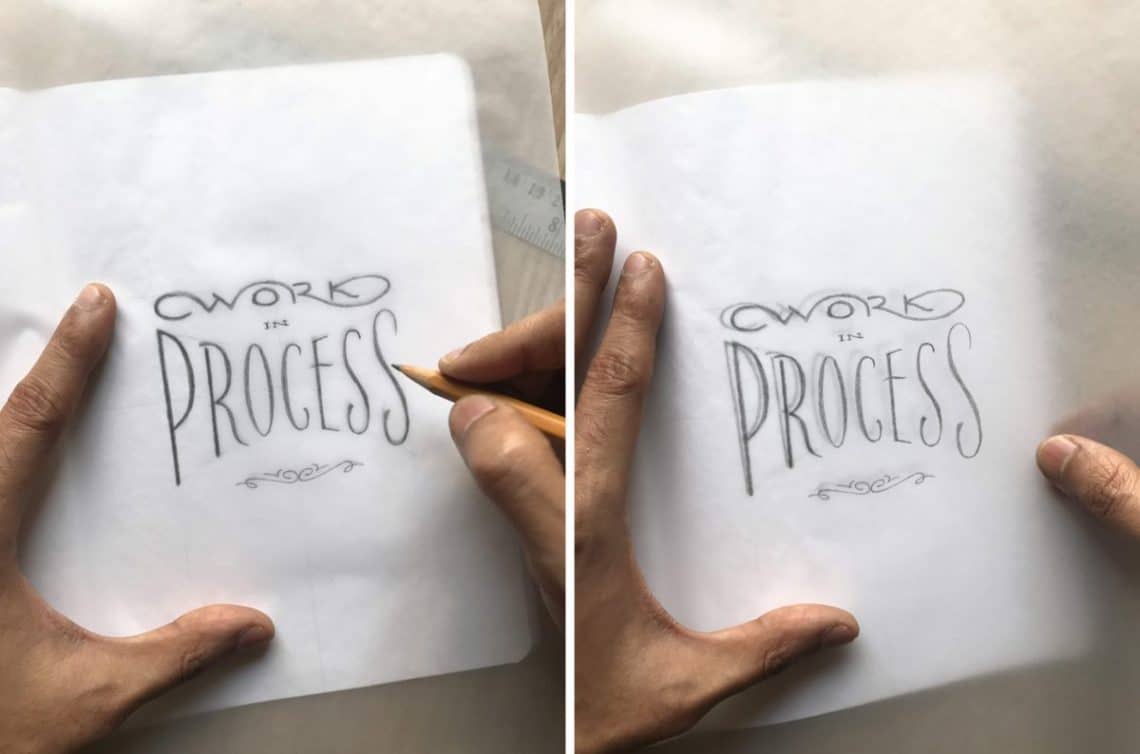 Correct the weightage, kerning, word spacing and fine-tune the overall composition.
Add any details which will suit the letters.
It will help to measure each word's width with a scale and draw it with correct spacing & balance.
Keeping the originality of the sketch intact you can now refine the flourishes, ligatures & decorative strokes as well.
Once it is complete make sure to fill all the letters & forms to get a perfect idea of the overall balance & weightage.
Step 5 – SECOND & FINAL TRACING
Side A (front): Put a fresh tracing paper on your first tracing, this time to finalize the whole piece.
Make sure you draw full length vertical & horizontal lines from the centre of the paper.
This will help you align it exactly on the first tracing paper.
Use cleaner lines and strokes using an HB lead pencil.
Observe all the imperfections and slight kerning issues, they can be all corrected now by slightly moving the top tracing as required and then drawing the letters.
If any element or stroke looks off balance then use an eraser and correct it.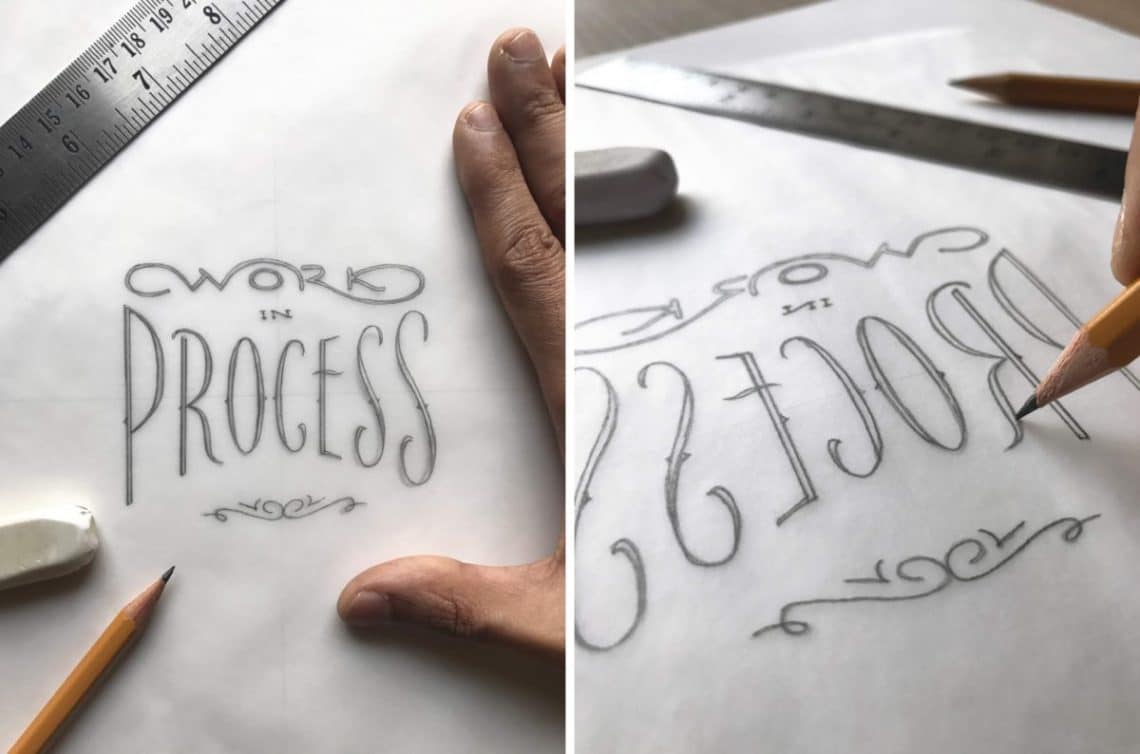 Side B (reverse): Flip the tracing and draw exactly over all the strokes using a 2B pencil.
When you see the backside of your lettering piece the spacing may look incorrect, just ignore it and keep drawing on the reverse with clean lines.
Check if you have missed any part of the lettering and draw those lines as well.
Hooray!! your final tracing is ready.
Step 6 – TRANSFER
I have chosen a thick A4 size 180gsm artist quality paper (used for watercolour).
It has a brilliant texture which will add depth to your final piece.
Take the final tracing and place it exactly on the white A4 sheet.
Remember Side A of the final tracing is on top.
The tracing paper should not move so tape it temporarily on the top 2 corners of the white sheet (use only a small 1 cm piece of the tape).
Take the H lead pencil and patiently draw precisely over all the linear lettering strokes.
Lift the tracing and check if all the strokes have been transferred, if not then complete the missing strokes.
The transfer is now complete.
Step 7 – FINAL INKING
If you have reached this stage you have showed the patience it takes to be a skilled letterer.
The result is in front of you, it will make a world of difference to your skills within your 1st practice session itself.
Getting back to the inking part. Black & gold is a timeless combination, use it just like the pairing you did for your lettering style, for e.g, small letters in gold and bigger letters in black.
If you can't find a gold gel pen then use any other fresh coloured good quality sketch pen like a red, green or blue.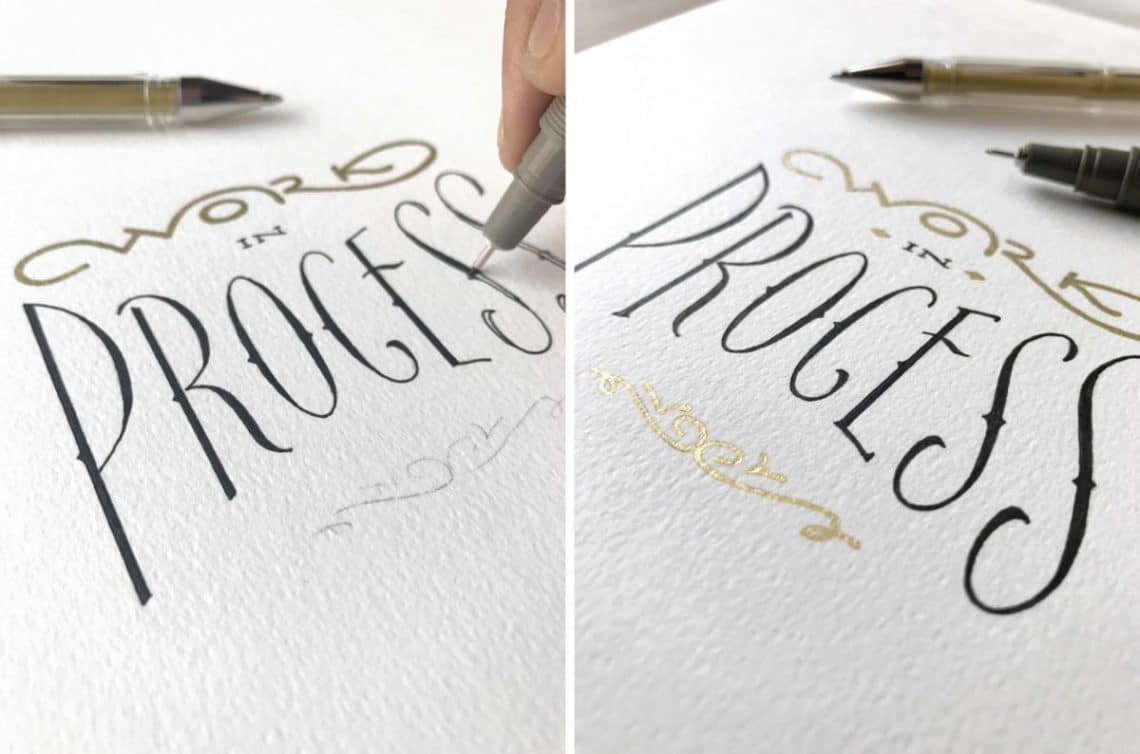 Don't be in a hurry while inking, keep a blank paper under your palm where it rests on the paper so that you don't smudge the pencil transfer.
Draw the outlines first and then fill the letters.
Always do the inking during the day as it helps you to see the colors better.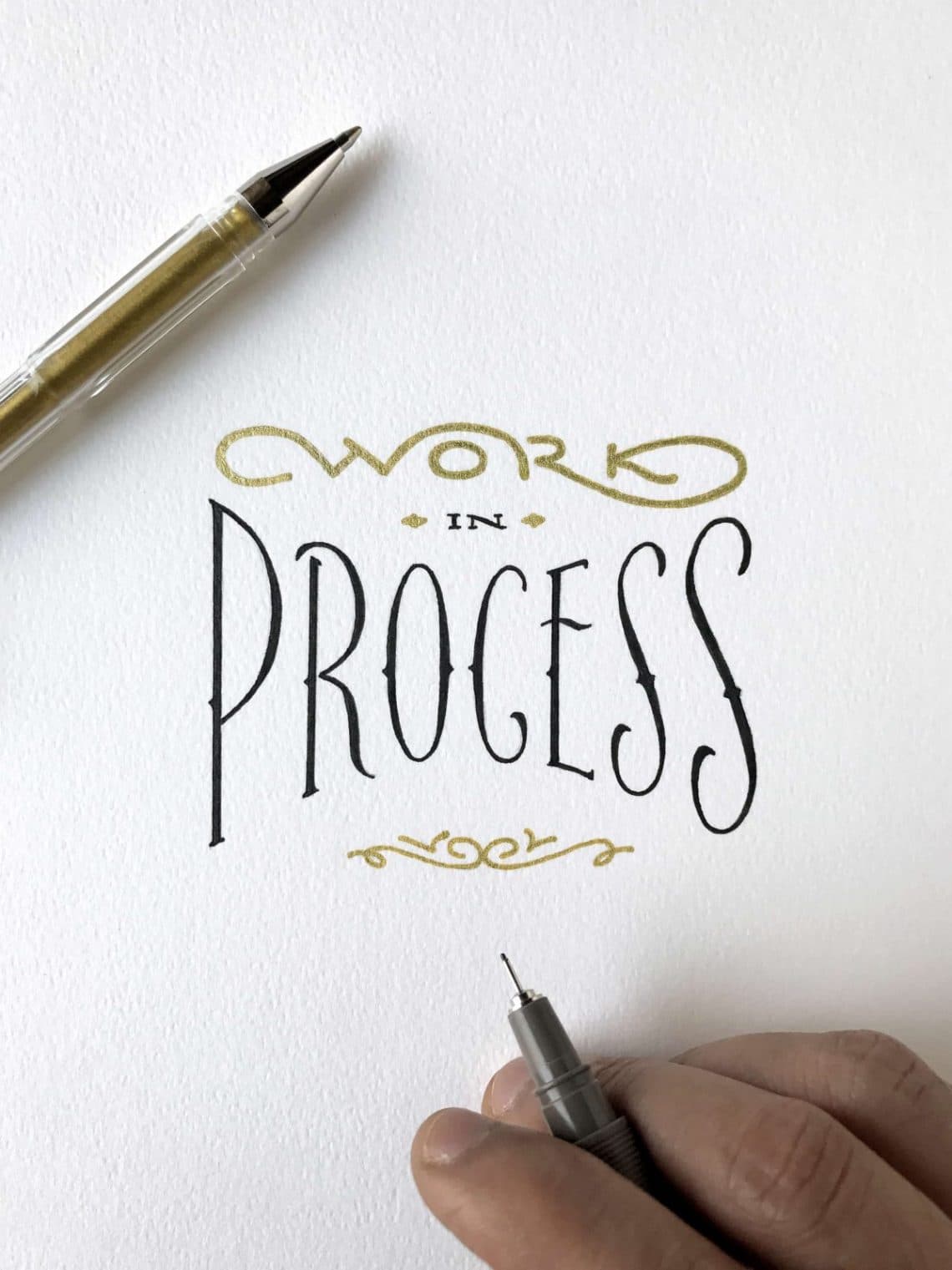 Hope this article has helped you understand hand lettering as a process.
Keep practicing!
Practice Tips
The idea is to enjoy the process, be proactive and keep improving.
Use tools that you are comfortable with.
Focus on the basics and practice regularly to develop your own style.
Grab opportunities to practice on important days, events and festivals.
Take part in lettering challenges, there a many of them on instagram which will be fun to enter and it will definitely brush up your lettering skills.
How to photograph your hand lettered artworks –
What's the point in rushing to click a photo of your hand lettering which looks average.
Your lettering piece deserves to be photographed with passion.
As an artist, presentation is the key to enhance your work.
Use your tools as props around the lettering.
If the meaning of the words leads you to use certain props, then please go ahead and use them.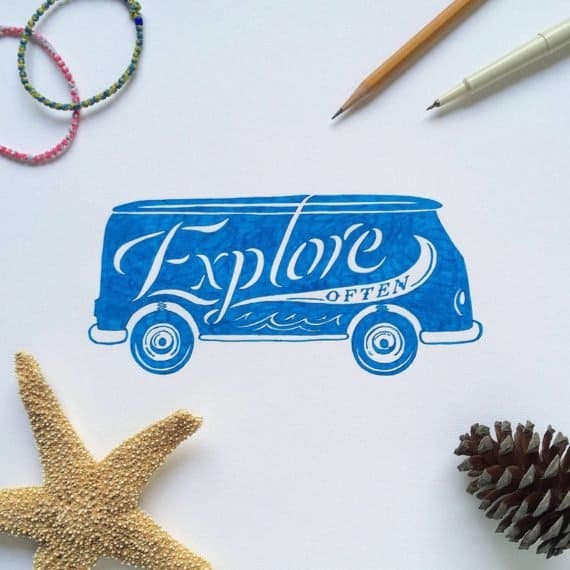 Be ready to spend some time to compose your image.
The objective is to enhance your lettering and not to overpower with clutter.
Use natural light to add beauty and depth to the shot (arrange the shot near a window).
All you need is your smartphone to click good photos, it is very well equipped to handle this.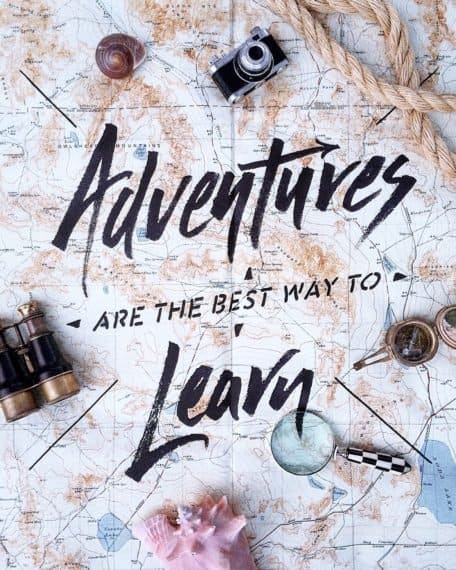 There is also a full tutorial on how to take great photos of your work and present them in a way that results in higher engagements across all social media platforms.
Vector lettering –

Vectorizing your lettering artworks is also fun, learn that as well.
It will help you create different versions of your original artwork.
Vectorizing allows you to fine-tune and create more balance in your lettering.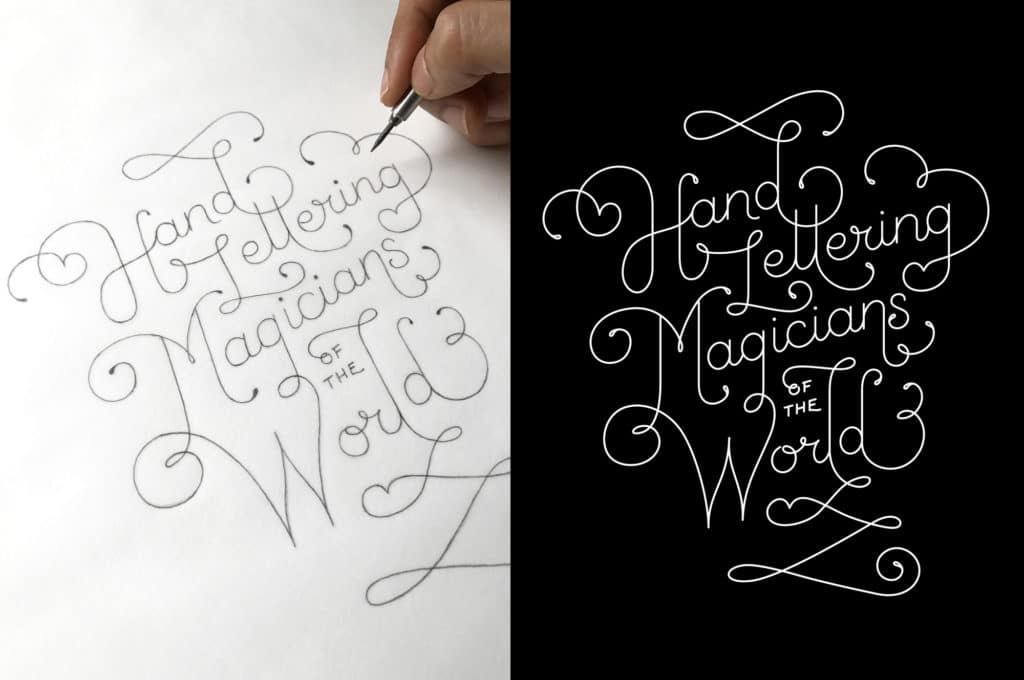 The usage of a vector lettering artwork is far more helpful & versatile in graphic design projects.
If you are a graphic designer then it will be a great technique to have in your kitty.
The demand for custom lettering is increasing in graphic design projects.
Vectorizing allows you to create 'custom lettering' for client projects and create logo designs which have more personality than using just a ready typeface.
Thereby adding more authenticity in your work.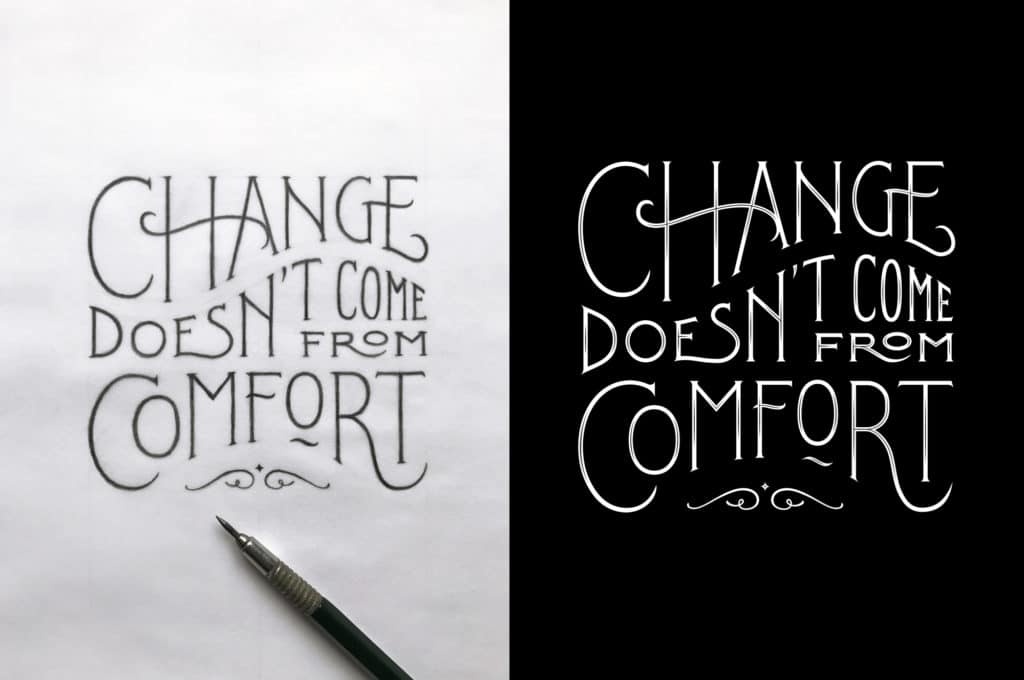 Check out this step-by-step tutorial written by James Lewis that will teach you how to vectorize and digitize your hand lettering and calligraphy –
Hand lettering in design projects –

The beauty of hand lettering is that it is organic, unique and has imperfections which makes it visually very attractive.
Since past few years, hand lettering has re-entered the world of graphic art & communication design as a wildly popular & sought after skill.
Lettering gives a unique character and a sense of exclusivity to your designs.
Once you are confident with your lettering skills it becomes easier to use it in your design projects such as Logo Designs, Monograms, Wordmarks, Packaging, Badges, Pins, Album covers, Murals, Brochure covers, Magazine covers and Editorial design etc.
Many professional lettering artists have also ventured into designing typefaces.
Advertising and digital campaigns use lettering as an effective way to communicate ideas.
Brands like Jack Daniels, McDonalds, H&M, Levi's Jeans and many others have used hand lettering very effectively in their ad campaigns.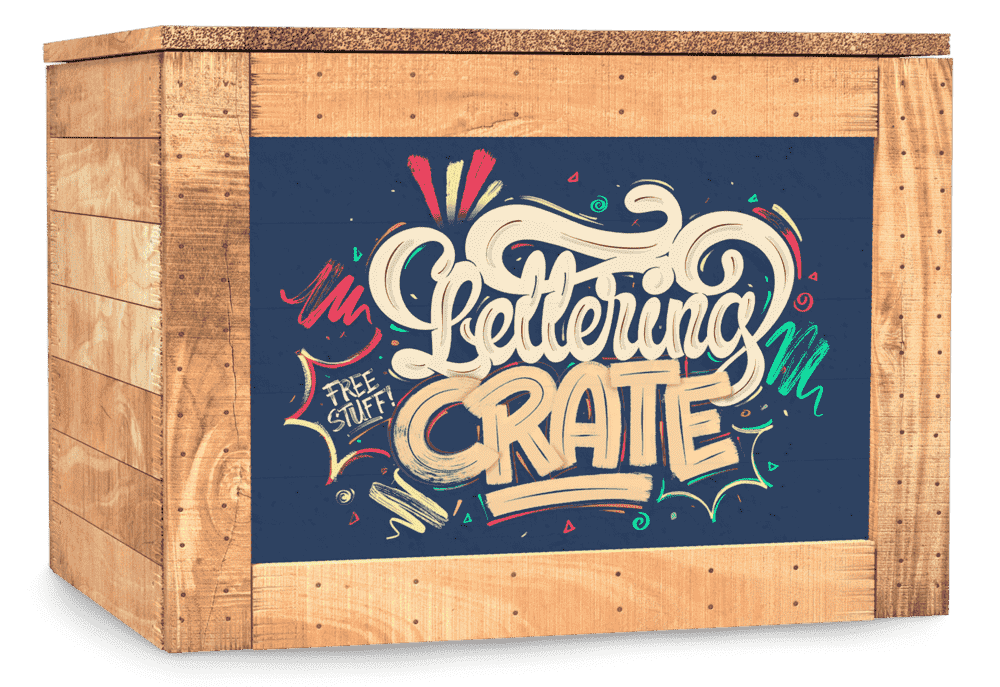 Stay updated with my tutorials and get instant access to the Lettering Crate –
A growing library of free lettering & calligraphy resources that includes –
Pin me!
About the author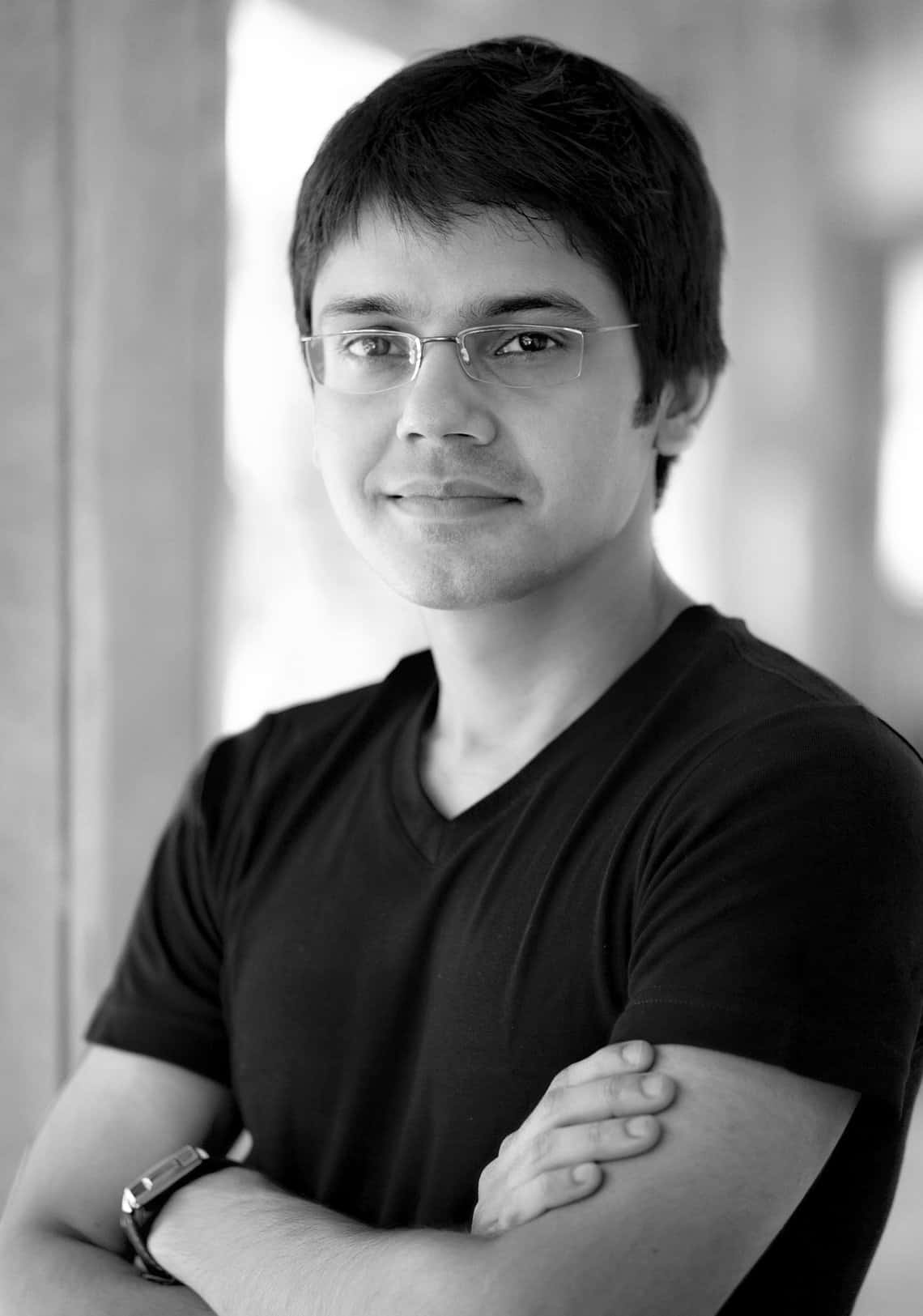 Chandan Mahimkar
Designer, Creative Director & Lettering Artist
Chandan is a multi-disciplinary designer & creative director based out of Mumbai. He is former CCO of L&K Saatchi & Saatchi's design division in India. He now runs his own design
studio and works on branding & design projects for reputed clientele in India & internationally. He effectively uses his style of hand lettering in many of his graphic design & space design projects. Chandan is a well known graphic designer in India and one of the top
lettering artists. His work has appeared in some of the top lettering books published in the
US and Australia. He shares his knowledge of design & lettering through talks/workshops for
design institutes & design agencies in India & internationally.