Bubble letters are a fun, easy, and expressive way of drawing letters.
In this step by step tutorial, you are going to learn everything you need to know about drawing bubble letters.
Let's have a quick overview of what are we going to cover in this tutorial –
What are bubble letters
The basic construction of bubble letters
The whole alphabet (video)
Bringing bubble letters to life with shadows and highlights
A few extra tips
Final words
Without any further ado, let's get started!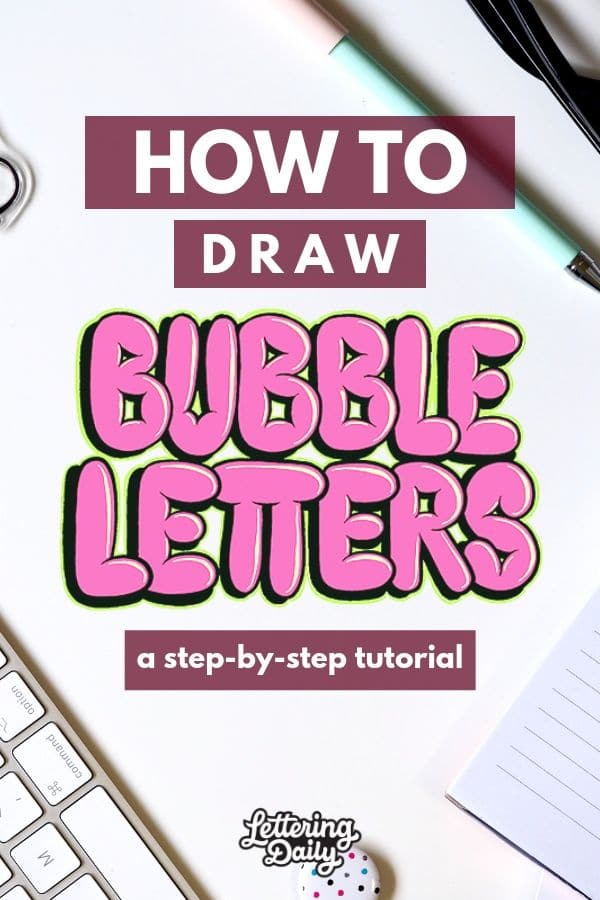 What are bubble letters?
Probably most of you are already familiar with this style of lettering, and if you are, feel free to skip this part.
For those who don't know what bubble letters are, it's basically a lettering style where the letters look puffy and bloated kinda like bubbles – hence the name.
Bubble letters are easy to learn and fun to do, but at the same time without knowing some of the basics, it's easy to get lost in the process.
Bubble letters are also quite popular in graffiti, but in this tutorial, we are going to focus only on how to create bubble letters on paper.
The basic construction of bubble letters
There are different ways of constructing your bubble letters, and in this tutorial, I'm going to show you the most basic method of doing it.
Let's start off with an example of the letter A.
We always sketching with a pencil, this way we can make corrections if needed.
To demonstrate this process, I'm using a Staedtler mechanical pencil and a Sakura pigma micron fineliner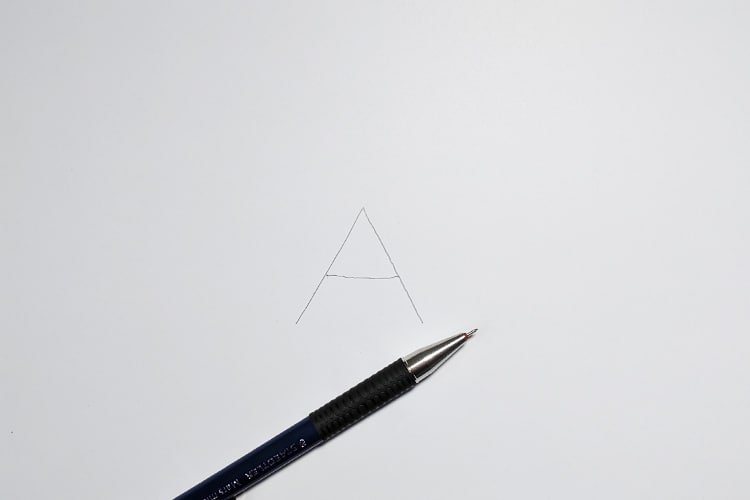 From this point, we thicken the letter by adding an outline.
Keep in mind that the outline should have the same thickness from both sides.
Here you can determine how thick you want your letters to be.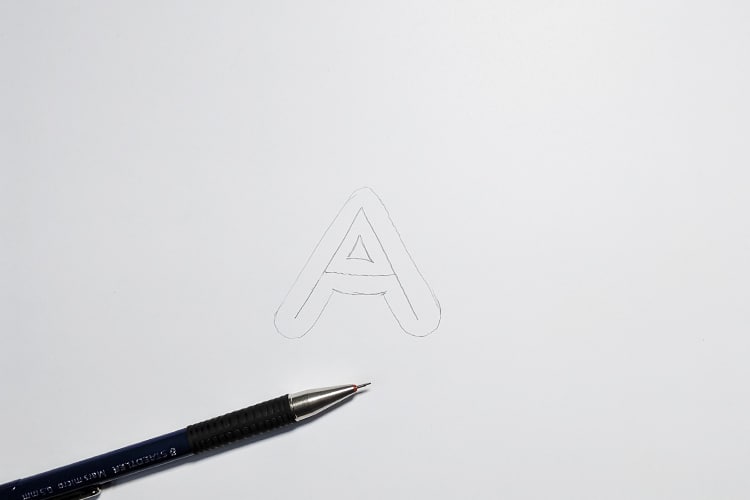 The key idea behind bubble letters is to have rounded (external) edges instead of sharp ones – like with block letters.
Once we added the thicker outline around the letter, we can erase the first shape that we made at the beginning.
And here we have our completed bubble letter A –
Note – that I mentioned that we don't have any sharp outside edges, but having them inside helps to achieve that puffy/bloated look that we are after.
In the example below, you can see the difference between having sharp internal edges (left) and the one with all rounded edges (right). 
I'm not saying that the one on the right is wrong, I just personally like the look of the left one more – This is totally up to you.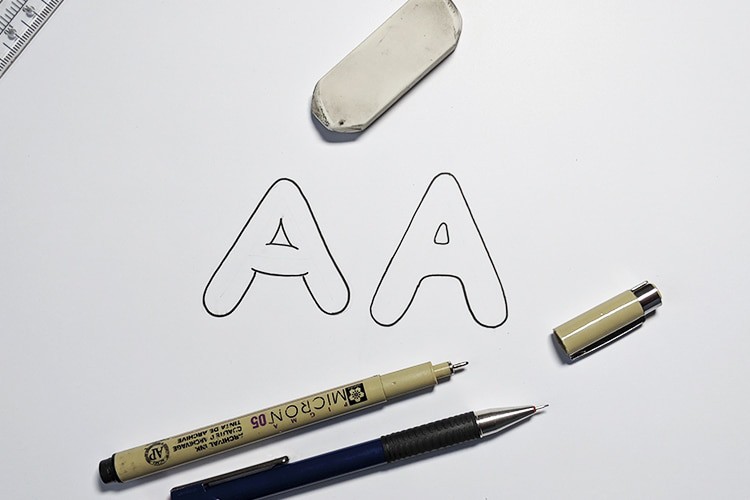 Now that we saw the basic construction of bubble letters with the letter A, we can apply that same idea to the other letters of the alphabet.
Here is how to draw the whole alphabet with the bubble letter style
Bringing bubble letters to life with shades & highlights
Ok so, now that we know the basic construction of bubble letters it's time to add them some details to make them pop even more!
The best way to do this is by adding shadows and highlights.
I'm going to show you the basics of shading and highlights because we already have a more in-depth step by step tutorial that will teach you not one but five different methods of shading your lettering & calligraphy.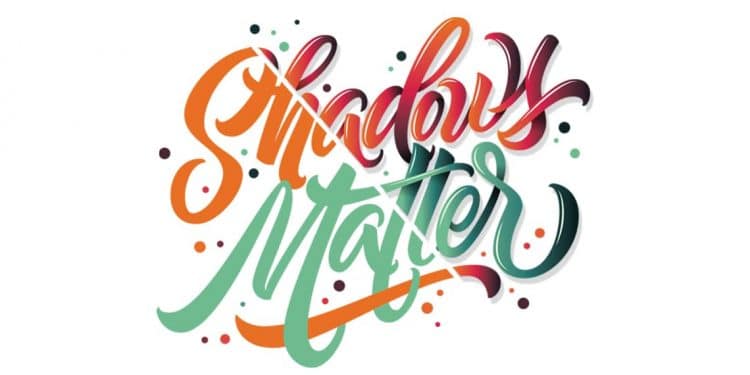 Let's start with shading –
I see many beginners struggling with adding shadows properly, and it can be tricky if you are just getting started.
Once you understand the underlying principle, the process is quite simple and straight forward.
The position of the shadows depends solely on the direction of the light.
Let's make this easier to understand using our letter A as an example –
So in this example, we can see that the light source comes from the top right side.
This means that the shadows will appear on every bottom and left side – basically the opposite side of the light source.
Here is an example –
Easy right?
What if the light source comes from the opposite side?
Simple,
we just add the shadows on the opposite side of the light source!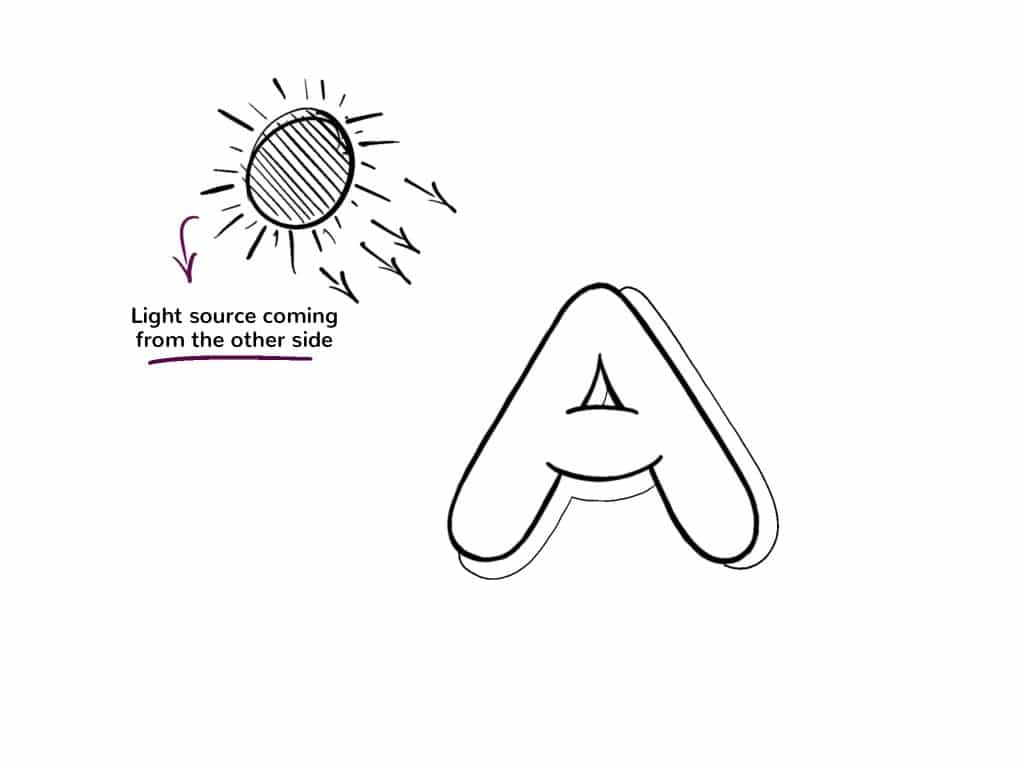 Now we just need to color the letter and add a nice outline to it.
Like this –
In case you are struggling with outlining your letters smoothly, fear not!
We recently posted another article where we shared a couple of tips on how to improve your outlining and inking skills.
You can check it out here.
Now, let's add some highlights to our bubble letters
Now that we added the shades, it's time to add some highlight to make them really pop!
First of all, let's understand what the highlights are.
Highlights are areas in an object that is closest to the light source, where the light is reflecting.
The easiest way to know where to add highlights, in this case, is basically the opposite side of the shadows.
Let's take a quick example of our letter A with the previously drawn shadows.
We are not going to put the highlight all the way to the edge of the letter, we are going to leave a bit of space which will make the letter look more round shaped.
Here is an example –
Keep in mind your color selection!
When working with colors, contrast is super duper important.
Since highlights are basically a reflection of the light, the best way for them to stand out is by using a brighter color (doesn't need to be always white)
Working with color is a whole other story for itself, and to explain how to use them in your lettering correctly, it would really drag out this tutorial.
Lucky for you,
We have a separate beginners guide that explains the fundamentals of colors (color theory) and how to use them effectively in your lettering – you can check it out here.
Shadow and highlights are two robust methods of enhancing your artwork (not just letters).
Depending on how much time and detail we add we can create more simple looks like we just demonstrated –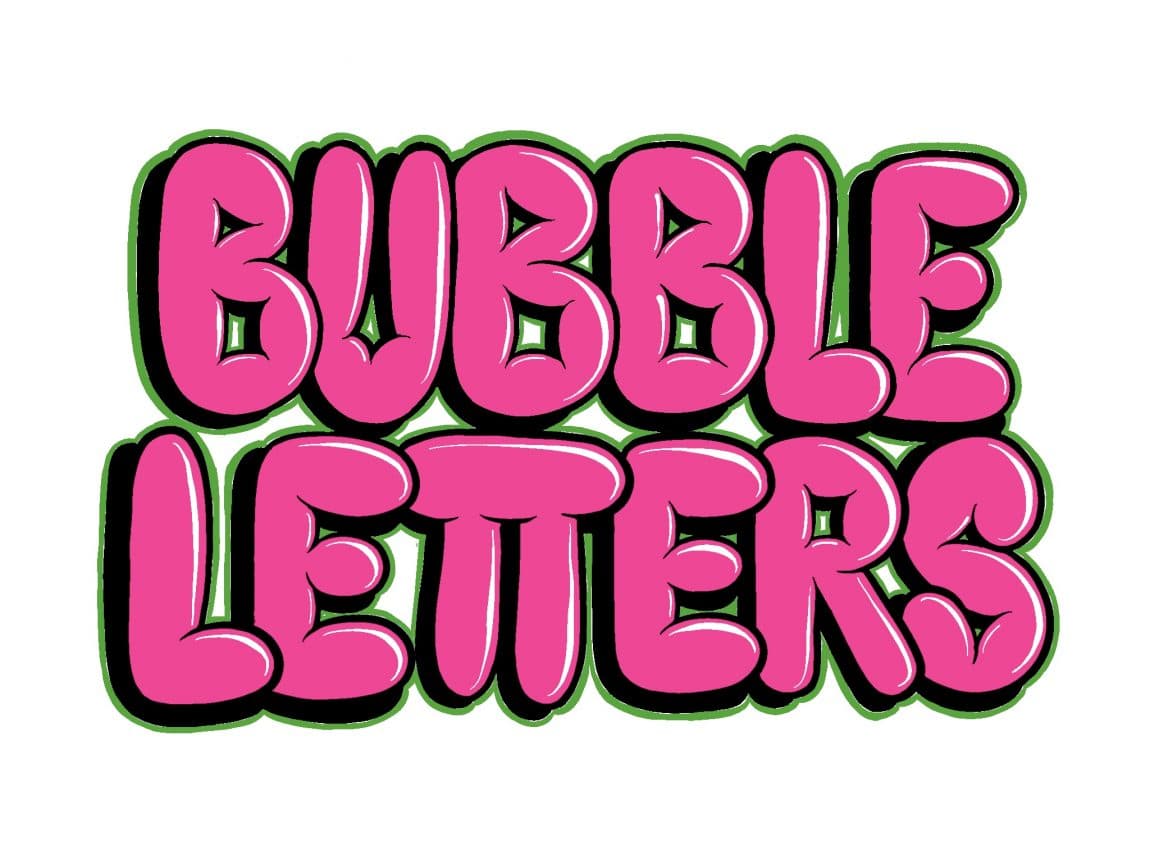 Or even more intricate effect like this –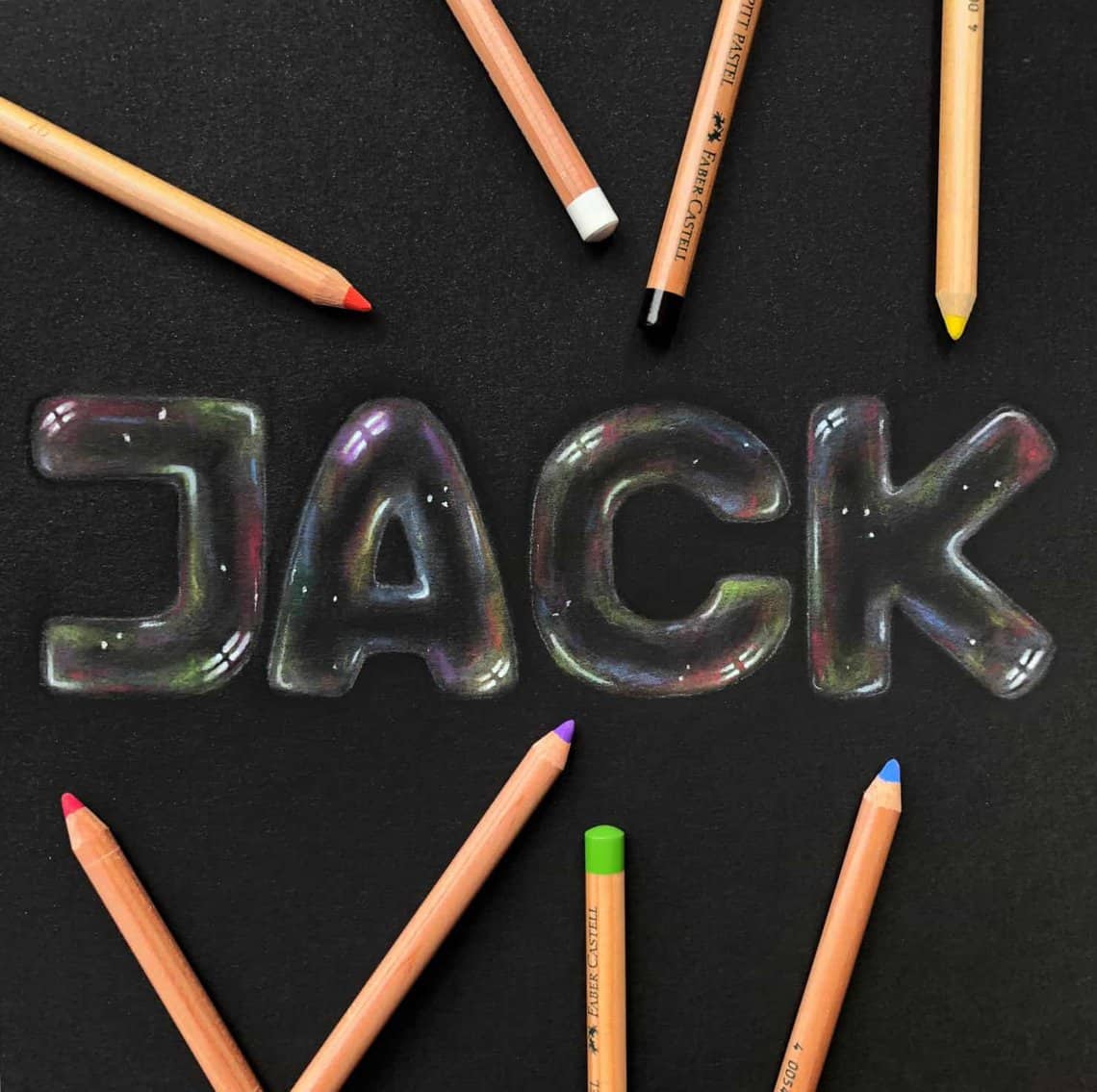 A few extra tips for drawing bubble letters
Before we wrap up this tutorial, there are a few more things that I would like to bring up to your attention.
 1. You can draw bubble letters in different styles
We mentioned above the basic construction of bubble letters, and once you feel comfortable enough with it, you can start to tweak the shapes and create your very own forms.
2. Adding a second outline for an extra pop!
Adding a second outline around the letter and the shadows are a great way to make your bubble letters pop even more.
You can do this both in monochrome (single color) or with colors. 
Remember to pick colors that go well together!
3. Play around with the spacing of your bubble letters
When drawing bubble letters, you can play around with the spacing of the letters in a word. 
I personally prefer to have smaller spacing between the letters and having them clashing with each other. 
If you want the letters to overlap each other, remember to add an outline – otherwise, it could hurt the readability of the word.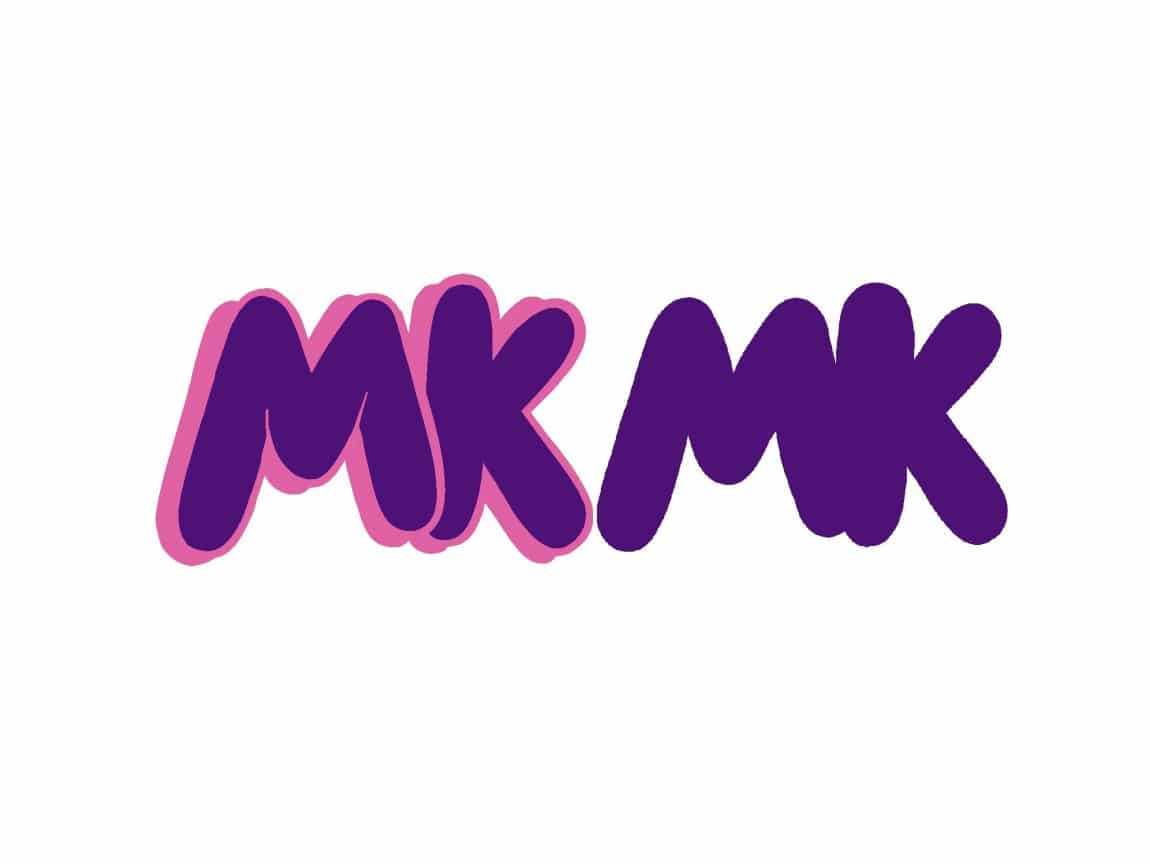 4. Adding more puff to your bubble letters
This is a super simple and easy tip that will make your letters look more "bubbly".
Remember that at the beginning of the tutorial, I mentioned that the internal angle should remain sharp?
Just by adding a bit more detail to these inner edges, you can make your letter look more bloated.
Check out this example –
Wrapping it up
That's all for this time, gang. 
I hope this tutorial helped you in your creative journey!
Keep in mind that these are just the basics of bubble lettering, and once you are comfortable enough with the basics, you can start creating your own unique style. 
This rule basically applies to any lettering style – learning the fundamentals is essential for progress! 
Is there something we forgot to mention?
Or is there something you did not quite understand? 
Maybe you have a specific question in mind, or perhaps you want to get some constructive feedback on your artwork?
Feel free to drop a comment below, or even better –
Join our official Facebook group!
Our group is a place where you can –
Share your work
Get constructive feedback
Network with fellow lettering & calligraphy artists
Ask specific questions about lettering & calligraphy
Much more!
Thank you for joining for another tutorial, and until the next time –
Stay AWESOME!!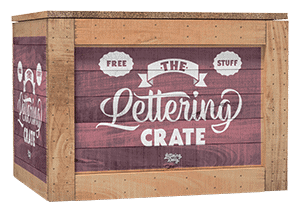 Stay updated with our tutorials and get instant access to the Lettering Crate –
A growing library of free lettering & calligraphy resources that includes – FREE downloadable calligraphy practice sheets, Procreate brushes, the 30-day lettering planner, printables, and more.