This post and the photos within it may contain affiliate links. If you purchase something through the link, I may receive a commission at no extra charge to you.
STUNNING WORK FROM FRANCE!
Hello amazing people!
Today we are super excited to share our interview with a really talented artist from France.
Stephane Lopes is a truly exceptional artist with a unique style! Whether combining different types of fonts, colors or layouts, Steph leaves a very recognizable touch to his work!
Enjoy the interview !
1) Steph, tell us a bit about your self!
​Hey everyone! My name is Stephane Lopes, AKA Steph'. I live in Paris, France, I'm 29 years old and I'm a graphic designer & type lover!
2) When and how did it all started? (your hand lettering career)
​I've always been into creation, I have a degree in visual communication,and i also studied arts, advertising, branding, typography, a little bit of webdesign too.
That made me discover Behance and i fell in love with branding, and i especially loved to create logos, brand identities etc. That made me think about typography and eventually typography took me to calligraphy and then lettering. I really got into Lettering at the beggining of 2016 with a french Facebook group "Je me met au Lettering" and also the website laliguedulettrage.com.
After that i started to post my work on Instagram until today.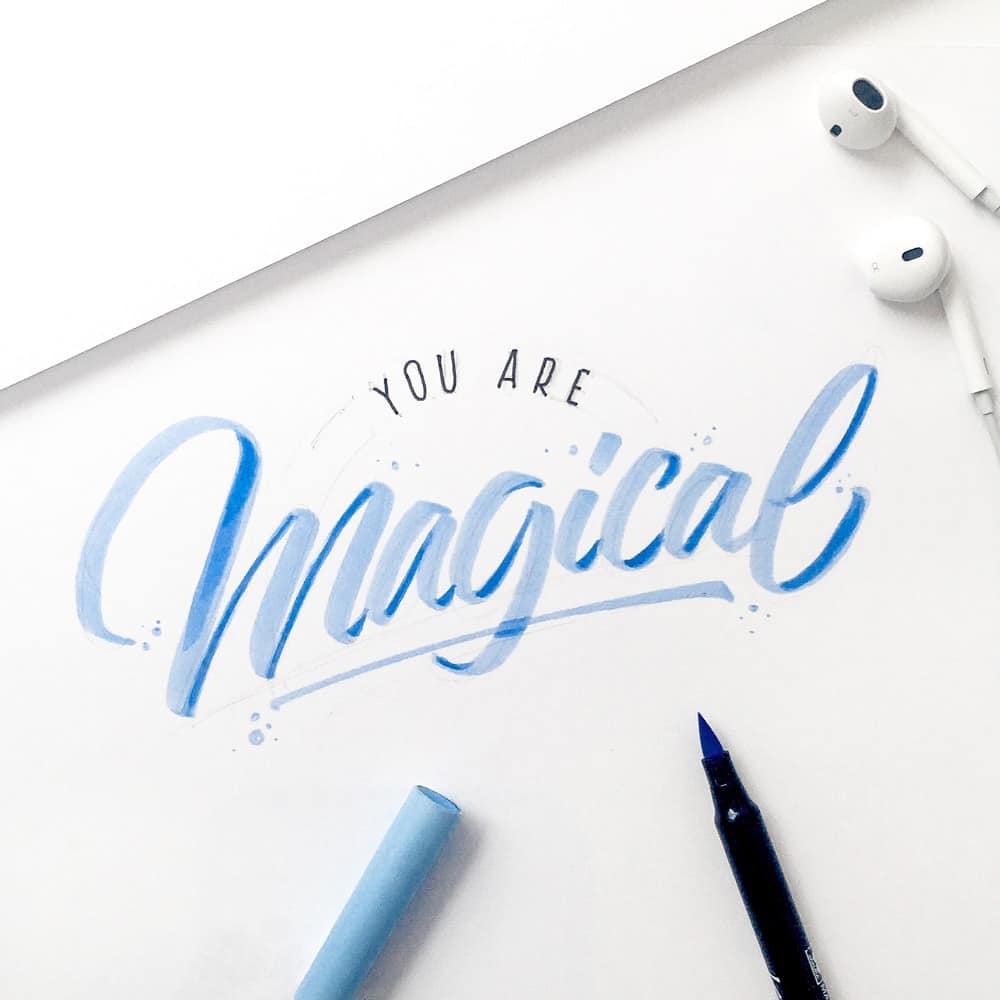 3) What sort of artwork do you enjoy creating the most?
​I love brush pens, i really do. But i think that what i enjoy the most is to change, to evolve, to get inspired and to push further.
I have "phases", sometimes i use colors, sometimes more black and white, sometimes it's just markers and paper and sometimes i spend more time on photoshop.
I like to use new products, explore new techniques, i am always buying new stuff ahah !
4) What is the secret behind your process? what steps do you take?
​ I guess the first thing is to get the idea and i get them by looking at others artists, even not from Lettering, inspiration is everywhere.
After that, almost everytime i sketch first, study the composition, test the colors, select the right tool and i start trying to make it perfect.
The steps are really different depending what style and what tool i use, but, no matter what you do i think sketching is always a good idea.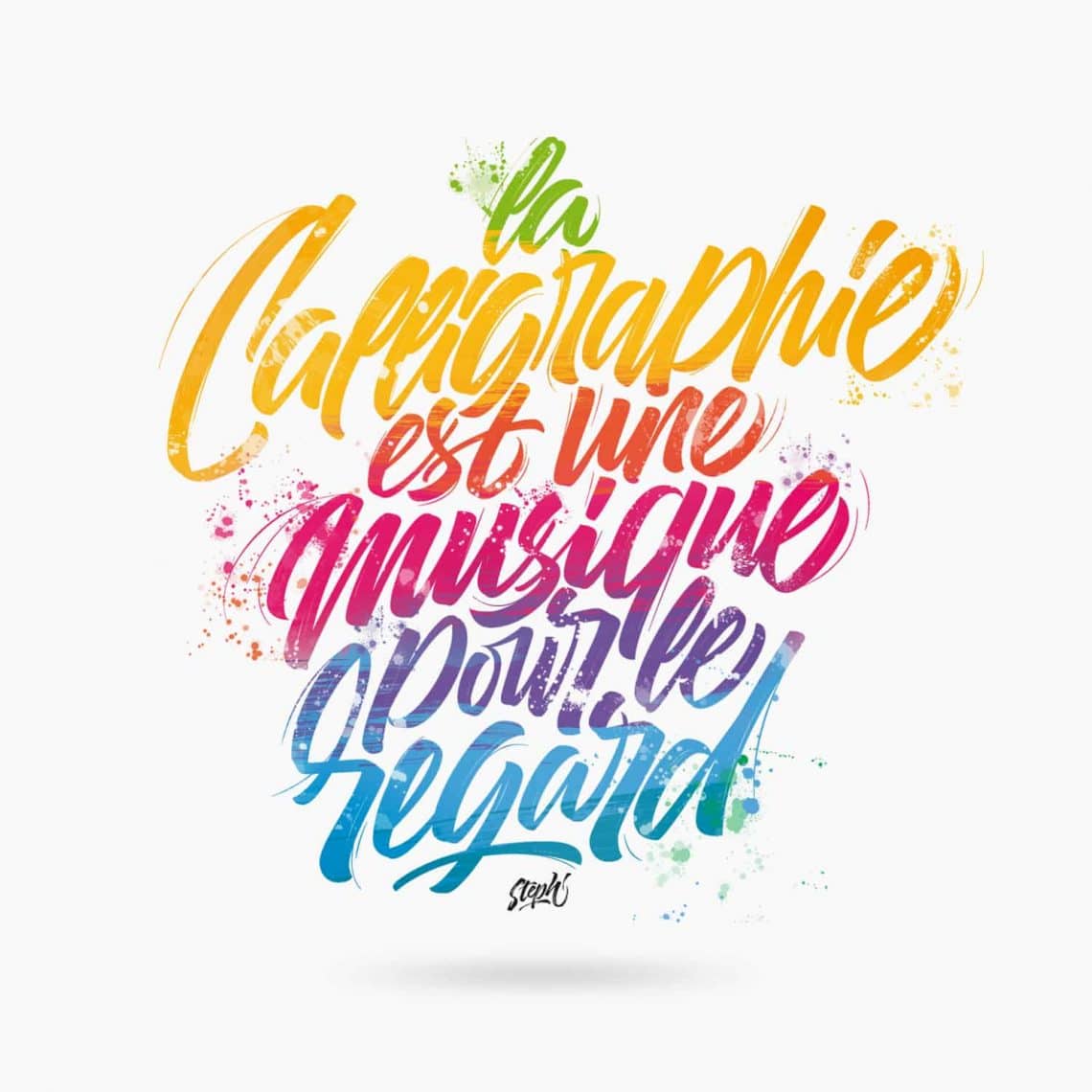 5) Who are your biggest influencers?
​I could name so much people here… Instagram give me the opportunity to know so much talented people but i have to say the first and the most inspiring for me is David Milan.
The way he compose, his use of colors, the quality of the setup of his picture, everything is so well studied. Otherwise i will just drop a few names like
and i could be on and on and on…
6) What are your favorite hand lettering tools? on which do you mostly rely on?
​Like i said, i reall love brushpens.
But thoses pens can be really different, more ferm, more soft, it changes everything even if the basics are still the same.
I love that tool because it's direct. I mean, when i work on a lettering with a brushpen, i can work on the same word for pages during hours but when i write it right it last 3 seconds.
Brush script is oneshot, you write it, you can't miss because you can't work on it after, so either you make it great either you start over and over until you do.
I use many brushpen, many different size. The smallest are Pentel Touch, Kuretake Mangaka Flexible or even Pigma BrushPen FB.
I love them because they are very smooth and you can get great texture with all 3.
Then i have what i call the "classics", Tombow, Stationery Island, Lyra and Sakura Koi witch are very nice to use because of all the colors i have and the smoothness of the lines.
And then i have bigger ones, Ecoline Brushpen with very bright colors, mixable with ink, and Pentel Brush also super nice with a different nib, made of bristles what give me the possibilty to work on textures.
Those are my favorites but i also use pencils to sketch and thin line pens (Pigma MICRON) when i want to draw a shadow or thin letters.
7) Any advices for those just starting out?
​I think the main advice would be to practice. Right now lettering is a passion for me, so i work on it really hard without noticing.
I am always practicing and thinking about what will i do next, sketching out some ideas, writting down some quotes, and this is working.
I think you have to find what you are into, for me it is brushpens and lettering but it could have been drawing or singing (it's really not singing), and when you find it, practice and work is fun.
Passionnate people are the hardest workers.
8) What would your ideal job (career) look like?
​For now i am doing everything to make Lettering my living by selling product, creating logo and art pieces, but i want to do more.
Hopefully in the next months i will be hosting workshops, and teaching, sharing my passion.
I also hope to get bigger project like murals or to create and entire identity for a restaurant or a shop for exemple, work with big brands, and travelling of course ! I would love to meet my idols, work with them, participate to conference, that would be the Dream (yes, capital "D").
be sure to check out STEPH's other online platforms !
About the author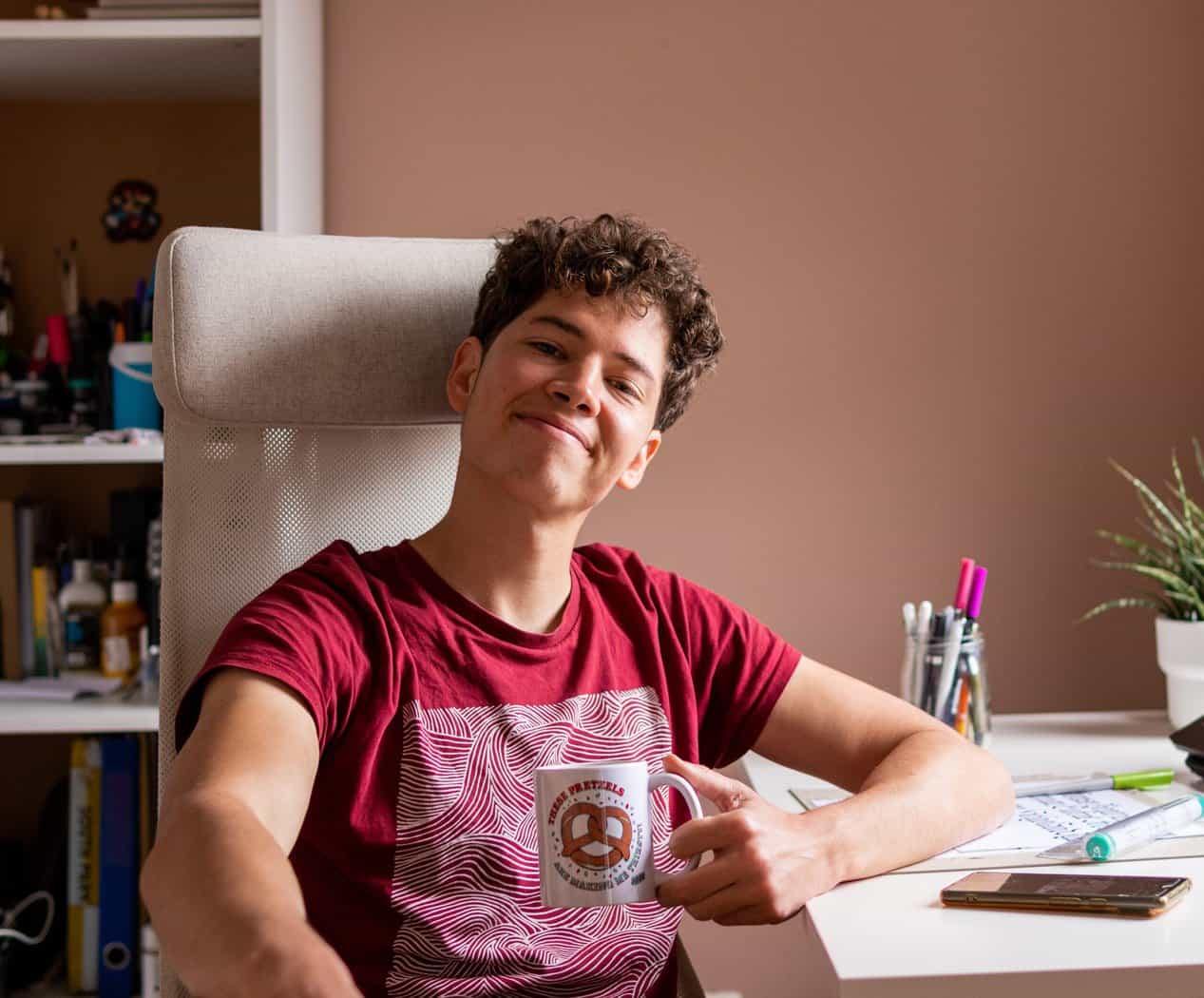 Meet Max Juric, a dedicated calligraphy and hand lettering artist with over a decade of experience. His artistic journey is deeply rooted in a passion for lettering and a commitment to continuous growth. Max's extensive experience spans several years as a full-time lettering artist, collaborating with clients from around the globe. Over the past five years, Max has actively shared his expertise, reaching more than 100,000 individuals monthly through a rich array of educational resources. These resources include tutorials, interviews, articles, and podcasts. Max's practical experience, combined with his unwavering dedication to his craft, sets him apart in the realm of hand lettering and calligraphy. With an educational platform offering over 100 long-form resources, Max aims to guide artists and enthusiasts in enhancing their hand lettering and calligraphy skills. Welcome to Lettering Daily, where artistic expression and learning beautifully intersect.