This post and the photos within it may contain affiliate links. If you purchase something through the link, I may receive a commission at no extra charge to you.
In this post, I am reviewing one of the best Procreate brush packs I've ever seen.
It's called – The KickOff Lettering Toolbox.
A brush pack created to aid any beginner's struggle.
Spoiler alert – it's freaking awesome!
Here is a quick overview of the things I will go through in this review –
How can you learn (and improve) lettering in the fastest way possible?
Introducing the KickOff Lettering Toolbox
The pros and cons of the KickOff Lettering Toolbox
My final thoughts + where to get it
Try a freebie sample!
Without any further delays, let's get right down to it!
How can you learn (and improve) lettering in the fastest way possible?
I think this is a question that many of you often think about.
If you've been reading my content, then you've probably seen me preaching about practice quite often.
Like many other online content creators, I also talk a lot about practicing consistently as a way to learn and improve your skills.
However, aside from just practicing consistently, I strongly believe that the way you practice makes all the difference.
The difference in how quickly can someone learn and improve as a lettering artist.
I created this piece using the KickOff Lettering Toolbox
In the past couple of years, I've had the opportunity of seeing some people making more progress in a couple of months than others did in several years.
My first thoughts were that some are just better than others, and that's just the way it is, but if you take a peek behind the curtains, you start to see something completely different.
Most beginners tend to skip the first ten steps and immediately try something that is way too complex for their current knowledge and skill level.
Don't get me wrong, I made the exact same mistake.
You see all these super cool artworks online and you just want to do the same thing right off the bat.
However you can't effectively create things such as compositions, flourishing, color palettes, 3D effects, etc. without knowing the basics.
In other words, in order to learn and improve your lettering skills in the fastest way possible, is to gradually expand your skills.
Starting with the very basics and slowly but steadily move towards more complex aspects.
I believe that most beginners struggle with this concept due to two main reasons –
A lack of good resources. Most (free) online resources only cover bits and pieces of a much larger picture.
Learning the basics may seem boring. I know, doing drills, learning terminology and basic concepts isn't probably the most fun thing to do.
But, what if there was a different approach?
What if you had a resource that covers the basics of hand lettering in a fun and engaging way?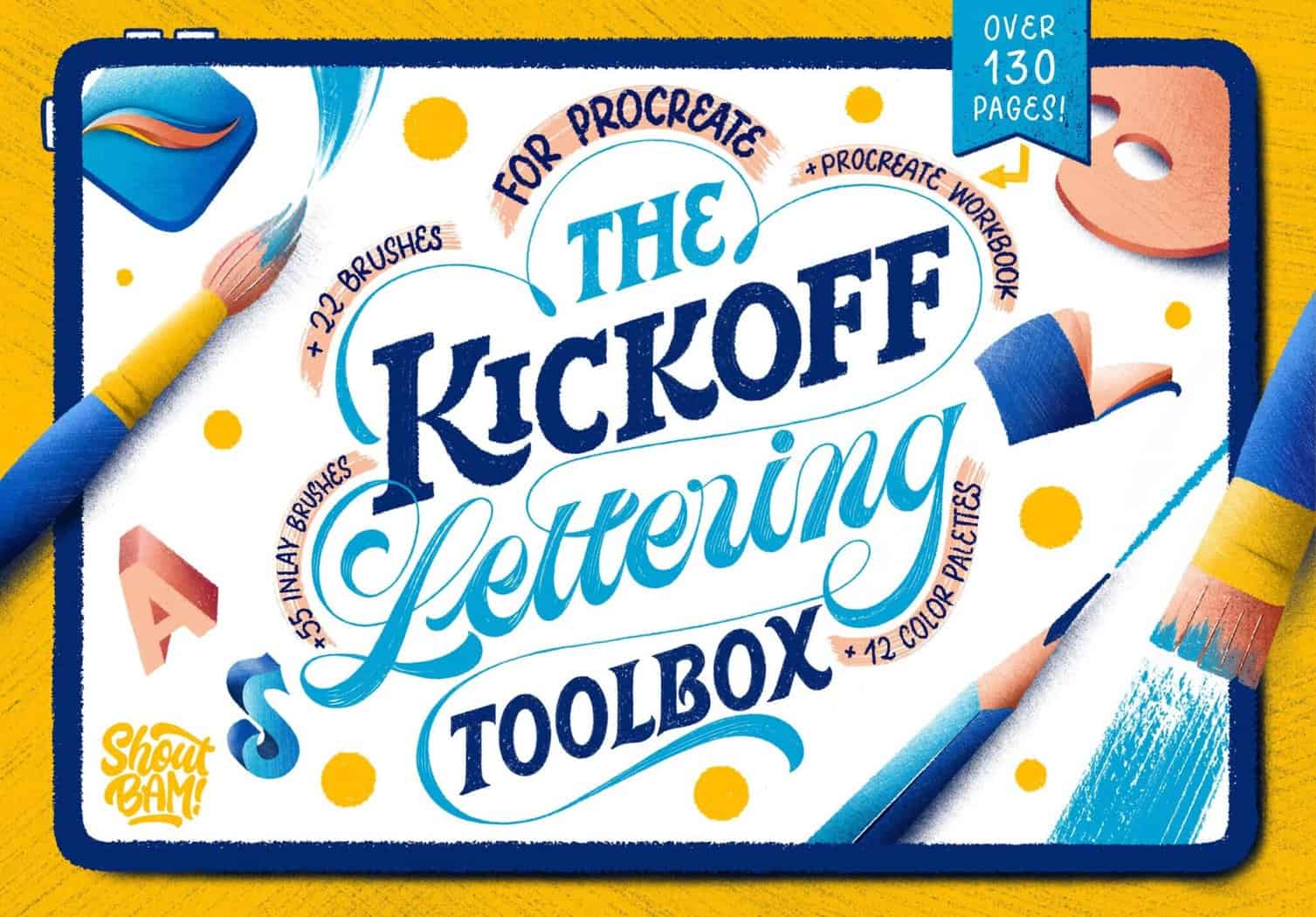 The KickOff Lettering Toolbox was created by two terrific friends of mine – Jimbo and Tea of Shoutbam!
They've been planning, preparing, tweaking it for months on end.
The focus was to create a unique, fun, and easy learning experience for lettering beginners.
The KickOff Toolbox offers so many things that it makes it hard to see it just as a brush pack for Procreate!
I love and enjoy all of the brushes, but let's face it, the star of the show is something else.
I'm, of course, talking about the 130-page long workbook that comes as an extra to the brush pack.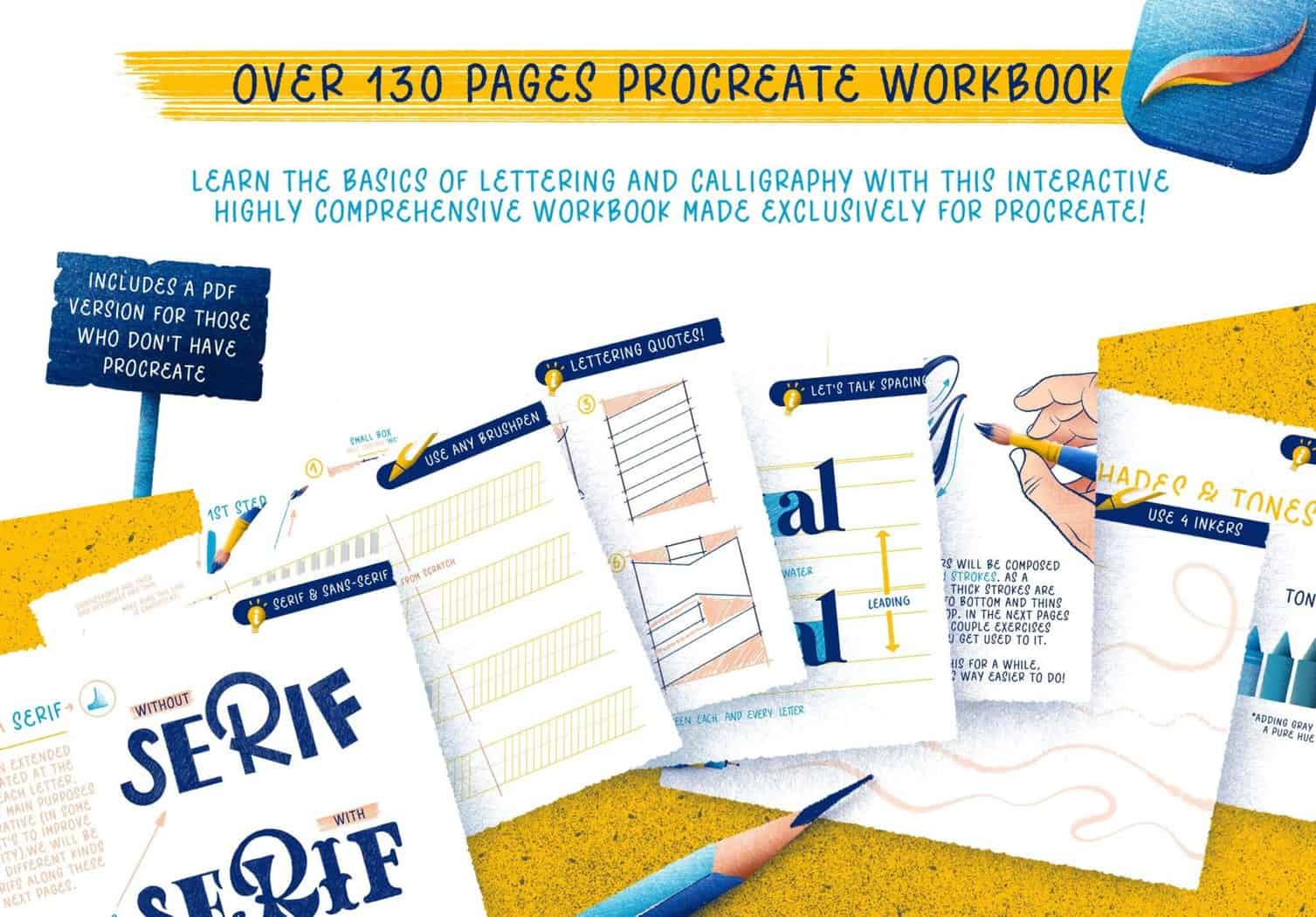 Unlike most brush packs you can find out there, the KickOff Lettering Toolbox isn't just about cool flowing brushes with intriguing textures.
Before I jump right into the workbook, let's have a quick overview of what you'll be able to find in this brush pack.
Inside the KickOff Lettering Toolbox, you'll be able to find –
22 Lettering Brushes (3 Pencils, 7 Brush Pens, 5 Inkers, 3 Chalky Pastels, and 4 Shaders)
55 Ornamental Brushes (Inlays and Florals)
Over 130 pages Procreate Lettering Workbook and a PDF Printout version of Lettering Workbook
12 Colour Palettes
An Easy-to-Follow PDF Installation Guide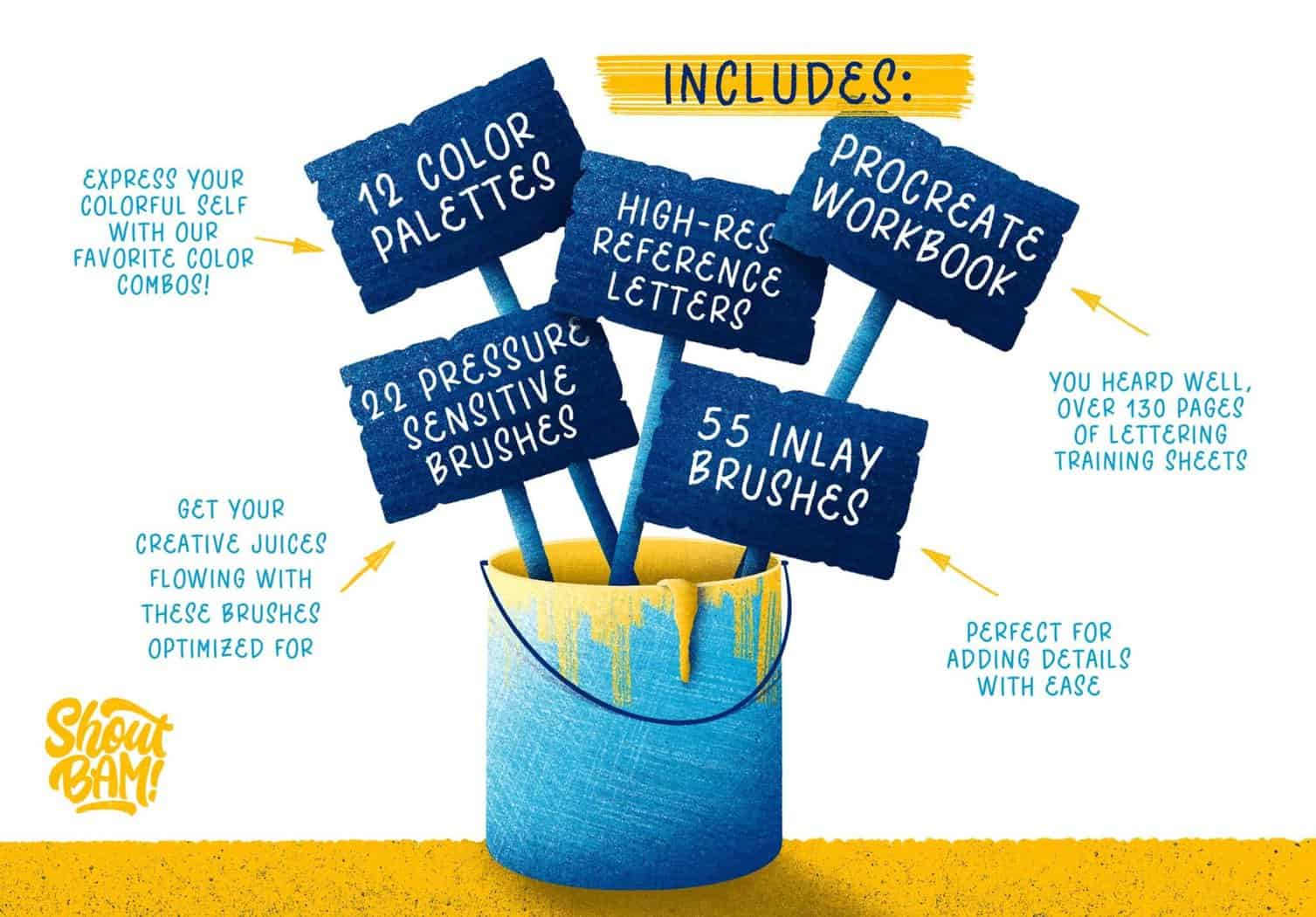 The KickOff Lettering workbook
This is the main feature of the brush pack.
It is why I consider it to be the single best brush pack for hand lettering beginners.
The workbook is beautifully illustrated and contains over 130 pages that combines informational and practical elements.
It provides the needed basics but at the same time it wont overwhelm you with too much information at once.
Here is an overview of the workbook and what you can expect from it –
Basics theory
Zig-zag practice strokes
Script letters A – lowercase
Script letters B – Uppercase
Block letters A
Block letters B – Contrasted letters
Twist it up! – Block letters
Twist it up! – Script letters
Composition
Color
Texture & inlays
Fun exercises
Procreate tips & tricks
Certificate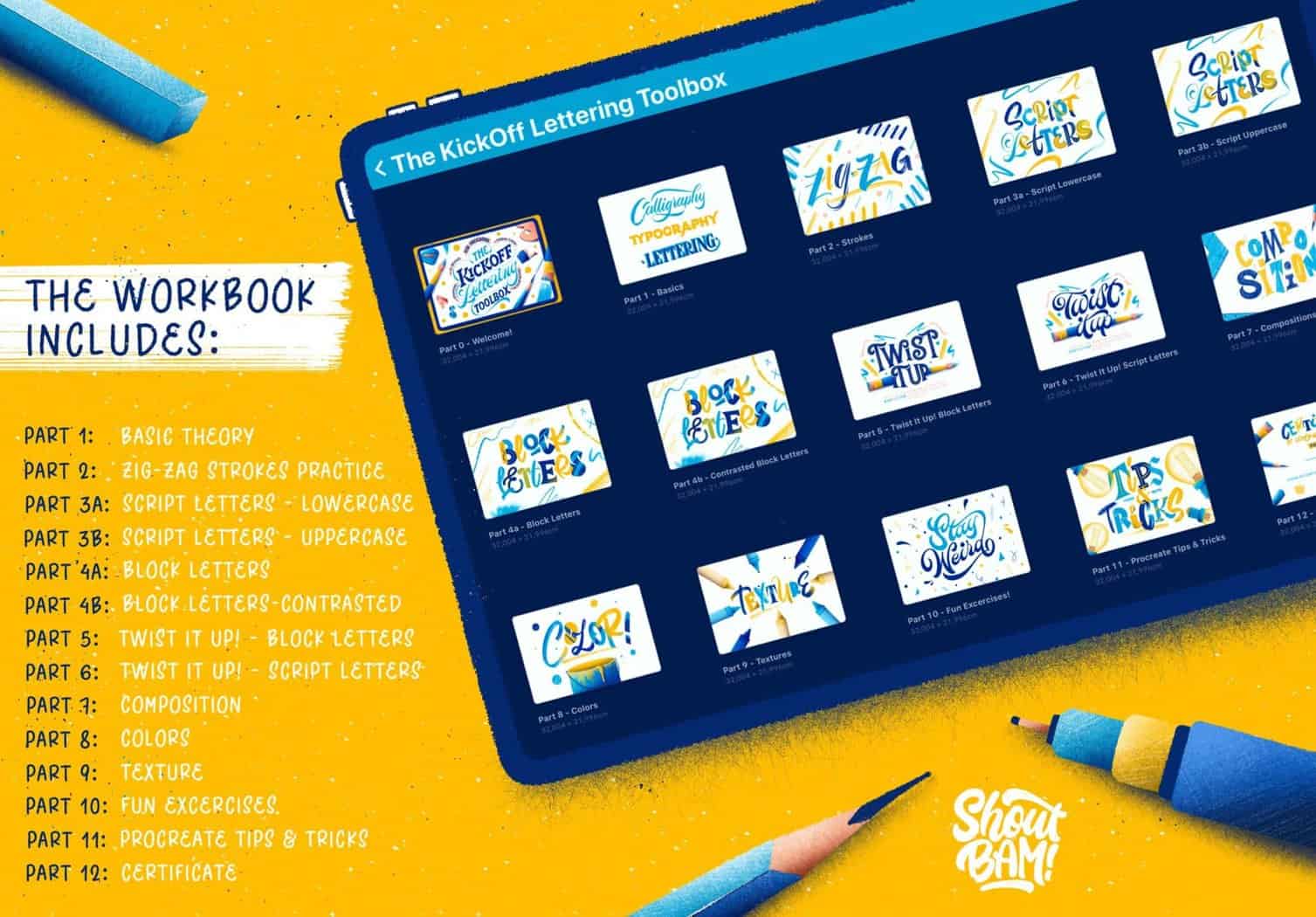 As you can see, the workbook covers a lot of material, and more importantly, it takes you gradually from the very basics like theory and how to construct letterforms, to more complex aspects such as color and composition.
This sort of approach corresponds precisely with what I was talking about in the previous section on how to learn/improve hand lettering in the fastest way possible.
You can't effectively twist up your sans serifs without knowing how to construct its basic version.
Another thing that I like about this workbook is that it contains a ton of insider tips from Jimbo's vast experience as a lettering artist.
Insider tips that made me say "oh damn" many times as I was going through this workbook.
If you wish to take a sneak peek inside the KickOff Lettering Toolbox, my buddy @calligraphy_dk has created a video review of the product.
You can check it out here –
A quick note about the included workbook –
The workbook is an extra feature to a Procreate brush pack, and of course, some areas are not covered as in-depth as a conventional book or online course that you would pay ten times the price of this product.
How to use the KickOff Lettering Toolbox?
The process is quite simple.
Once you've downloaded the brush pack, you'll find a PDF file that contains the installation guide from your PC/laptop directly to your iPad pro.
You will need to install the brush pack (which is one single file), the color palettes as well as the workbook.
From here, you just need to follow the workbook.
And that's it!
I would advise you to take your time and go through the workbook properly and don't skip any exercises!
I really enjoyed following the exercises from the workbook.
The KickOff lettering workbook will take you several days to complete, and you can always go back and retake certain parts you feel you need to improve.
Not just for iPad lettering?
No iPad? No problem!
Another thing that Tea & Jimbo considered while creating this fantastic product.
In the downloaded files, you will also be able to find the PDF files of the KickOff lettering workbook.
Simply open up the files, print them out, and you are good to go!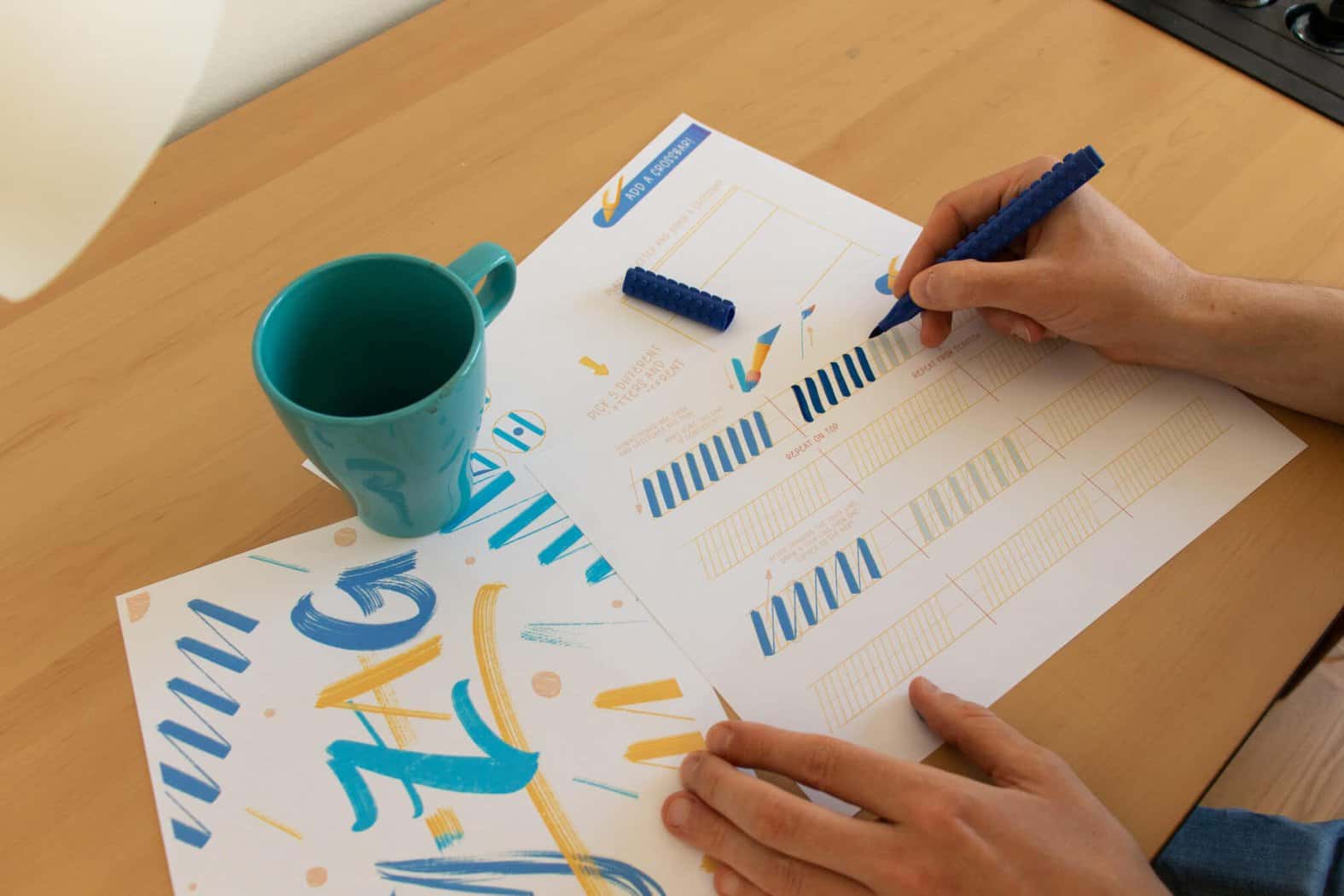 I would suggest that you print out only the pages where you need to do the exercises so you can save some paper.
The Pros & Cons of the KickOff Lettering Toolbox
Although I love this brush pack, I think being objective and honest is an important part when reviewing a product.
That being said, let me begin with the pros of the KickOff Lettering Toolbox.
PROS
Great value for the price
Extremely beginner-friendly (easy to follow)
A fantastic resource for lettering beginners – seriously packed with great info.
Filled with great inside tips from an experienced lettering artist
You can follow the workbook even without an iPad
Contains brushes for both hand lettering & calligraphy
Includes stunning color palettes and a ton of decorative stamps
Now it's time to point out some shortcomings of the KickOff Lettering Toolbox.
These are some minor details I noticed while working with the KickOff Lettering Toolbox, but I would definitely not consider them as deal-breakers.
Rather as constructive criticism for future updates.
CONS
Not very clear installation instructions for Windows users
Bending the florals for curved letterforms was quite challenging.
The part about textures in the workbook felt a bit too short, and I was hoping to learn more about it.
Even though the KickOff Lettering Toolbox needs a few minor tweaks, I honestly believe that this is an extremely helpful and valuable resource.
That goes for both hand lettering beginners as well as more seasoned artists looking to sharpen up their lettering skills.
As I mentioned earlier, the KickOff Lettering Toolbox takes you on a journey where you can gradually learn and expand your lettering skills.
This is the most effective way to properly learn the art of hand lettering (of course, along with a ton of practice).
To sum it up – I think that getting the KickOff Lettering Toolbox is an excellent investment for anyone who wants to get started with the art of hand lettering.
I would rate The KickOff Lettering Toolbox with a 9.8 out of 10.
Hit the button below to check out the KickOff Lettering Toolbox at DesignCuts.com
Try a freebie sample of the KickOff Lettering Toolbox.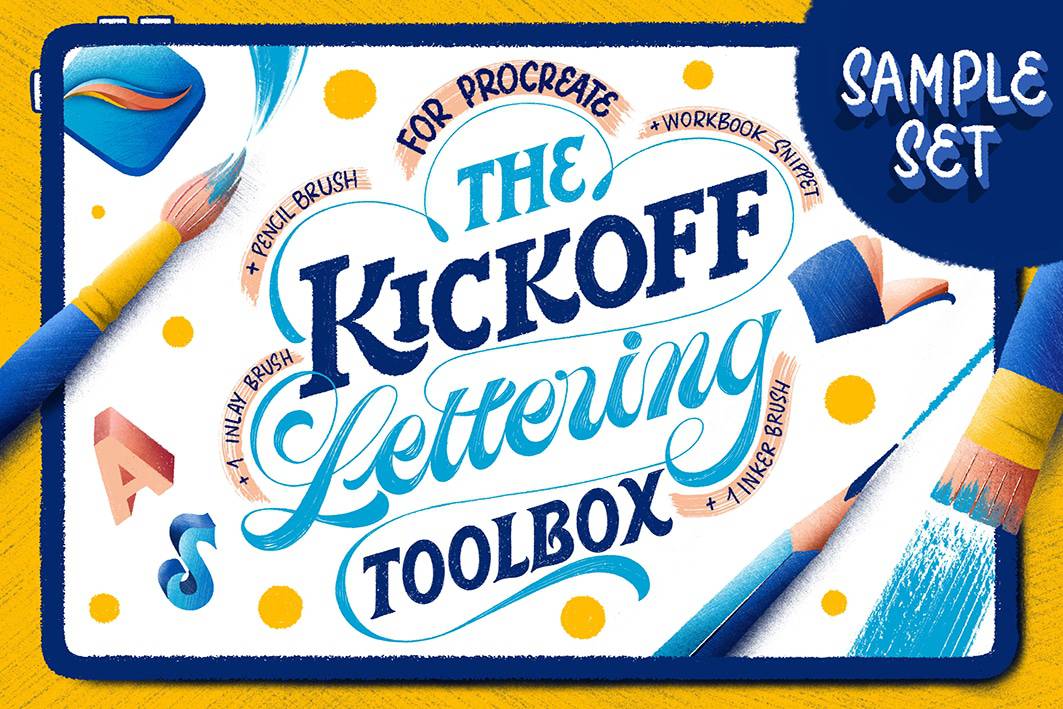 Tea & Jimbo were so kind as to create a freebie brush sample exclusively for the Lettering Daily community.
The freebie is located inside the Lettering Crate. You can get instant access by signing up for my newsletter down below.
You will also be able to download other freebies like worksheets, more procreate brushes, and other free goods to help you with your lettering/calligraphy journey.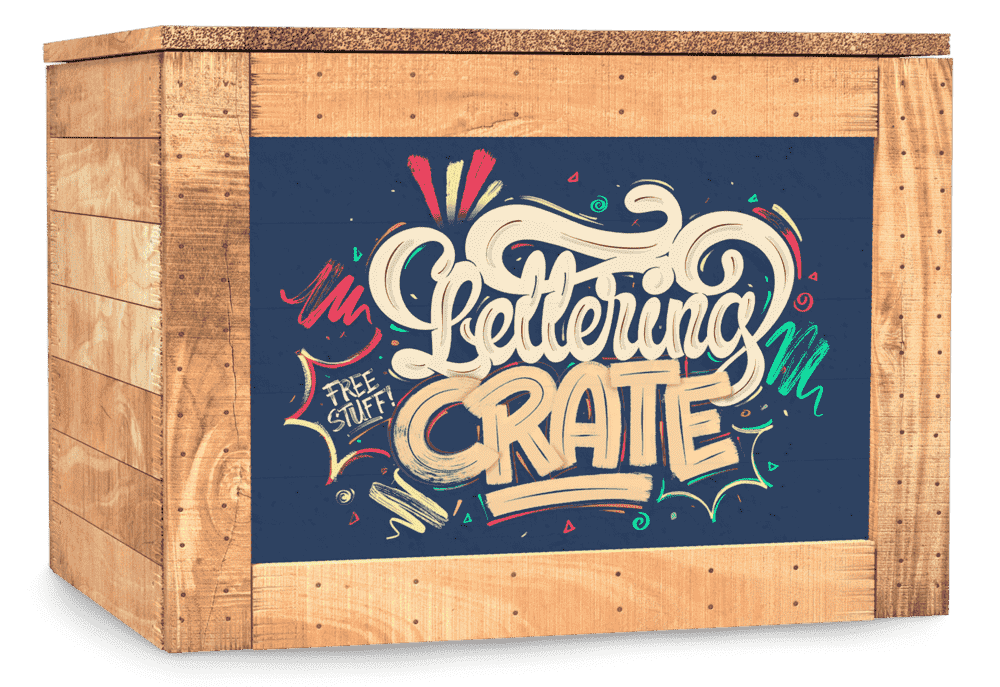 Stay updated with my tutorials and get instant access to the Lettering Crate –
A growing library of free lettering & calligraphy resources that includes –
Pin me!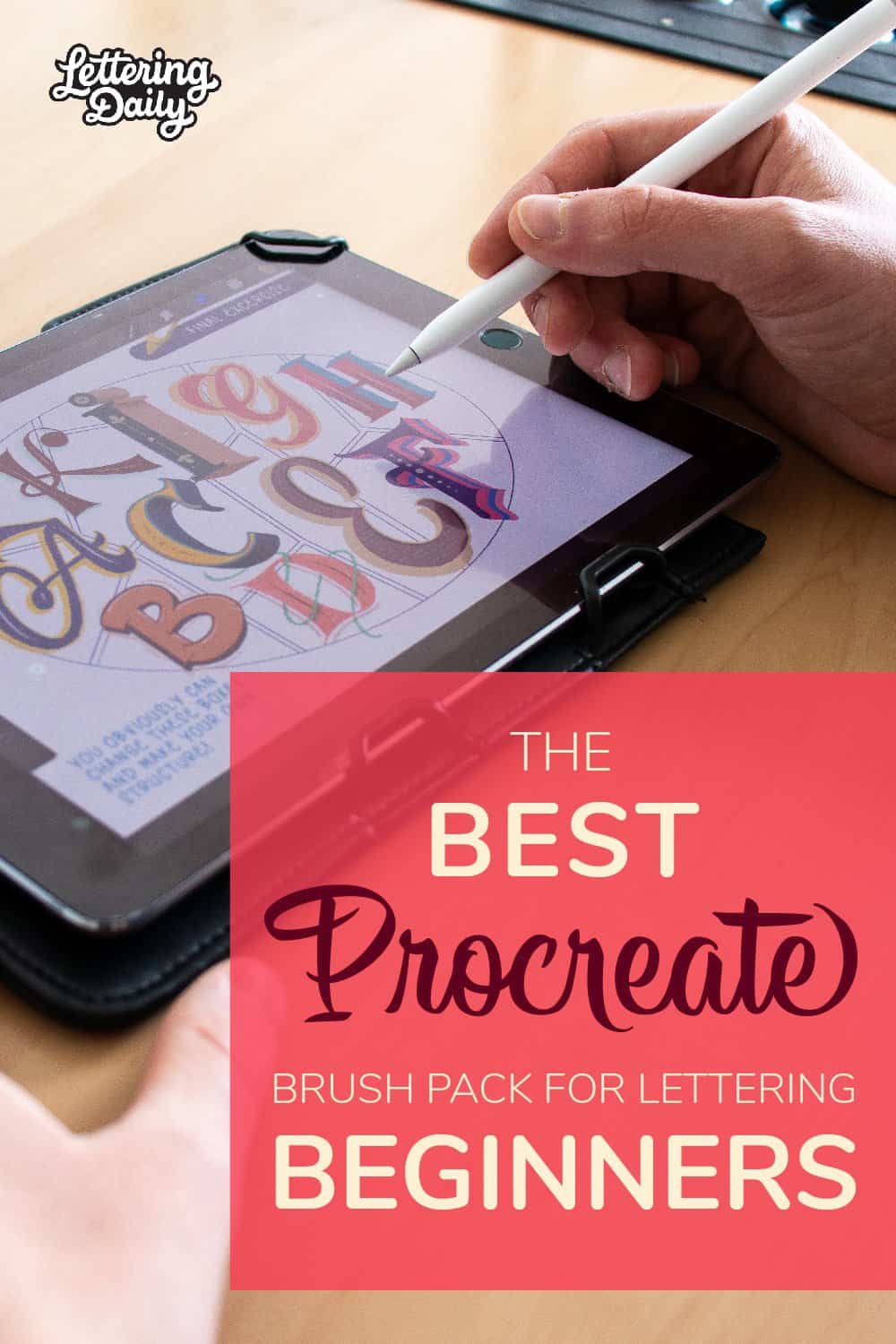 About the author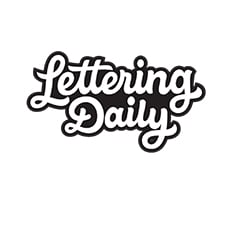 Lettering Daily is an online community that provides educational and inspirational content for hand lettering and calligraphy beginners. ​Our mission is to help artists and enthusiasts from all around the world to learn and improve their hand lettering and calligraphy skills.