This post and the photos within it may contain affiliate links. If you purchase something through the link, I may receive a commission at no extra charge to you.
Brush lettering is a very fun and intriguing lettering skill to learn. However, like with any other skill, not knowing the basics can make the whole learning process a lot harder!
This is why, we teamed up with Alejandro (a.k.a. JansArts) who has been practicing the art of brush lettering for the past several years. Alejandro prepared an amazing tutorial in order to help all of YOU to learn and improve your brush lettering skills 😀
​In this step-by-step tutorial you will learn:
Which brushes to use
Warm up techniques
The basic letter structure
Sketching process and creating your very own brush lettering piece
Finalizing your artwork in Photoshop
​Now, without further ado, we are shifting the spotlight to the man itself!
THIS IS EXACTLY HOW I LEARNED BRUSH PEN CALLIGRAPHY
Hi everyone!
Let me introduce myself. My name is Alejandro Solórzano and I'm a product design engineer by trade, creative lettering artist by choice.
A few years ago, I started @Jansarts, a digital lettering and design journal on Instagram, where I was able to share my daily calligraphy process as well as inspirational quotes to the digital world.
For me, brush lettering has been a fun hobby that allows me to express my ideas through handwritten artworks.
Are you ready to learn brush pen calligraphy?
I'm here to share some tips and tricks for you to get started.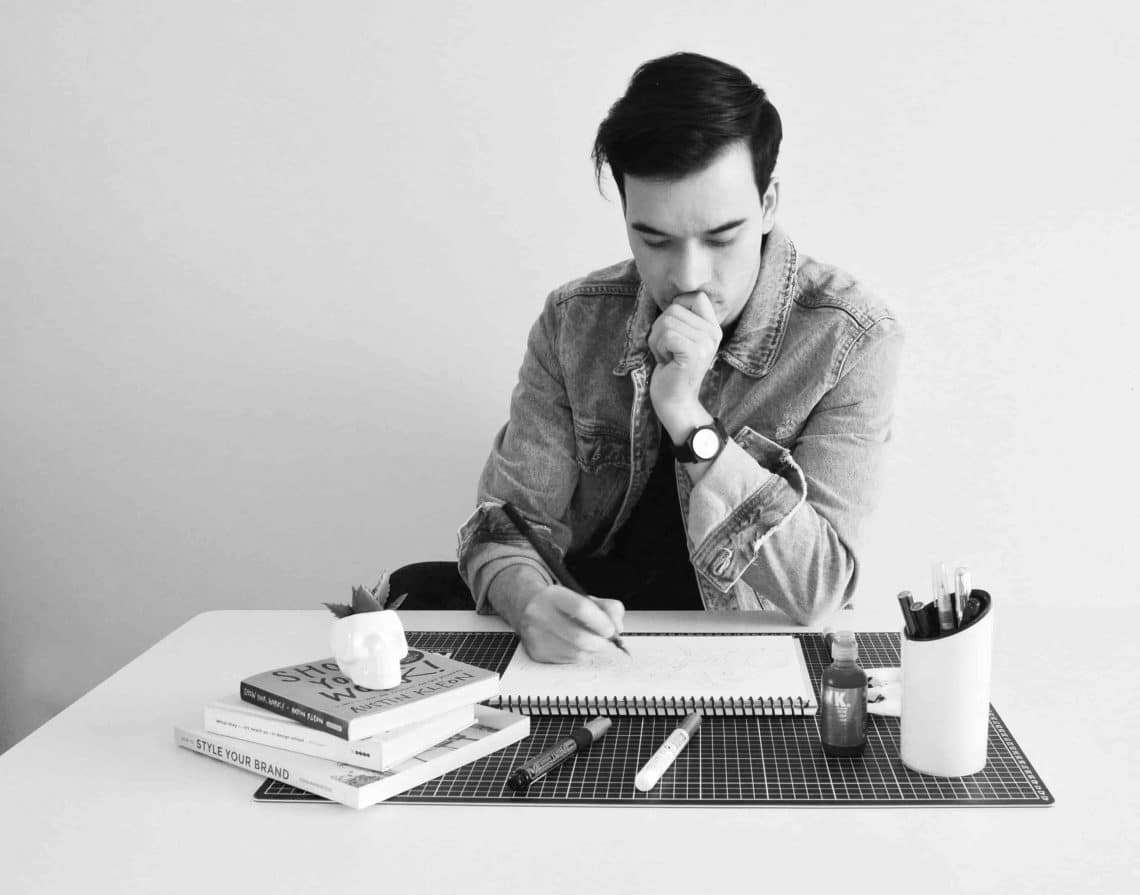 MEET THE BRUSH PENS
Having the right products by your side is one of the most important things in calligraphy and lettering.
It is really interesting to try different brush pen markers, because once you know how they work, it will be easier to have in your mind the different kind of results that you might want for your letters.
Avoid buying a ton of fancy fountain pens and inks! We will get started with brush pens, which are the best option for your calligraphy and lettering daily practices.
​Be sure to check out also this review for the top 5 brush pens for hand lettering.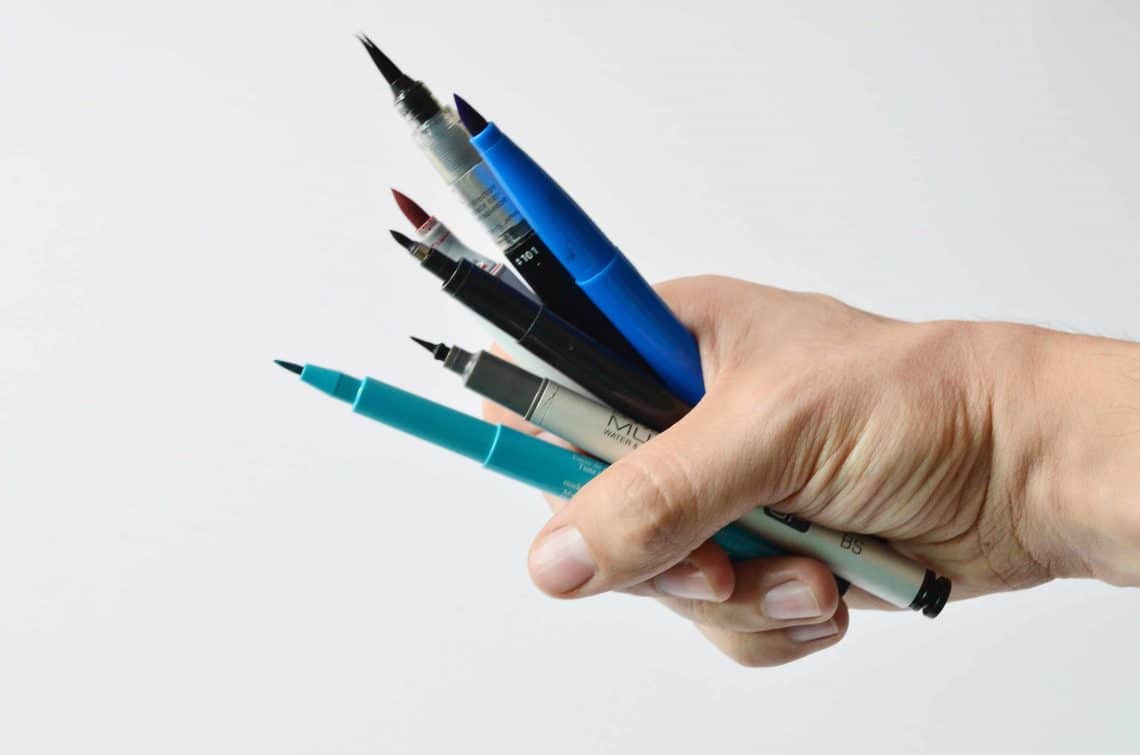 For beginners I would recommend the:
​Both of these have felt tips that are firm but flexible, giving you more control with your thin and thick strokes.
In addition, the nib of a brush pen is cone-shaped with a thin point at the tip. It is flexible so its easier to get thin and thick lines with just handling the markers pressure.
Also, we will be using some basic stationery tools like: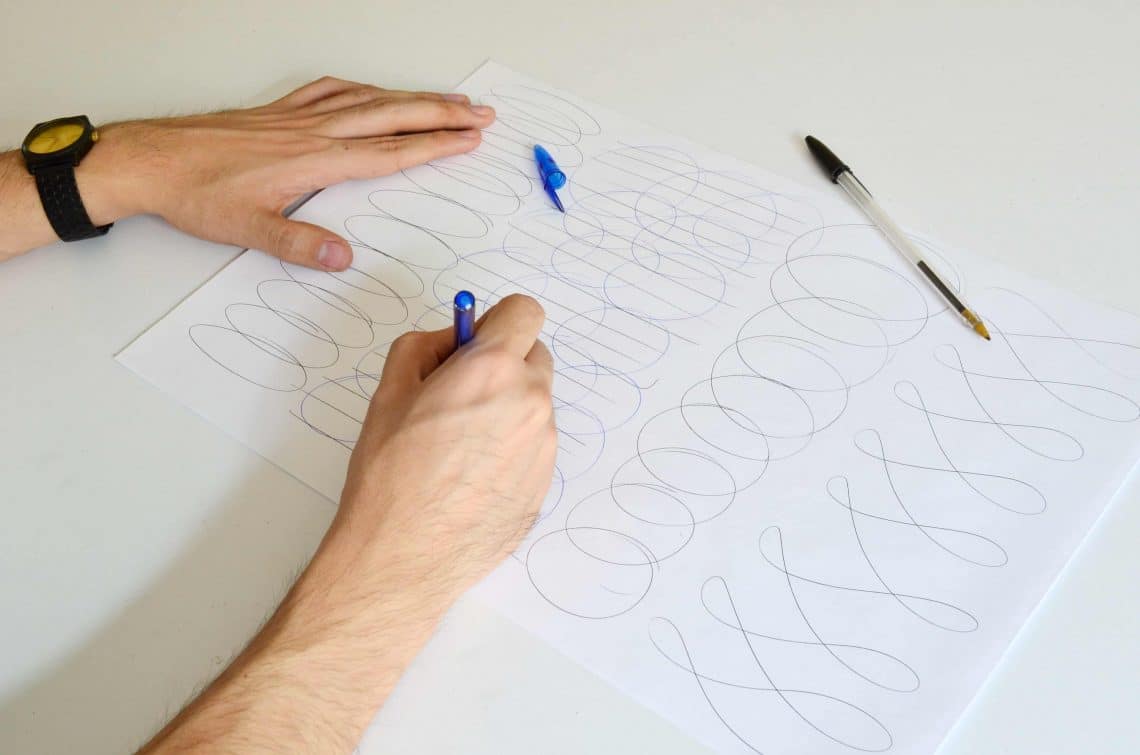 WARM-UPS
​Before jumping right into calligraphy, let's do some warm-ups!
You'll need to grab a basic black BIC pen and start drawing circles on your page, small ones, bigger ones and move to more complex curves and shapes.
Then, start doing straight lines from side to side.
Like every other exercise routine, we need to warm up to get our body used to the new movements and start creating some muscle memory in our arms.
UPPER AND LOWER CASE LETTERS STRUCTURE
​Before getting started with letters, there are some basic strokes that you will need to practice to understand better the structure of your alphabets. Here you can see the path that you must follow to create each letter, it will be easier if you follow the steps.
Downstrokes
Upstrokes
Circles
Loops
Drills
A QUICK SCHEME!
Underneath you can see a cheat sheet that will guide through the basic strokes. If you are a complete beginner, you should start practicing these basic strokes before moving on to actual words.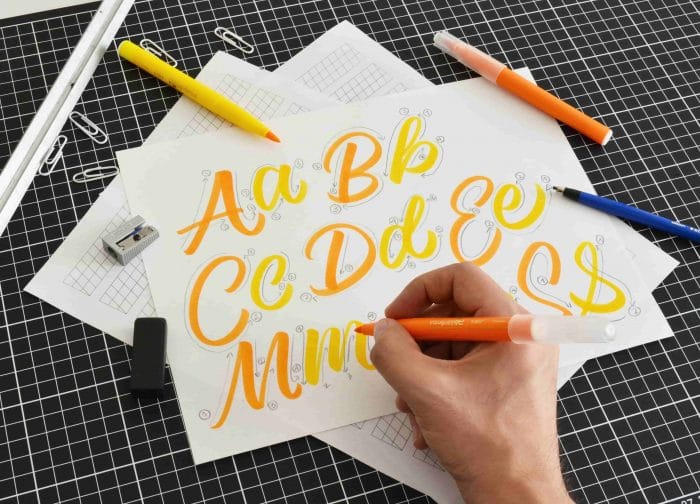 IT'S REALLY IMPORTANT TO KNOW WHERE YOUR PEN IS GOING!
​Contrast between letter strokes is key! Brush pen calligraphy is all about pressure.
Down strokes should be thicker so you need to increase your pressure and up strokes should be thinner lines so you release pressure when moving your brush pen upwards.
For rounded shapes, your left side of the circle should be thick and the right side thin. Also, any crossbar strokes should be made with light pressure.
Quick tip: Do not get frustrated! If you start to feel tired when practicing your strokes, give yourself a little break and then start again.
This discipline is all about being relaxed and most of all enjoy the process.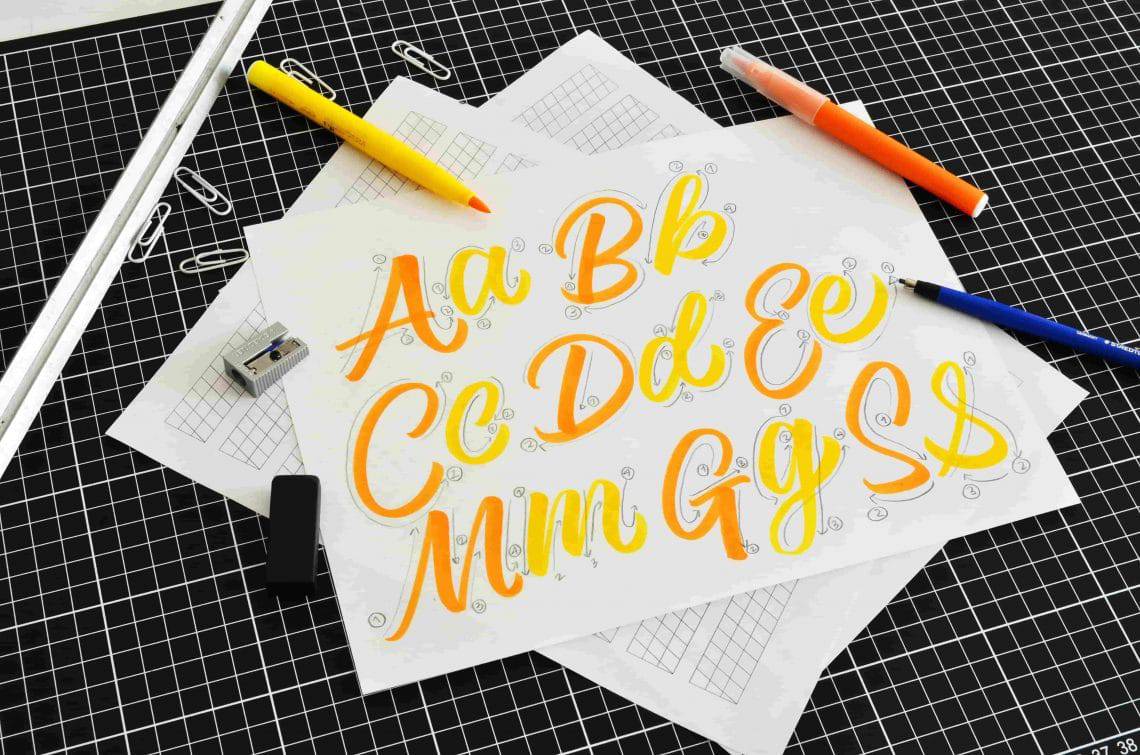 YOU READY? GRAB YOUR BRUSH PENS AND START PRACTICING!
When holding your markers, try to hold it close to the nib and keep the angle of the pen tip around a 45° angle. This will give you the right inclination of your letters and will be easier to get your thin and thick strokes without a lot of hand pressure.
If you're getting started with calligraphy, I recommend being patient and writing slowly.
Then, I will add a little bit more of speed to create more confident strokes. Your letters will start looking crisp!
Remember, the pen should be completely immobile in your hand. I always try to move the whole arm instead of just using your wrist.
This will help your brush strokes to be smoother, so we're going to avoid shaky letters and make your hand lettering better.
START DOING THIS BASIC EXERCISES WITH YOUR BRUSHES AND WHEN YOU'RE READY, JUMP INTO THE NEXT PART OF THE TUTORIAL.
Process: Sketching, sketching and sketching again.
​Ready? Set, Go!
Once you find a word or an inspiring quote that you want to share, start sketching with a pencil your ideas.
In this very first step is where you will start working on your composition, making some quick guidelines with your ruler and exploring several layout options.
Select the words that might be more important and make them bigger, you want your message to be clear, easy to read and eye catching.
​Check out this tutorial if you want to learn more about how to improve your hand lettering layout!
Then, start drawing different letters, change their form, use upper and lower case characters and try integrating them with some flourishes.
This is one of the trickiest parts because you'll have a lot of ideas and you'll have to decide which one works better for your artwork.
In this tutorial, we will be using the quote:
WORK HARD AND DREAM BIG
and we will try to create an artwork that fully reflects the meaning of this word.
We want to make our audience to feel inspired so we need a motivational image to make them react to our post.
Here (up) you can see some of the first sketches and iterations for this words.
Remember, we are not looking for the perfect hand writing style, we are looking to express and communicate our message, so here's where you can have fun exploring different lettering styles, textures or even play with your thick and thin strokes.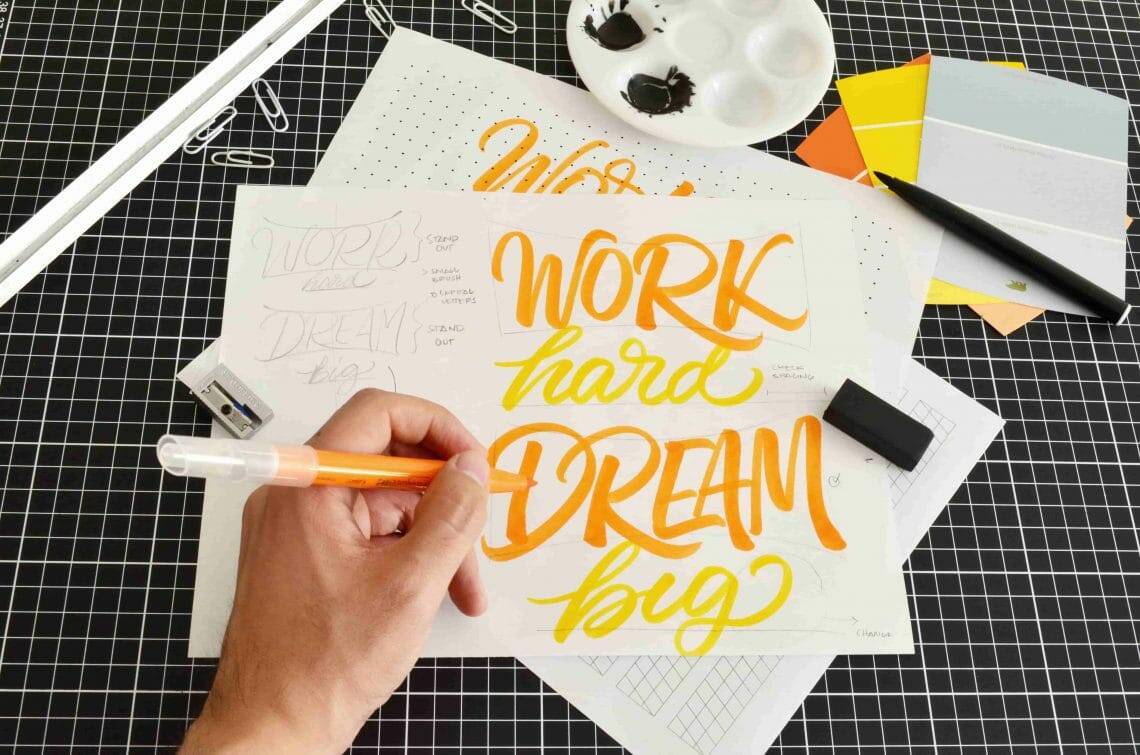 Most of lettering artists do some tracing and refining step before going to digital, but for this tutorial we want keep our hand writing just like it is so we will skip this step for now.
If you want to learn about refining your hand lettering sketches, I will highly recommend the previous Lettering Daily reviews.
Quick Tip: Practice is key; so don't get frustrated or discouraged if you don't get what you want on the first sketching rounds.
You'll probably need to stop doing it for an hour, take some fresh air, and get yourself out of the computer.
Give yourself a break and then get back to work.
Don't have a digital scanner? No worries. Take a picture! Your phone works perfect.
​Great! Now that you're done with your analog tools, it's time to make some digital work. If you have a digital scanner, scan your final design and bring it directly into Photoshop.
Quick Tip: If you are in Photoshop, you can import your files directly from your scanner. Go to File – Import – Images from Device and select your files. A 600 DPI JPG will work fine for this project.
But, wait, we want to make things quicker and easier, so grab your phone, take a picture and send it right to your email. (If you're a Mac User, Airdrop will be the easiest way to share files).
​Lettering Daily posted a really cool article on how to present your lettering, and they give some awesome tips on to take proper photos with a smartphone!
Photoshop is next. Here are some tips and tricks:
Now, let's get right into Photoshop.
1) Create a new 1000 px X 1000 px document.
2) Place your phone picture right in Photoshop. Select and crop your hand-lettered quote. I always change the picture color mode to black and white first.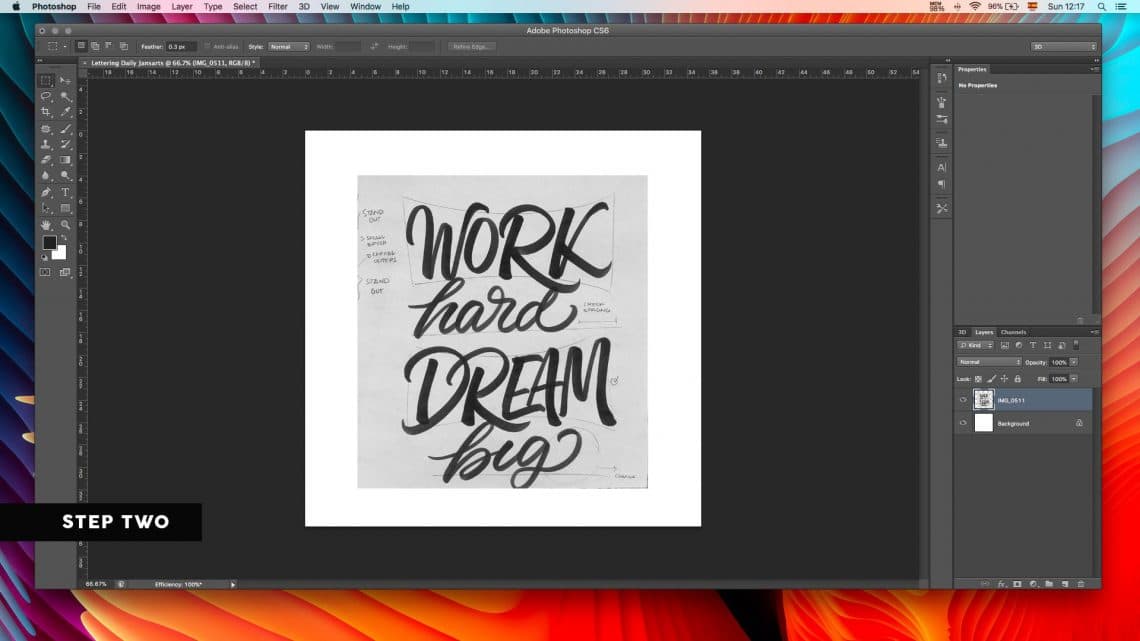 3) Adjust your levels so we can make the black stand out a little bit more, we also need the white background as white as possible so move your slides until you get this result.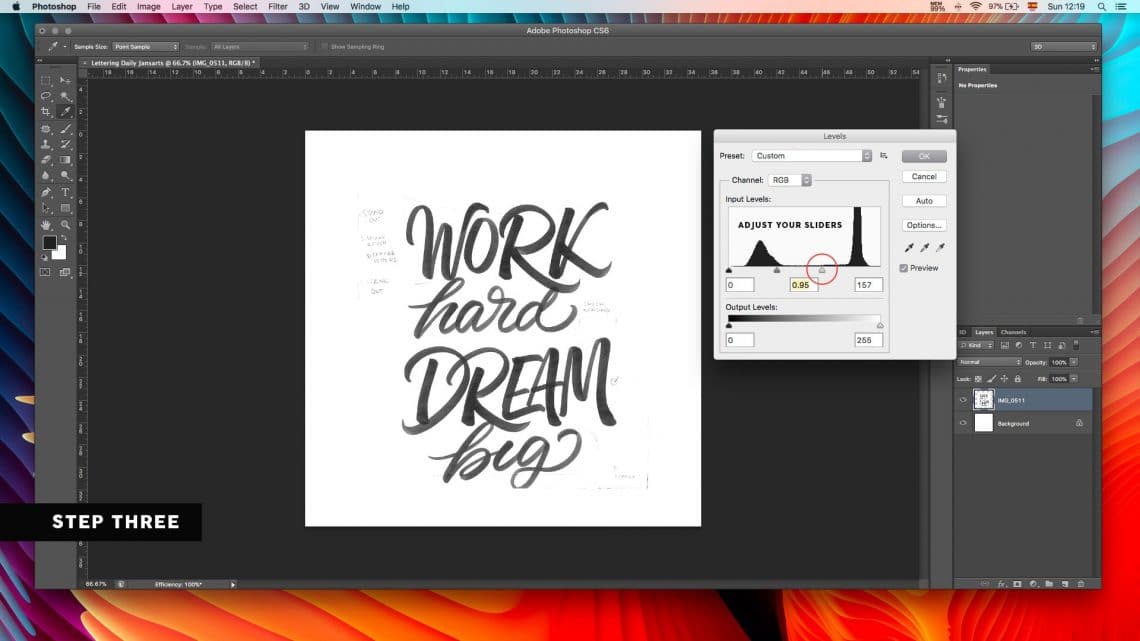 4) Now we need to erase the quote background. Go to Select, then click on Color Range.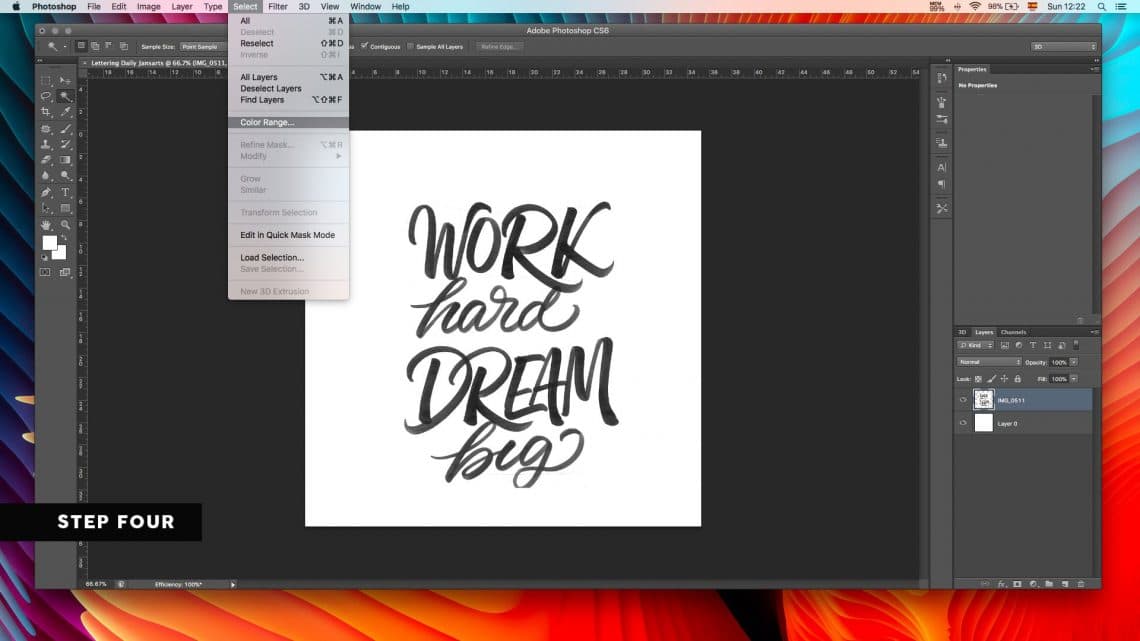 5) We will select the white background with the eyedropper as shown below.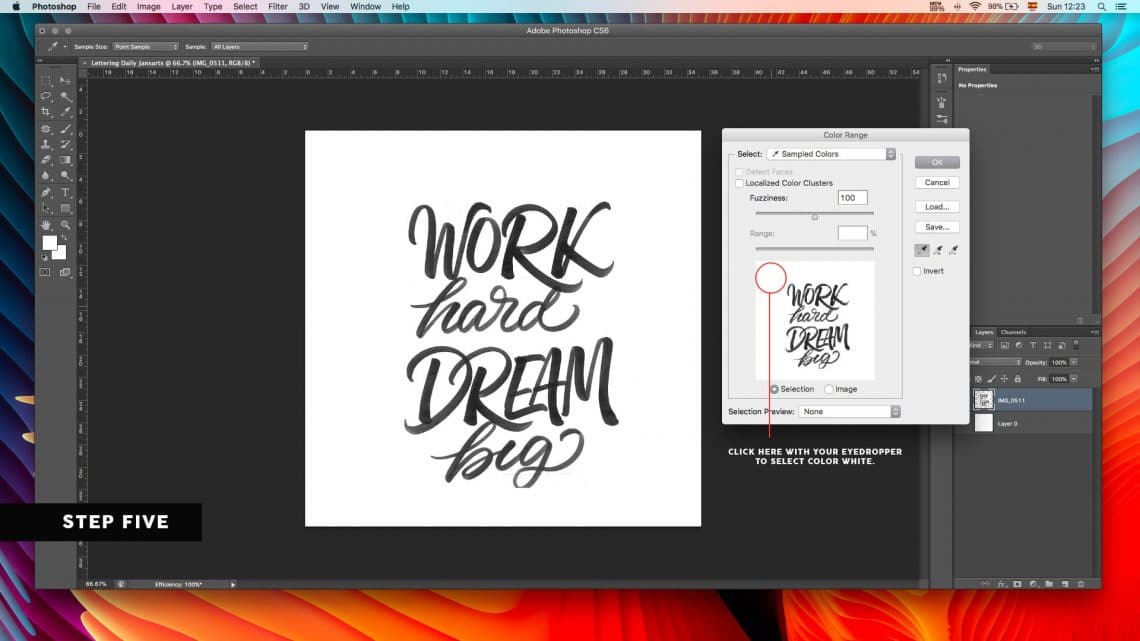 6) Click OK. Your white background will be selected. Now erase it.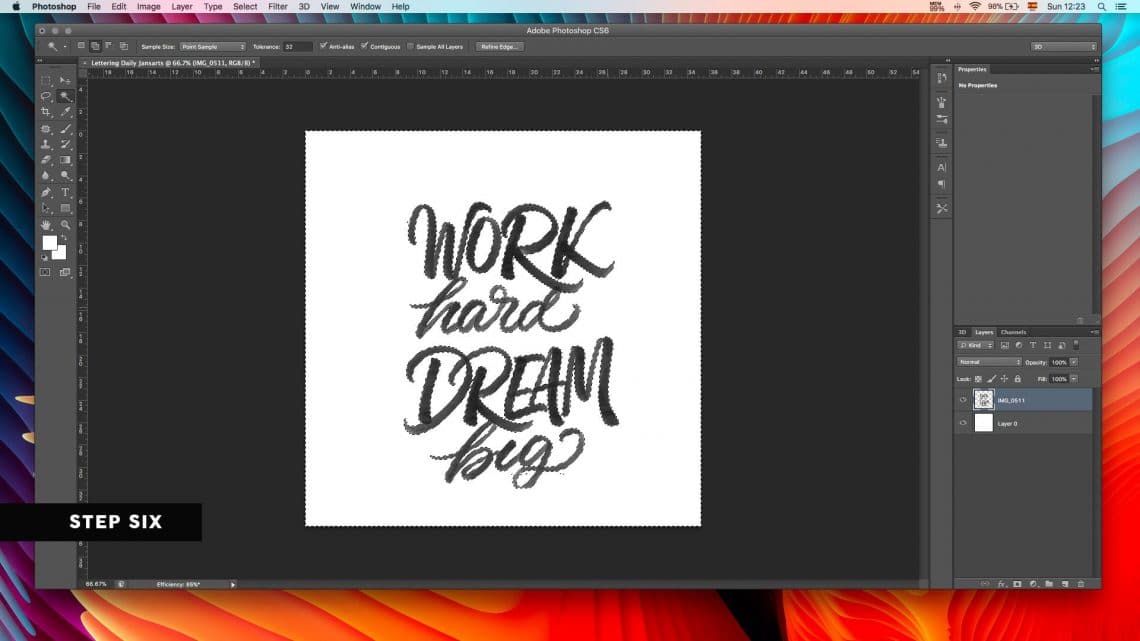 7) Hide your background layer and you will see that your quote is already isolated. Now let's place our selected picture.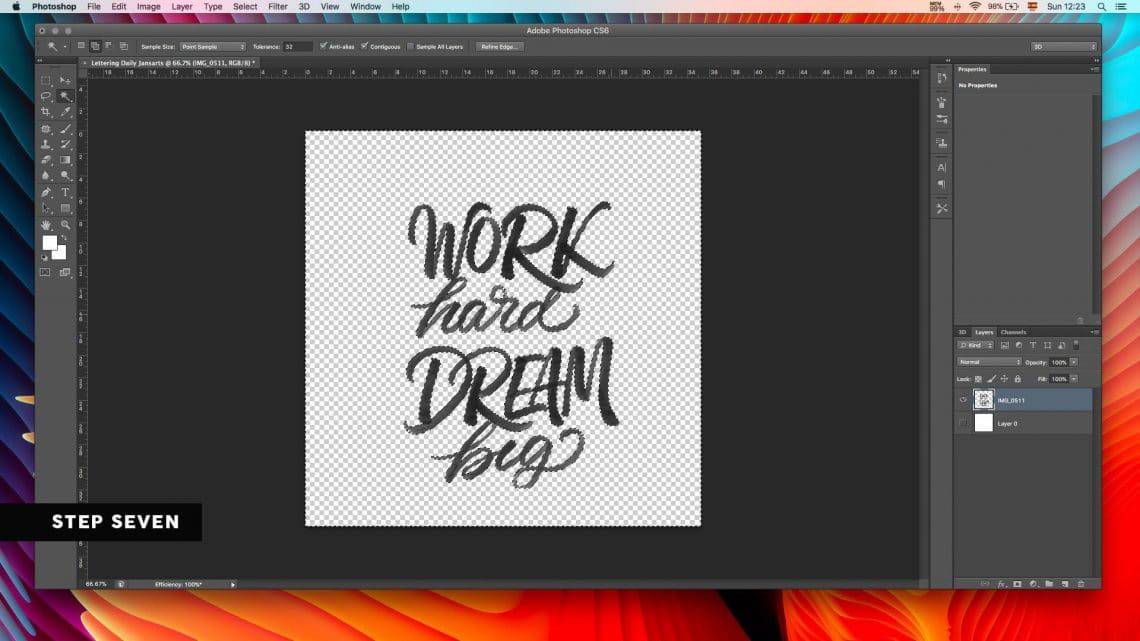 8) Go to File, then click Place and select your image. If you don't have any picture, a plain background color will also work fine.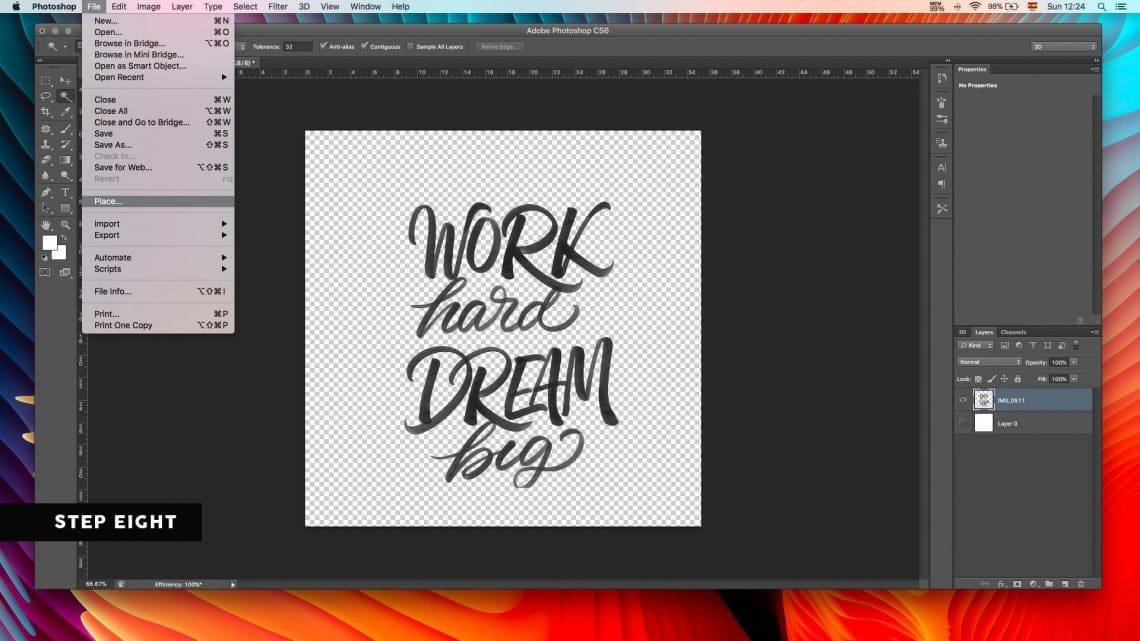 9) Change your layer position to the bottom so we can see our quote.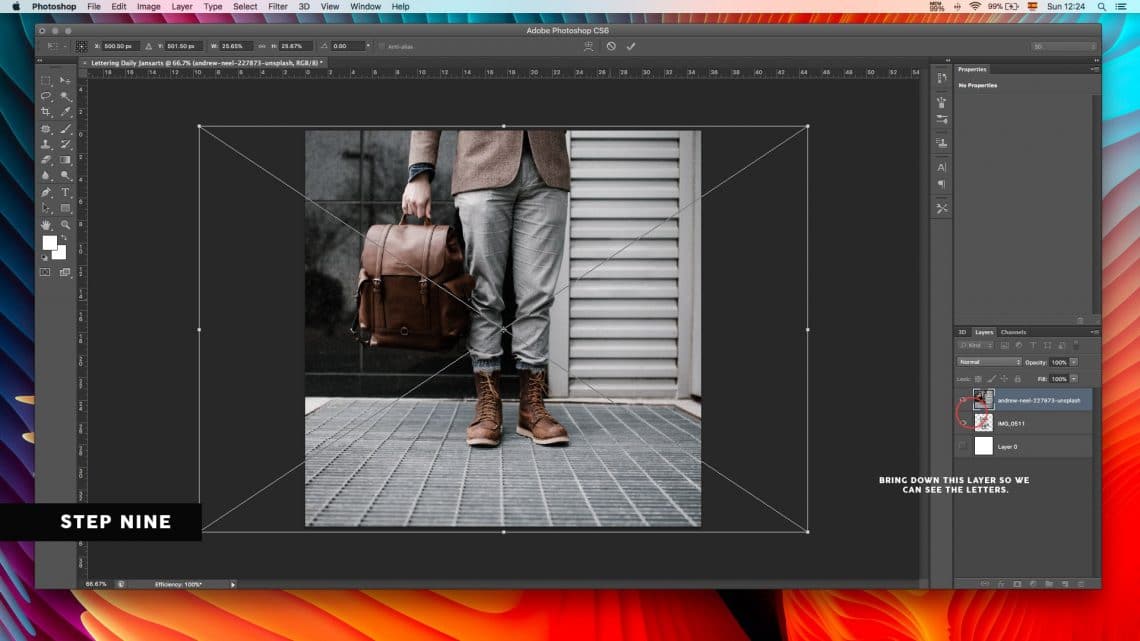 10) Now, let's make our text white. Double click on your selected layer to open the blending options menu. Select Color Overlay and then choose white as your color. Click Ok.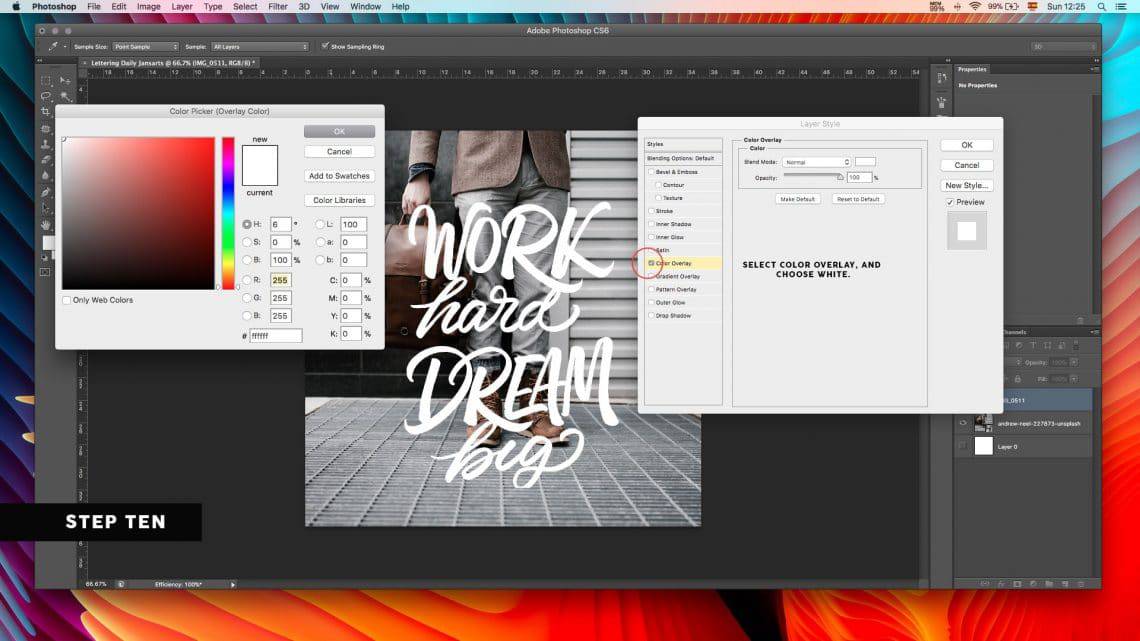 11) Make a new layer named SHADOWS.
Here, we will add some shadows so we can make our lettering stand out. We will select the areas where each letter joins to each other. Be patient, you need to be very precise in order to get a natural look.
Then, make a selection and with a low opacity black brush, start painting this area. We don't need it to be completely black, so just paint it lightly.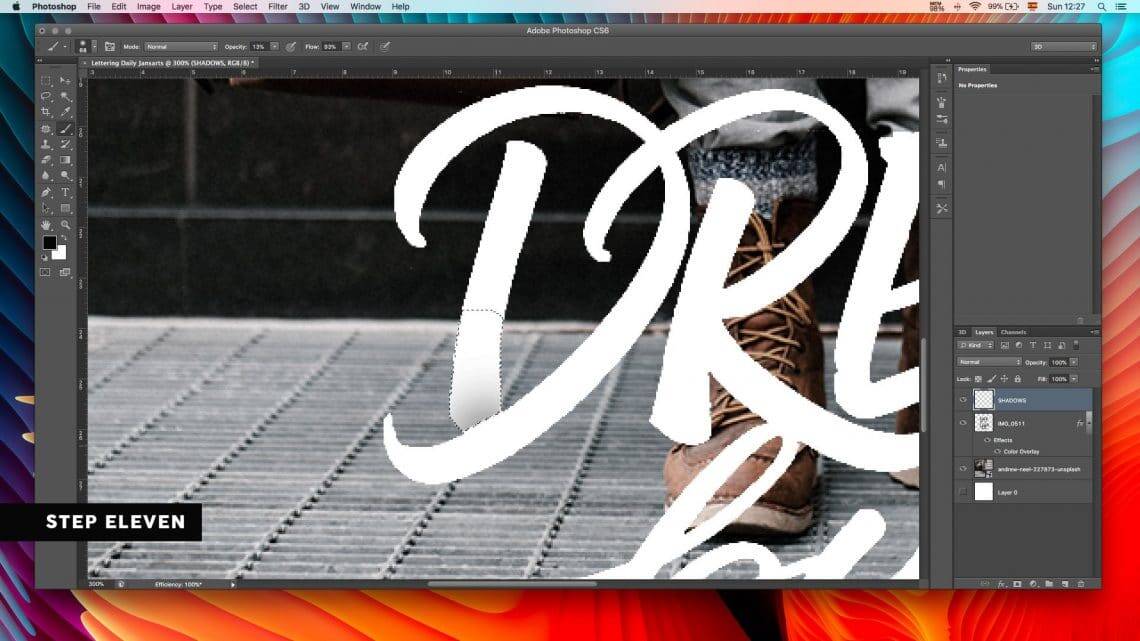 12) Last but not least: Command + Save!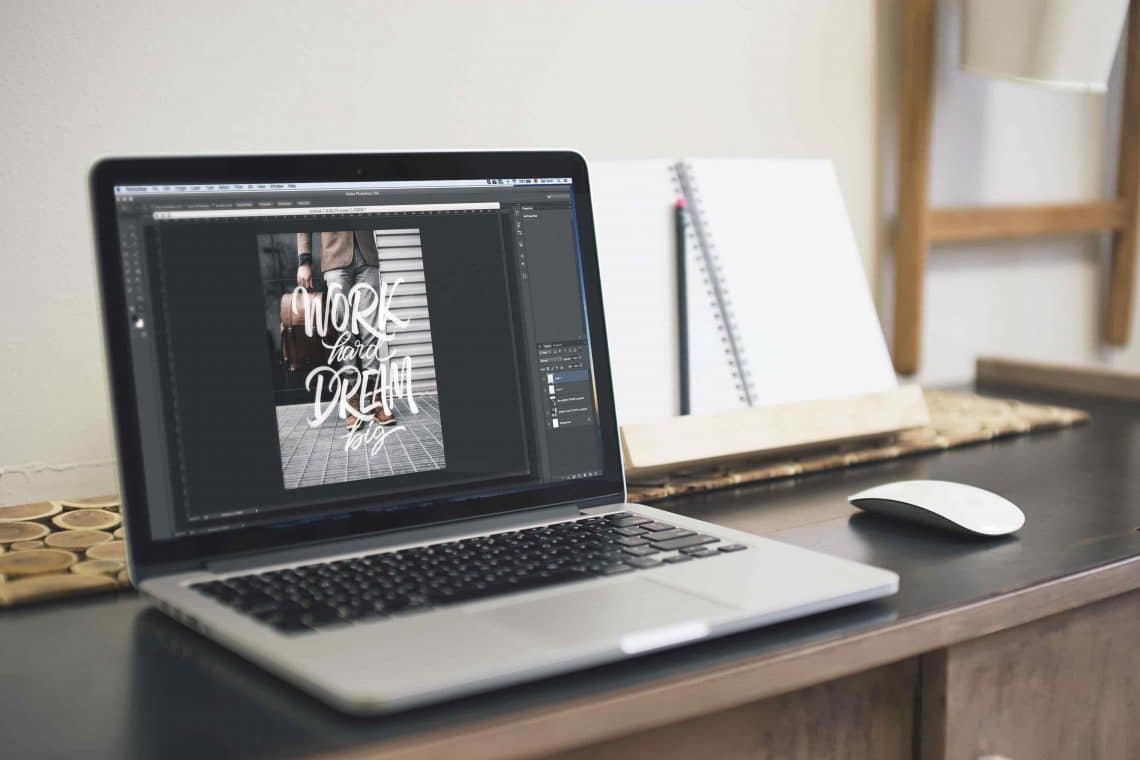 Time to show your work. Share it on social media!
Awesome! We're done! Save your files as a JPG and share it on your favorite social media whether it's Instagram, Facebook or Pinterest.
We woud love to see your work and help you out with some feedback, so share it on Instagram, tag me with @Jansarts and use the hashtag #Learning2gether
Thanks for your time and I really hope this tutorial will be helpful for your further projects.
​Cheers!! 😀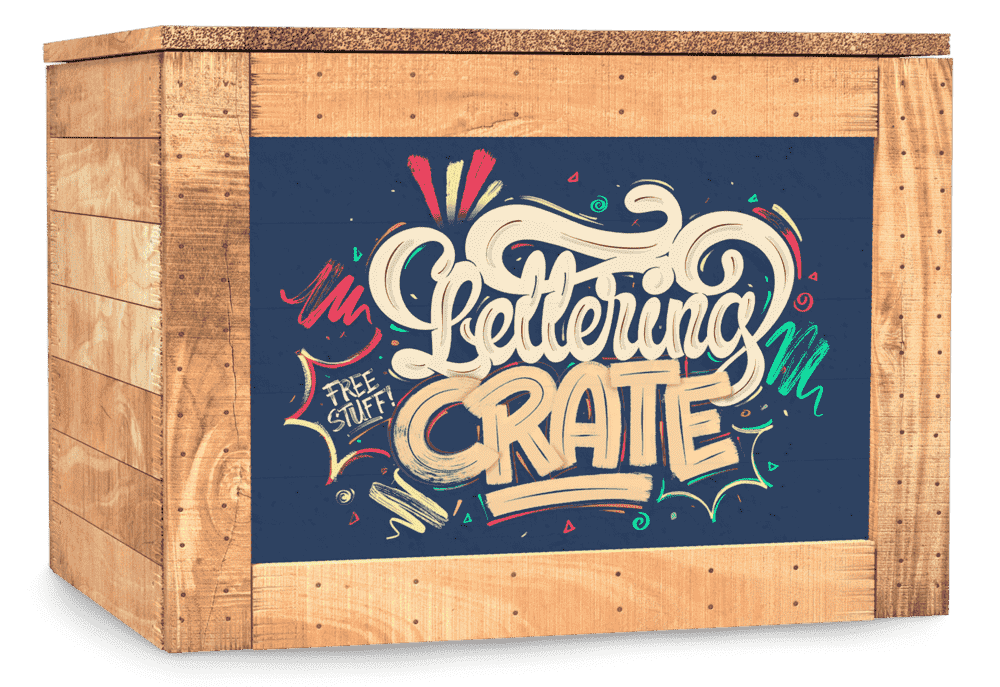 Stay updated with my tutorials and get instant access to the Lettering Crate –
A growing library of free lettering & calligraphy resources that includes –
About the author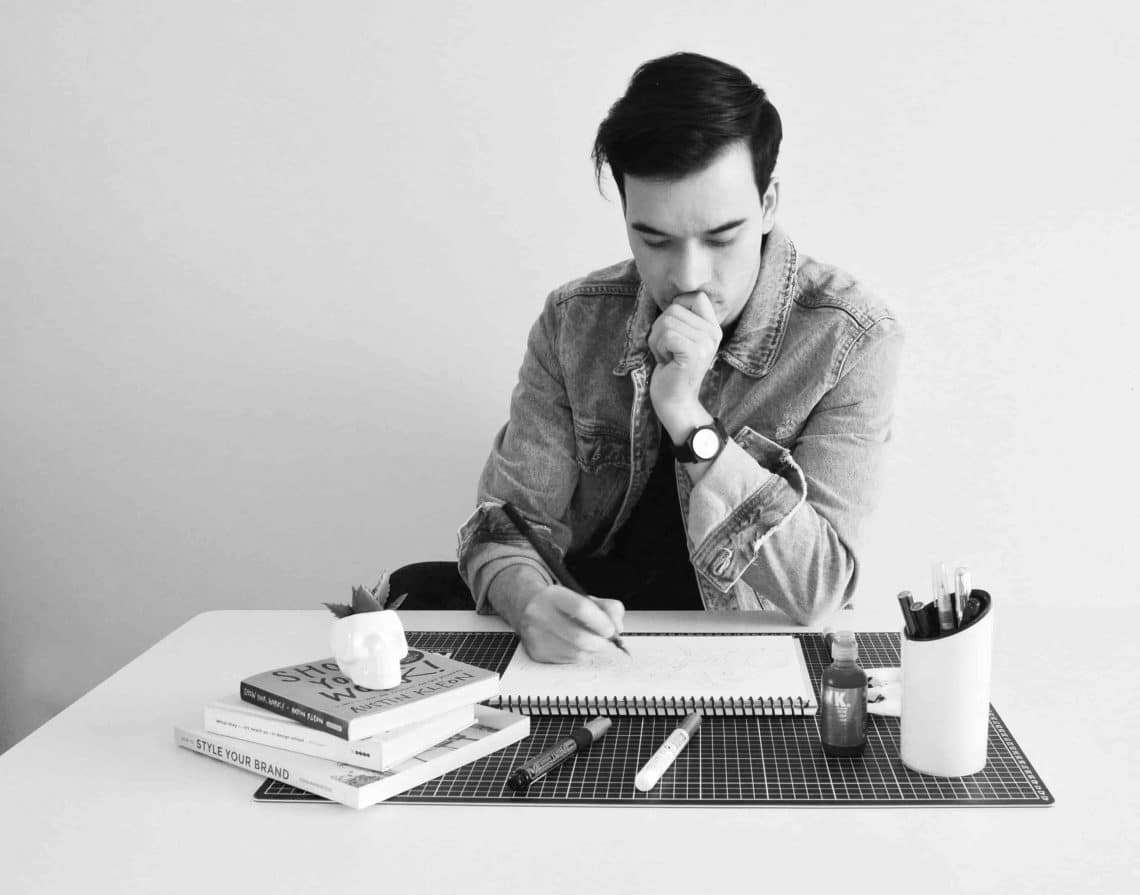 My name is Alejandro Solórzano from Guadalajara, Mexico. I'm a product design engineer by trade and creative lettering artist by choice who focuses on the development of tailored design solutions to make lifestyle brands stand out.
​
Entered the world of design through one of my favorite hobbies: calligraphy. With the main goal of practicing everyday, I started @JansArts, an Instagram account where I was able to share numerous hand-lettered quotes and graphics with a positive message to a highly engaged audience, as well as the creative process that I followed day by day to create each piece. Through the time, @JansArts has evolved into a boutique studio, which has also given me the freedom to work independently in multiple professional projects including branding, calligraphy and graphic design services.