This post and the photos within it may contain affiliate links. If you purchase something through the link, I may receive a commission at no extra charge to you.
LETTERING WITH PROCREATE
Hello there lettering lovers!
​We are back with our interview series, and today we are welcoming Karin Newport A.K.A – iPad Lettering. Karin is creating beautiful and mesmerizing watercolor effects exclusively on her iPad Pro and today she will share her story with you!
​Hand lettering on the iPad Pro (with the Procreate app) has gain massive popularity in the lettering community, and if you are thinking to give it a try we guarantee that the only regret you will have is that you haven't tried it sooner 😀
​Before jumping to the interview we definitely recommend you to visit Karin's website for awesome tutorials, freebies, courses, and much more!
​Enjoy the interview, and as always
Stay AWESOME!
1) So tell us a bit about your self, how did your lettering passion started?
​Hi! My name is Karin, and I'm a software developer, graphic designer and lettering artist.
I have always had a passion for lettering and typography, but since I live in a tiny apartment, I don't have enough space for all the art supplies, plus I also really don't like wasting pens and paper!
I love lettering particularly because it complements the analytical nature of my day job as a coder.
When I get home at night I find it very relaxing to draw letters and create beautiful artwork and have a creative outlet.
2) How long have you been using the iPad Pro for lettering and how did it started?
I started this thing called 'iPad Lettering' 2 years ago when I first got my iPad Pro and Apple Pencil.
With the iPad Pro, and specifically the Apple Pencil – everything changed. I was finally able to practice lettering to my heart's content without worrying about supplies or wasting pen and paper.
I was instantly hooked and started practicing for many hours every day.
I had previously tried using the iPad to create artwork, but none of the available styluses was nice enough to use for an extended period of time.
The Apple Pencil is an absolute game changer in my mind! I also really love the screen size of the iPad Pro. It's very close to an A4 paper size and it's just perfect.
3) How do you create your artwork?
​I create my artwork entirely on the iPad using the Procreate app.
When I started my iPad Lettering journey, I tried pretty much every art app that was available on the App Store, and quickly found Procreate, which is my absolute favorite.
I figured out how to create custom brushes, and they really help with my design process. My process is probably it bit unusual, because I always work on several pieces at the same time.
Sometimes I create a sketch for a piece and leave it for a week before I return back to it. I would use one of my Procreate sketching brushes and create a layout, and then over time make it more detailed and colorful using a variety of my other Procreate brushes.
This process continues until I'm happy with it. I work a lot with layers and try and work as 'non-destructively' as possible.
4) What influences your style?
My style is influenced a lot by watercolor (lettering) artists.
That's what really drew me in in the first place. I love all things watercolor, and have tried to recreate the beautiful watercolor blends and textures on the iPad.
It's really the bright colors and interesting textures that fascinate me.
5) Is the iPad Pro suitable for beginners or should beginners first start on paper?
​The iPad is absolutely suitable for beginners! I haven't done much lettering before I got the iPad, so I'm probably a good example that shows how suitable it is 🙂
I also find that the skills I have learned on the iPad are very transferrable to pen and paper.
6) Hand lettering on the iPad is simply amazing, you can create so many different things, but can you underline some down sides of it?
​I can't really think of any down sides of hand lettering on the iPad! 😀
7) What sort of advice would you give to those who are just getting in to iPad lettering?
​One of the things I like to recommend to people who start iPad Lettering is to join a lettering challenge on Instagram.
The most important thing to improve is to practice daily, and by joining an Instagram challenge with a daily lettering prompt, it makes it a lot easier.
It's very nice to join a community of like minded people and get feedback and encouragement.
It really helped me in my journey, and I met so many nice people that way.
I think the only mistake people can make is to not practice enough.
8) How do you see the iPad lettering in a few years from today?
​From what I have seen in the last 2 years, I can only see the iPad Lettering community growing!
There was only a few of us at the start – but now pretty much everyone I know in the lettering community is using an iPad in one form or another.
A lot of people have almost completely replaced pen and paper with the iPad.
Of course pen and paper lettering will not go away, but I think it will become more of a niche, sort of like film photography.
9) A message to the community?
Have fun, don't be too harsh on yourself and enjoy the journey 🙂
be sure to check out Karin's other online platforms !

Instagram


Wordpress


Facebook


Youtube

About the author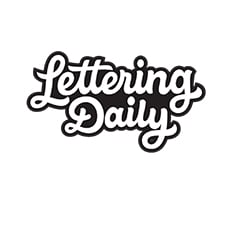 Lettering Daily is an online community that provides educational and inspirational content for hand lettering and calligraphy beginners. ​Our mission is to help artists and enthusiasts from all around the world to learn and improve their hand lettering and calligraphy skills.