This post and the photos within it may contain affiliate links. If you purchase something through the link, I may receive a commission at no extra charge to you.
Hello, everyone reading this tutorial!
My name is Rocío, I'm an English teacher from Chile who loves letters and lettering, and today I'll be walking you through the step-by-step process of creating a beautiful hand-embossed lettering piece.
But what exactly is hand embossing (a.k.a. paper embossing, dry embossing)?
In very simple words, hand embossing or dry embossing is the raising of a design -in the case of this tutorial- on paper.
Let's get started!
Tools and materials you'll need to create a hand embossed lettering piece.
(All links to Amazon)*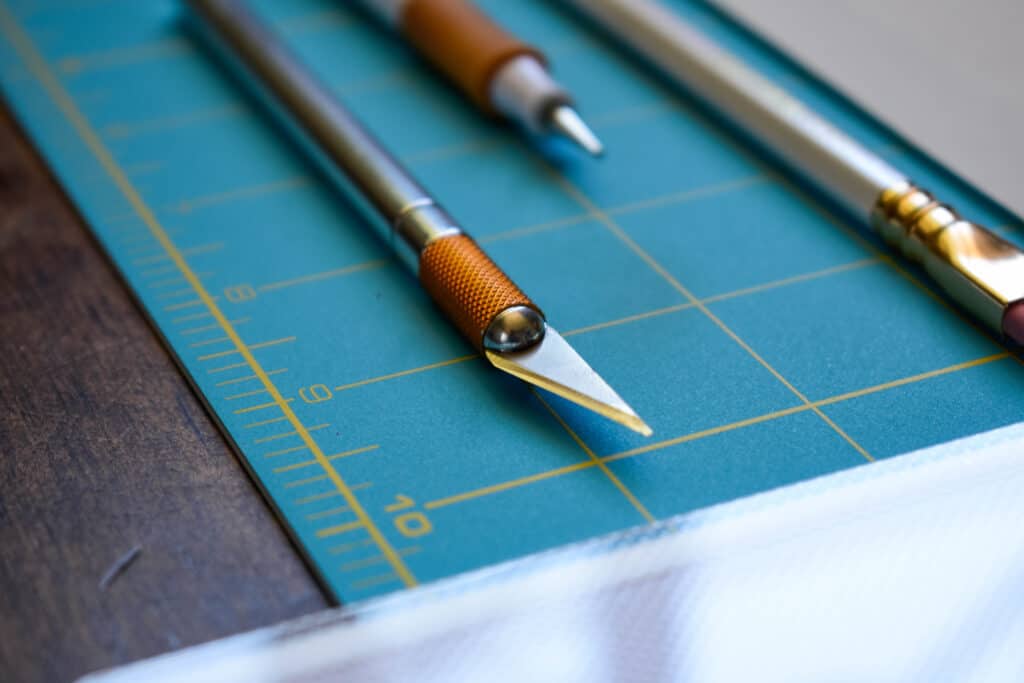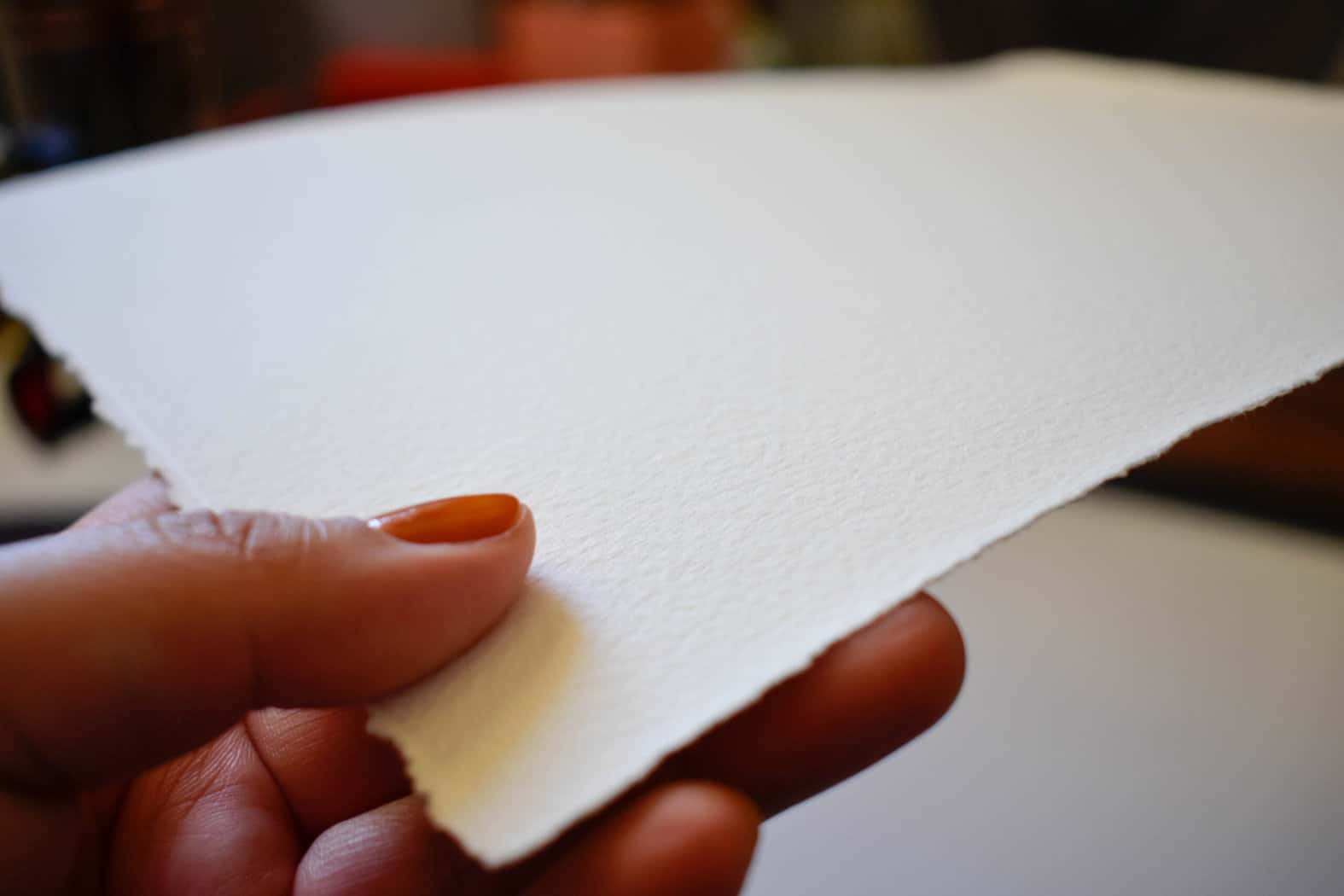 Ok, so, get your tools ready, and let's give this hand embossing thing a try =)
Hand embossing your lettering – step by step process
Step 1 – Come up with your lettering design!
If it's your first-time hand embossing, I would recommend going for a simple design.
Try capital letters, maybe, and make sure they're not too small because you'll have to cut them out, and that part can be a bit difficult.
Also, keep in mind you'll be tracing the inside edges of letters or your design, which means your final hand-embossed work will be a little smaller than your original design.
You can draw your lettering design on any type of paper you like to work on and then transfer it onto the piece of paper you'll be cutting out using a lightbox or, if you don't have one, using a window as a lightbox.
I imagine you could even use carbon paper to transfer your design onto the stencil paper (I haven't used it, but I'm sure it would work).
If you create digital lettering designs, you can print them directly on the piece of cardstock you'll be using to create your stencil.
Alternatively, you can draw your design directly on the piece of cardstock you'll be cutting.
However you choose to approach this first step, you need to end up with your design on the piece of cardstock you'll be using to cut out your stencil using your precision knife.
Step 2 – Time to cut your lettering into a stencil
After a few months of exploring this technique, I definitely think this is the most difficult and the most crucial part of the process.
Your final piece of work will only be as good as your stencil is, and practice is key.
Finding the right precision knife and the right cardstock for the stencil can also help, of course, but I do think the actual cutting part is what requires a lot of practice and patience.
You'll be using a very, very sharp knife and could very easily hurt yourself, so remember there's no need to hurry.
Please also keep in mind you'll be applying a lot of pressure when cutting, which can be a lot of work for your arm and wrist.
At some point last year, I was doing a lot of little hand embossing projects every week, and it took a toll on my wrist, so I had to slow things down a little and give my wrist and arm a rest.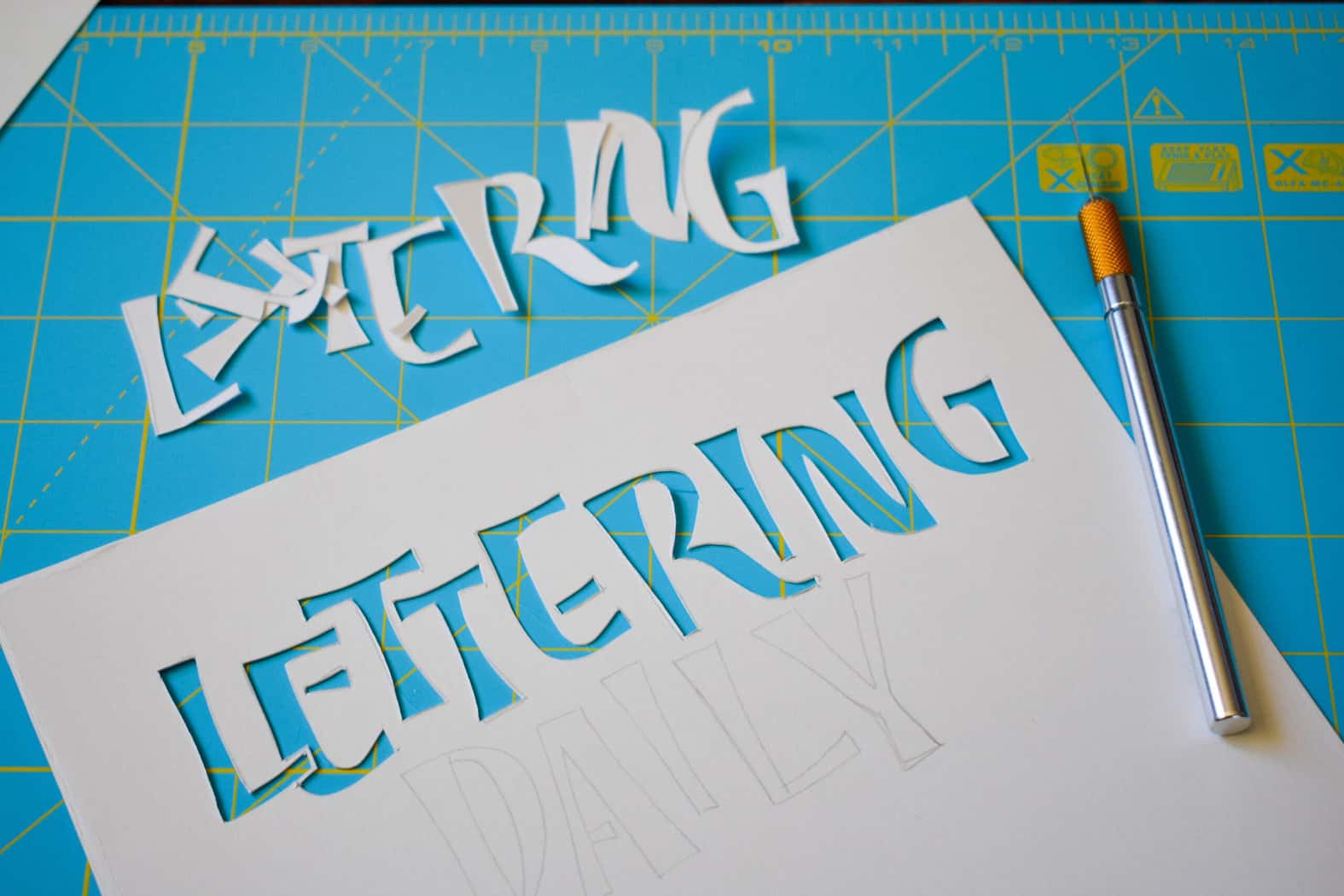 Step 3 – Fix your closed counters.
Very quickly after you have started cutting out your stencil, you'll start coming across letters with holes in them, or closed counters, as they are actually called but, you know, holes!
Letters with closed counters include A, B, D, O, P, Q, R, a, b, d, e, g, o, p, and q.
If you cut out these white spaces in these letters, you'll end up with nothing but the external shape of the letter.
You'll have to decide, then, how to deal with these holes.
The first option is to be creative and avoid having negative spaces altogether.
I do this a lot, actually, because I feel it suits the style of lettering I've been into most of this past year (see letter R in this project).
The second option is to just cut out the white spaces, being very careful not to alter their shape when cutting them.
Then, after you've cut them, place them in the letter and use masking tape to keep them in place (you can see the letter D in my project).
It's very important that you use the tape on the back of your stencil.
Otherwise, it will stick to the piece of paper you'll use for your final work when you trace your letters.
Because I don't like it when the masking tape sticks to my lightbox too much, I try to remove some of the glue of the tape by sticking it to my clothes a few times before using it (which is why it looks like it's dirty in the photo below).
Step 4 – Get ready to trace your lettering!
So, you're done with what I think is the difficult part of this process, yay!
You now have your beautifully cut stencil, and it is time to use your embossing stylus and start tracing.
To do this, you need to place your stencil facing down on your lightbox, and over it, you have to place the piece of paper or cardstock that you'll use for your finished piece.
When you turn on your lightbox, you'll see your stencil with your lettering design backward and the back of your piece of paper/cardstock (see picture below).
The reason for turning your paper backward is that you'll be 'pushing' the paper to make your letters 'pop out of the page.
Step 5 – Time to make the magic happen (hand embossing)
Now that you have your stencil and piece of paper ready, it is time to trace.
Use your stylus and start carefully tracing the outline of your letters.
I personally only trace the outline of my letters, even though I know some people trace both the outline and the inside of the letters.
In my case, because I use highly textured paper, by tracing the inside of the letters, I would actually get rid of that beautiful texture I like so much.
The amount of pressure you'll need to apply will depend on the type of paper you're using.
I use heavy watercolor paper, which requires quite a bit of pressure with the stylus.
Here you can see a quick video demonstration of how I do the hand embossing process.
With practice, you'll know how much tracing and pressure your paper takes without getting damaged.
The stylus that I use has two ends, each in a different size.
If your design is very small, a larger stylus will make tracing difficult or not possible, which is why it's always better to start with bigger designs.
Once you get the hang of it, you'll be able to better choose the stylus that will work better for the pieces you want to create.
Please note that when you start tracing your design, it's very typical for your stylus to want to sort of leave the edge you're trying to trace, even if you concentrate a lot and try to stick to the edges.
This happens to me every time I work on a hand embossing piece.
You might think that when this happens, you've ruined your work, but actually, if you haven't applied a lot of pressure yet, these little lines outside the edges won't be noticeable in your final work.
Step 6 – Revealing your hand embossed lettering
You're done tracing now, and this is probably my favorite part: turn your piece of paper around and marvel at your beautiful hand-embossed design!
Here you can see also a short video clip of the revealing.
It's not over yet.
This last step is perhaps not part of every hand embossing tutorial you come across, but I really think it should be.
I'm talking about taking pictures of your hand-embossing piece.
I really enjoy playing with the light and the shadows the raised design creates.
You can get really dramatic effects depending on where you place your light source.
You can use a desk lamp, a light ring, or the light coming from a window!
Hand embossing lettering tips – do's and don't's
I said this before in the tutorial, but I'll say it again.
Your final piece of work will only be as good as your stencil is!
And what I want to add now is that once you've cut out your stencil, something really cool is that you can use it as many times as you want.
For instance, you can create a simple present tag design, work on your stencil, and then you can use it as many times as you want!
If you were able to cut out your lettering design really nicely, you could use the cut-out letters to do hand debossing!
Debossing is when your design is imprinted into your piece of paper, creating a letterpress effect instead of a raised effect.
Instead of using a stencil, hand debossing requires you to use cut out letters or a cut-out design and trace it with your stylus in the same way you would do when embossing, but instead of tracing on the inside edges of your design, you trace the outside edges following the same steps this tutorial walked you through.
At first, I didn't completely understand what side of my piece of paper the stencil had to go on.
I saw pictures of hand embossing and debossing, and I couldn't figure out how they had been done.
Something that helped me a lot was understanding that the side of the paper that you'll be working on with your stylus is always the back of the paper because If you look at the back of your finished work, you'll notice it doesn't look very pretty.
Don't go over what you have already traced with your stylus if you have already moved your stencil and your piece of paper. If you decide you want to retrace your design because it doesn't look good enough or the design doesn't look as defined as you'd like, I'd recommend not doing it. You might think that if you place the stencil correctly, you'll be able to go over your design on the exact same lines you have already traced for them to look more defined, but what has happened to me many times is that I have ended up with double lines or double edges, and I personally don't like them.
What I do recommend is that you trace your design applying a good amount of pressure and that you go over it many times so that the edges of your letters are well defined, but once you're done, just leave it be!
Don't trace the inside of your letters or design. I have seen tutorials that do this, and I personally don't think it's necessary. If you firmly trace the edges of your design or letters, then you'll achieve the beautiful raised effect of this technique. If you trace the inside as well and you're using textured paper, then you'll lose that texture. It's also a bit difficult to trace the inside evenly using the stylus. It is ultimately, though, a matter of style. So perhaps give it a try to see if you like the final look!
Do combine hand embossing with other techniques! I personally love spicing up my hand, embossing pieces with regular or metallic watercolor. You can directly paint your hand-embossed letters or paint around them for a beautiful result. You can also combine hand-embossed lettering with pencil or watercolor lettering.
Final words
Well, I hope this tutorial motivates you to work on your own hand embossing projects.
At first, it might seem like it's a ton of steps, and that the process is too long, but I promise, it's super rewarding once you're done!
I recommend looking at past lettering designs you already have that you think would be good candidates for a hand-embossed version.
You can even start with single letters, just to become familiar with the materials and types of paper/cardstock, and practice with your precision knife.
As I mentioned at the beginning, I've only been exploring hand embossing for some months now, but I have some pieces you can look at that'll hopefully inspire you to create your own.
Thanks so much for reading, and please do reach out to me on Instagram if you have questions =) I love answering them!
https://www.instagram.com/rose_letters/
Pin me!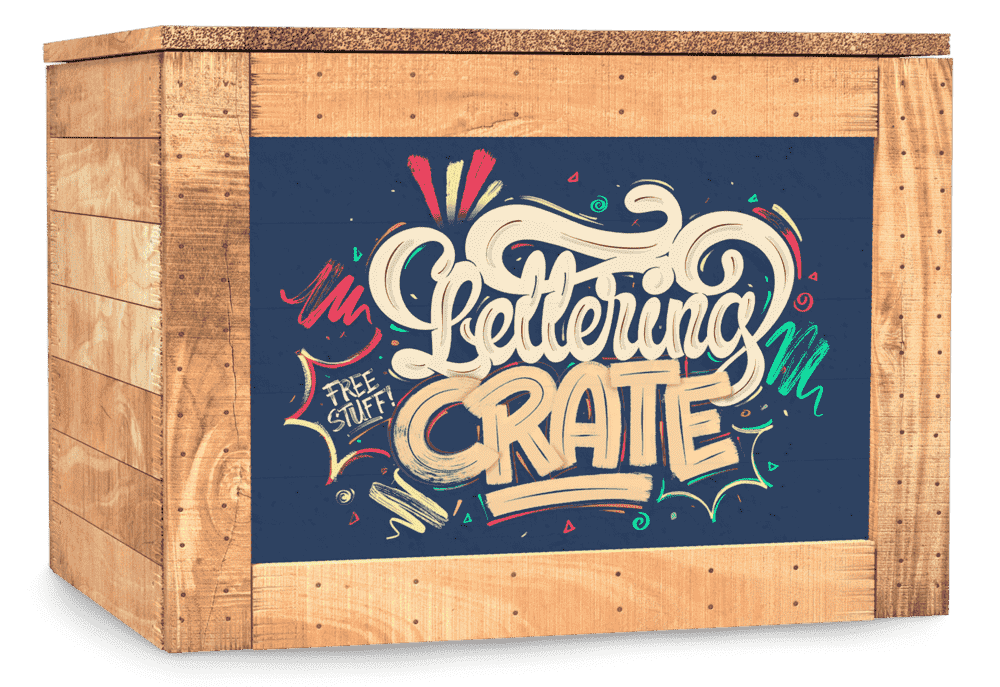 Stay updated with my tutorials and get instant access to the Lettering Crate –
A growing library of free lettering & calligraphy resources that includes –
About the author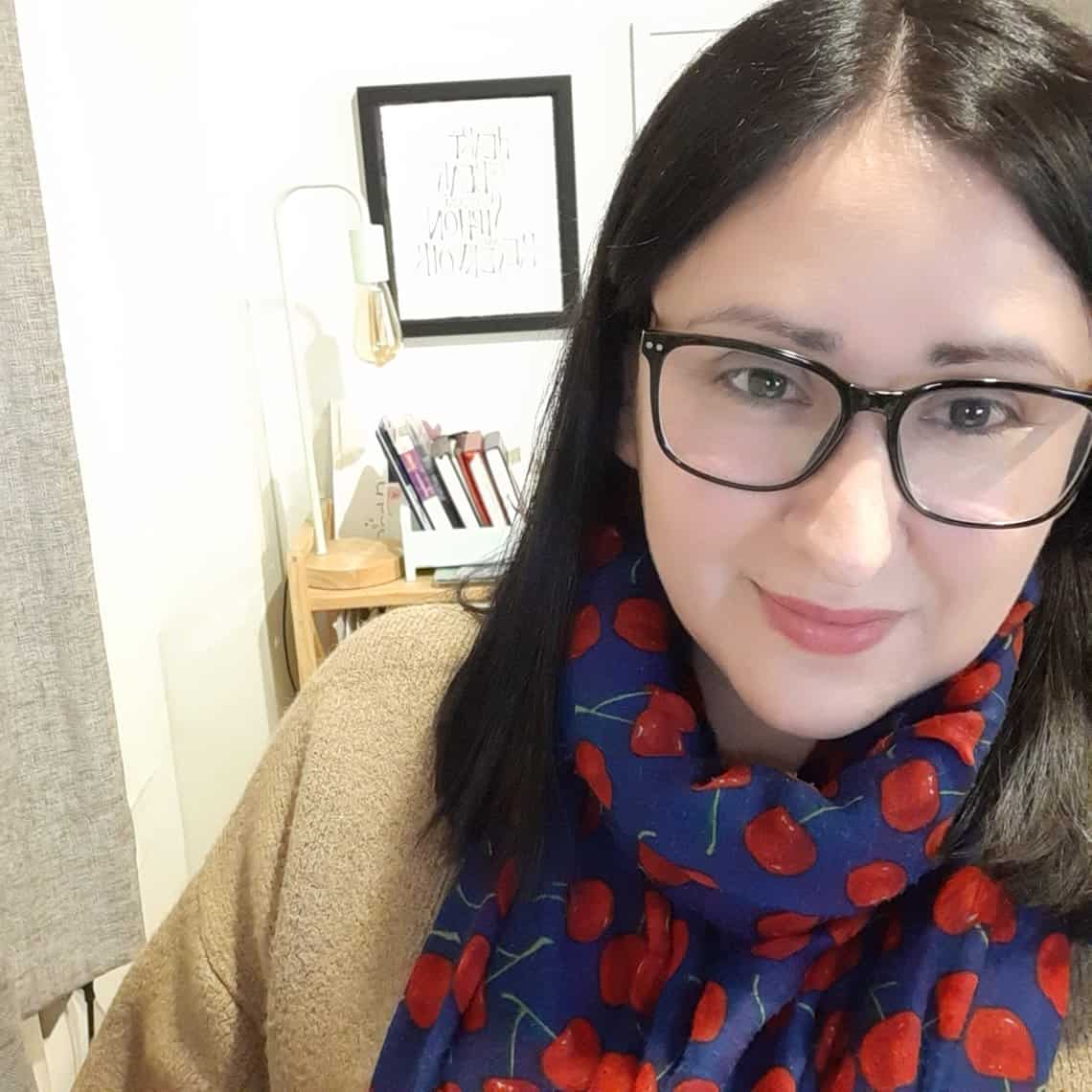 My name is Rocío Saldías, or Rose, as some of my friends call me, and I am an English teacher from Santiago, Chile. I started exploring the world of hand lettering back in 2018, when I took part in a brush lettering workshop I came across. However, it was in 2020, due to the pandemic and quarantine, that I started being able to dedicate more time to this personal interest, participated in a couple of online lettering courses, and started sharing my hand lettering creations on Instagram. It was only last year, though, that I started seeing some hand embossing posts on my Instagram feed here and there, and immediately fell in love with this eye-catching technique that I knew I had to explore. My first attempt at hand embossing was following a YouTube tutorial and since then I've practiced and learned a lot on my own.