This post and the photos within it may contain affiliate links. If you purchase something through the link, I may receive a commission at no extra charge to you.
Left-handed calligraphy may seem like something impossible to learn, but is that the case?
The estimation is that only about 10% of the whole world population is left-handed, and unfortunately, there is a considerable gap in educational resources when it comes to left-handed calligraphers.
So what do you do?
Do you start learning calligraphy with your right hand?
Nope!
You teach yourself how to write upside-down!
You don't have to do that, but that's precisely how Giorgio (a.k.a @bad_calligraphy) taught himself a variety of different traditional calligraphy scripts.
I had the pleasure to have a quick chat with Giorgio, who rose up to every challenge in his path and is currently crushing it as a left-handed calligrapher.
A consistent practice followed with a long-term mindset demonstrates that being a left-handed calligrapher doesn't need to be all that BAD after all.
Enjoy the interview!
1. Who are you, where are you from, and what do you do?
Hi!
My name is Giorgio Gaetani (a.k.a. @bad_calligraphy), I'm Italian, and I'm a full-time Calligraphy student 🙂
2. What's your background, and how did you get into calligraphy?
I've always liked to write, ever since I was a kid, in elementary school.
While I was studying engineering, I wanted to improve my everyday handwriting.
I made a research on the web, and I found the first IAMPETH association, then Palmer's book, which I studied for quite a bit.
At the end of the book, I found all the different styles, from Gothics to Copperplate, and I started also examining those.
After a little bit (actually a ton) of time, I attempted my first calligraphy class, with James Farrell.
3. Being left-handed makes it more challenging to learn calligraphy, what were your biggest obstacles in the early days, and what are some of the things you still struggle with today?
I honestly don't think that calligraphy is more challenging to learn for us lefties.
When you are starting out, you have in mind all those excuses about having "bad" calligraphy as left-handed, but I think it's just a matter of practice.
In the beginning, my biggest issue was to find good examples for left-handed calligraphers.
I discovered John DeCollibus (quite easily, actually, if you don't know him, you MUST go check him out).
I saw him writing Spencerian, Copperplate and other styles just like right-handed people do, and most of my fear just disappeared 🙂
Nowadays, the thing I struggle the most, when learning a new style, it's the proportions of the letters, as I write upside down.
So, before I can get comfortable with a new script, I always have to adapt my eyes to the new shapes.
4. One of the biggest issues (as far as I know) is the lack of resources available for left-handed calligraphers. What sort of educational resources did you use? Can you recommend some?
This is true, there is not too much material for left-handed people, you find tips more than anything, also in the books.
But I think it's normal because the basic rules don't change at all.
Let's say that when you're left-handed, you have to find the way to write that works better for you.
For example, I found that writing upside down works so much better for me.
Michele Perusin writes, "normally," but he builds his letter starting from the bottom.
DeCollibus and other left-handed calligraphers write with their paper at ~90°, instead.
It's about finding what works best for you.
"Palmer's Penmanship Budget" would always be one of my
biggest recommendations.
It's not for left-handed, for sure, but it's such a rich information book.
Also "The Zanerian Manual of Alphabet and Engrossing", that David Grimes lets download for free on his website, it's one of the most complete manuals I've ever seen.
5. Can you share some tips for left-handed calligraphers that are just starting out? Things that you wish you know back when you were starting out.
As I said, the first thing is to find the right angle for you.
As lefties, we don't have a strict rule on the right angle for the paper, so you have to try different angles and positions.
Then, one of the most important things (actually for left and right-handed calligraphers) –
Use the guide sheets.
At the beginning, guide sheets are your best friend, and the more you practice with it, the more you will love it.
6. As digital tools are on the rise (the iPad and Procreate), do you think that they will make the learning process easier for left-handed Calligraphers? What is your general opinion on digital tools vs traditional (analog) tools?
Absolutely not.
Don't take me wrong, but I think that before the iPad and Procreate, you should be able to write on real paper.
The iPad is great and fun to use, you don't have the problem of the ink that goes under your hand, but this is not good.
Because if you learn with the iPad, you will have more difficulties after when you will try to write on real paper – whether you're left or right-handed,
In my opinion, the feeling of the Apple pencil and the real holder with nibs are totally different.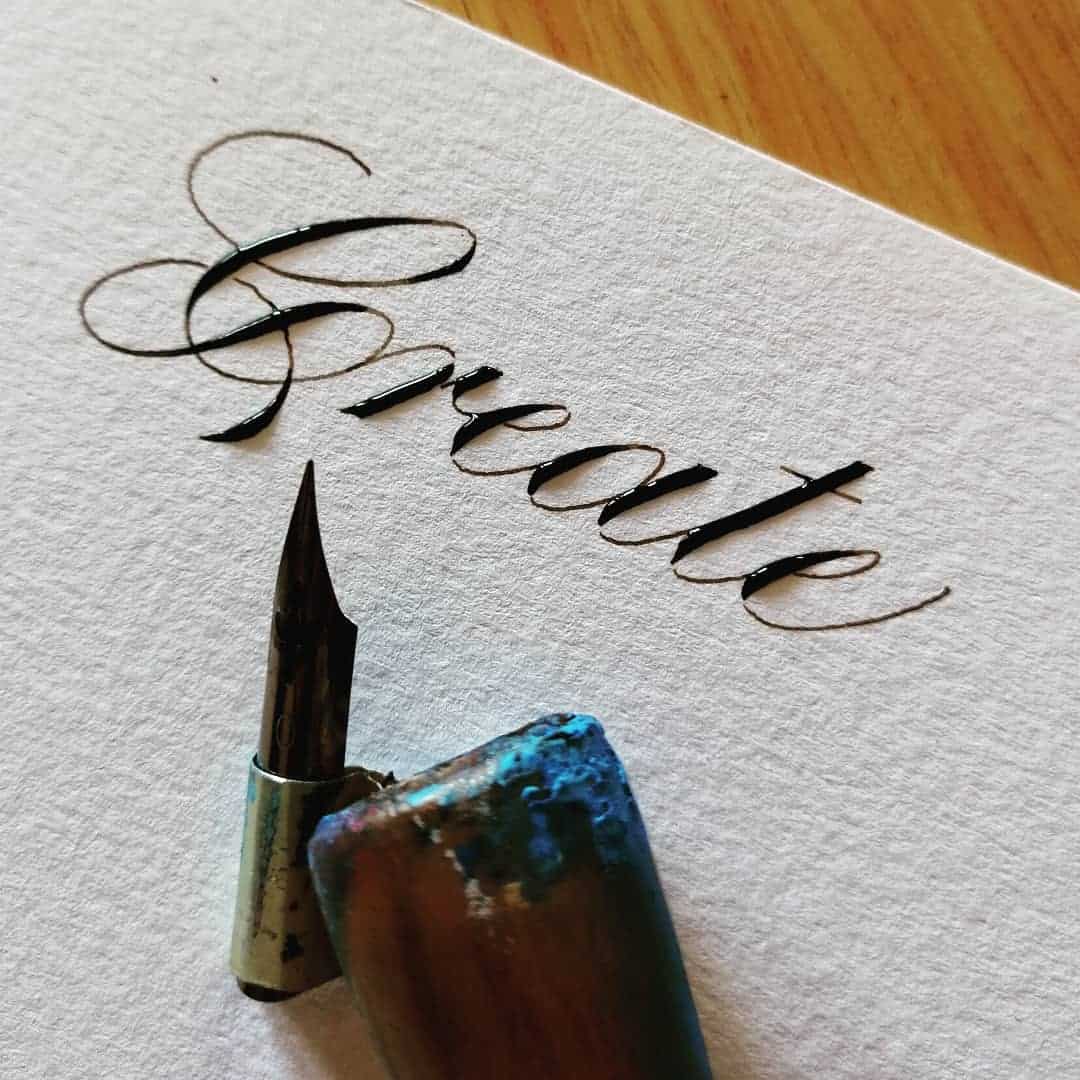 7. What are your thoughts on social platforms like Instagram? What do you think are some of the pros and cons of building an online audience?
I think Instagram is a great way to build an audience. It's convenient and easy to use.
The biggest pro for sure is the possibility to have some feedback on your works, to create connections and even friendships thanks to it.
On the other hand, people sometimes tend to worry too much with likes and followers.
I don't think you have to create something just for the audience.
I think it's better to create something that represents yourself or that you really like, rather than creating stuff that other people will like.
8. Which calligraphers are the ones that inspire you the most, and if you could pick someone to mentor you, who would that be?
This is a difficult question for me.
I still remember the day I met Theosone, in Milan, at Acqua su Marte.
He really changed my view of calligraphy.
I think he's one of the first calligraphers I found on YouTube, and seeing him writing live, in front of my eyes, was absolutely magic.
Then I met the guy who taught me how to use a fine nib, James "Fazz" Farrell and it was another incredible experience.
There are so many inspirational artists out there –
Michael Sull,
Stefano Gelao,
just to name a few.
If I could pick one as a mentor, I would probably say John DeCollibus (but in a perfect world, I would like to have them all as mentors ? ).
9. What are some of the things you hope to achieve with your artwork in the next two years?
I would really like to improve my flourishing skills, to make some
different artworks with that, and I also want to learn ornamental
lettering.
10. There is an alien invasion happening on earth, and for some weird reason, the aliens will allow you to keep only one calligraphy tool – which tool do you choose?
Probably the oblique pen holder I made some time ago.
Not the best pen holder at all, it's pretty crappy, but.. 🙂
Be sure to check out Giorgio's other online platforms!
About the author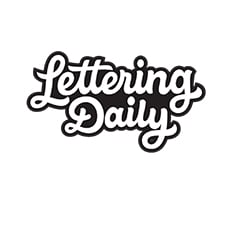 Lettering Daily is an online community that provides educational and inspirational content for hand lettering and calligraphy beginners. ​Our mission is to help artists and enthusiasts from all around the world to learn and improve their hand lettering and calligraphy skills.