We all love hand lettering,
but sometimes starting out something new seems to complicated and reading a book as a learning method is often perceived as time-consuming.
 Today we are here in order to break that myth and so, we decided to put up a list with the best creative hand lettering books that will offer you insights on how to do the best writings ever! 
​Yup, we are reviewing one of the best hand lettering books available on the market.
Best of all
 these books are affordable, easy to read, comprehensive and written by experts in hand lettering. Let`s see the top books that we recommend to read in order to improve your hand lettering or simply to start  with your hand lettering.
Before we jump into the list,
we wanted to mention that this list is purely subjective and that its based on our personal experiences. Moreover we don't consider any book  in this list to be better than another therefore it does not follow any specific order.
Lucky for all of us,
today we all live in a really amazing er and all of these books are available on Amazon. The best part of all is that through this link here you can get a 30 day FREE access to all kindle books which basically means that you can immediately access some of the books in this list but also many others! 
Last but not least if you want to get a physical copy you can sign up for a completely FREE 30 day trial on Amazon Prime and get a free 2 day delivery!
Get some of the best hand lettering books today!
​Well, as it turns out Jenny Doh did an amazing job with this book. Creative Lettering is a fun book and useful for those of us who are into lettering or calligraphy work.
In this book she gathered 16 different hand lettering artists who will guide you with their amazing skills and techniques. The hand lettering artwork displayed in the book are more than interesting since they are full of its designer`s personality.
As if this was not enough, you will find in this book a list of materials needed provided by each artist in relation with his drawing.
In our opinion it is one of the best hand lettering book from which you can get your inspiration from calligraphers, painters, fiber artists or even graphic designers. 
Check out the video below for more info
​Chalk lettering remains an intriguing technique that not all of us engage in.
Thus, Valerie McKeehan`s book is mean to help and widen the horizon of chalk lettering. Valerie McKeehan was firstly known as a seller on Etsy, but during the passing years she got featured in a multitude of magazines and websites due to her innovative lettering drawings.
Her book aims to teach everyone the ABCs of lettering and basic styles such as sans serif or script. It is a helpful book due to great advices and the details with which each lesson is presented.
​Feel free to  check out this video review about the book in order to find out more.
​Jessica Hische`s book is exactly as her work: well-out together, unique and part of her bold personality.
Her book is designed as an informative, vector focused lettering guide meant to help learners the art of lettering. Thus, I found this book a great aid due to the information provided about the anatomy of letters in different styles or the weights.
Moreover, the author offers numerous examples on how to beautify your personal lettering style, while explaining terminology and suggesting a couple of tips and tricks. And as if that was not enough, Hische even mentions a bundle of software and useful tools for working with lettering digitally.
We consider it one of the best hand lettering book for beginner`s  available on the market, that is helpful for both unexperienced and experienced hand lettering artists.
​For those of us that are into calligraphy, Gaye Godfrey-Nicholls`s book is a helpful guide that offers insights on what you should or should not do regarding calligraphy.
Mastering Calligraphy represents an up to date guide that features both traditional and contemporary practices in calligraphy. If you are looking for a step-by-step calligraphy guide this is the book for you.
And I say this due to the bundle of examples you will have for each step, along with historical details, tips and tricks or even types of resources you should use. Thus, this book is a must have for anyone that loves the art of calligraphy.
This book amazed me from the first moment I touched it!
Yes, you read it right! Although this book differentiates itself from the other ones in this list you should not be confused.
Type Matters! is a book about typography rather than a hand lettering book. You are probably wondering why is this book included in this list?
Simply putted this book will guide you through the fundamentals of typography which then can be used as building stones for your hand lettering.
Understanding terms such as letter spacing, kerning or learning about letter anatomy, layouts and balance are just some of the essential things that type lovers should learn. This is probably a book which will most likely be used by those who consider hand lettering and typography in general more than just a hobby.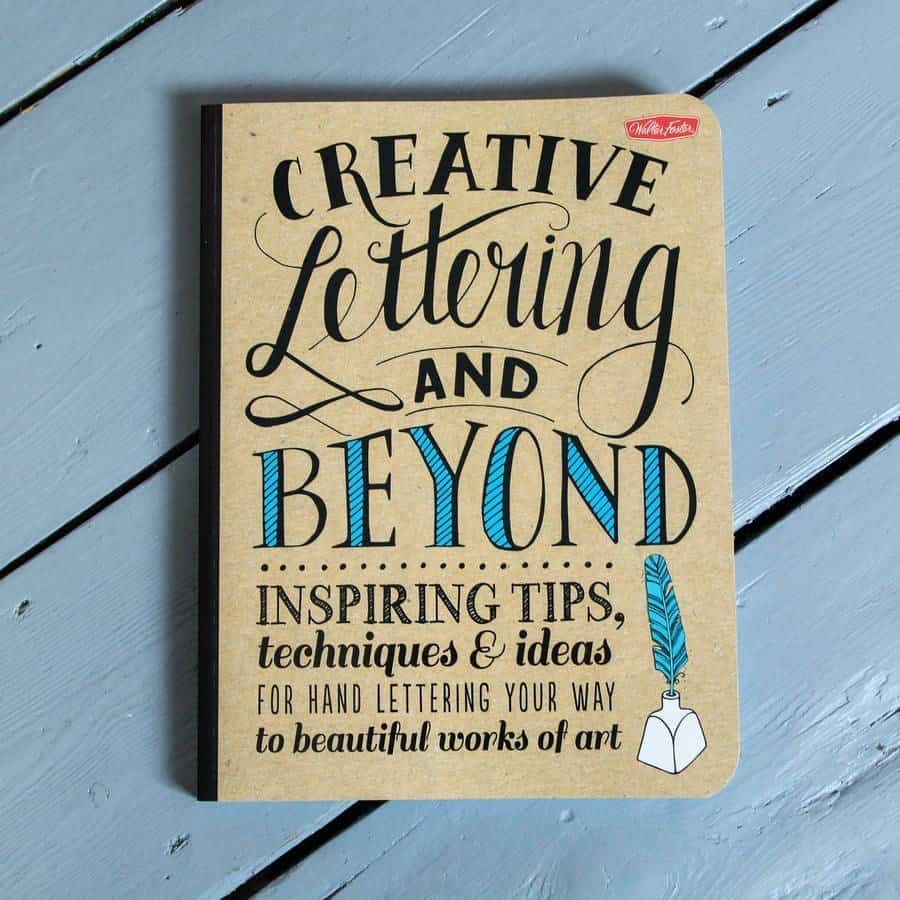 Lastly, but not the least important, I would definitely recommend you to read Creative Lettering and beyond. It is a rather casual workbook focusing on the fun of doing lettering and not on the strict rules you must follow.
Gabri Joy Kirkendall offers concise instructions that are easy to follow, along with a couple of relevant examples.
 What is even more interesting is the fact that this book comes with some blank pages strategically placed inside it. Thus, you are encouraged to experiment on your technique or on a particular example right next to Gabri`s suggestions.
 By the end of the book you will find some tips on how to use watercolor, chalk and even on how to transform your lettering into something digital.
check out this quick video displaying the books contents.
In conclusion
​
This being said, the top six books mentioned above are a great aid for both experts and beginners in the tricky art of hand lettering.
These books are a great way for you to elevate your hand lettering skills and the only regret you will have is that you did not read them before! 
​Be sure to keep in mind,
that hand lettering is a skill that is being developed with time and lot's of practice,
however…
it is always better to work smart and not hard!
Hope you have enjoyed our pick for the best hand lettering books and if you have any comments or suggestions, you are always more than welcome to reach out to us!
Until the next time!
​Stay AWESOME!
Stay updated with Lettering Daily, enable notifications and never miss a new post!